Fire Officials Extend Telegraph Fire Containment Line as Fire Burns Over 100K Acres
Fire officials working to contain the Telegraph Fire in Arizona extended the containment line on Tuesday morning as the fire has burned over 100,000 acres of land.
In an update posted on the InciWeb national wildfire information system, fire officials said, "About two miles south of the Grantham Ranch dozers constructed a containment line from SR 77 east to the San Carlos Reservation boundary. The containment line was extended into the Reservation to the edge of the Mescal Fire by hand crews."
"Firefighters will improve, mop up, and hold this containment line today," the update said.
According to data on the InciWeb site, the Telegraph Fire had burned at least 123,078 acres as of Tuesday and was 68 percent contained. Over 1,000 fire personnel are assigned to contain the Telegraph Fire.
On Monday evening, fire officials reported on InciWeb the Telegraph Fire was 74 percent contained.
The Telegraph Fire has also damaged/destroyed at least 22 structures, according to the update.
Since the fire was first reported on June 4, it has continued to grow in size, forcing numerous evacuations. On June 7, fire officials said the Telegraph Fire had burned roughly 56,626 acres in Arizona's Top-of-the-World neighborhood.
Fire officials have described the Telegraph Fire as "a fast moving and dynamic fire."
In the most recent update on Tuesday, officials ordered residents in the areas of El Capitan (east and west), Dripping Springs, Wind Spirit, Hagen Ranch, Slash S Ranch and Government Springs and Beverly Hills to evacuate immediately.
While speaking with CNN on Monday, Todd Abel, a fire operations chief with Central Arizona Fire, said fire officials were "successful" in containing the fire until this morning when the fire reached state route 77.
"It did get across 77. We did...get aircraft in the air, and to try to catch this, what we call a slop over. It slopped over our containment line," Abel told CNN.
In a tweet posted by CEDR Digital Corps, an animation of the Telegraph Fire shows its growth in size over the past day.
Another tweet posted by the National Oceanic and Atmospheric Administration's satellite public affairs account shows satellite imagery of the Telegraph Fire.
The National Weather Service in Phoenix, Arizona also posted a photo of the smoke seen from the Telegraph Fire on Monday.
In addition to the Telegraph Fire, fire officials in Arizona are also working to contain the Mescal Fire. Located East of the Telegraph Fire, the Mescal Fire has burned approximately 72,750 acres of land and is currently 88 percent contained, according to data from InciWeb.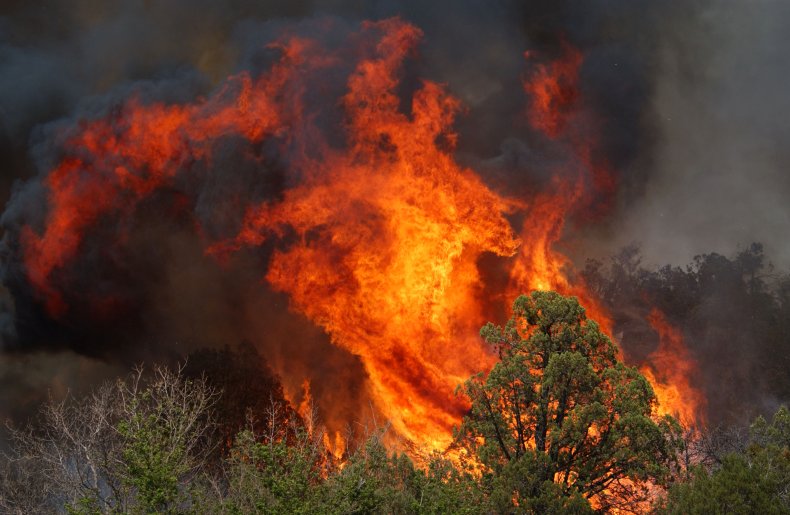 In an update on Monday, fire officials said that "There has been no increase in size for the Mescal Fire for the last four days."