Fire Officials Work to Contain Several Wildfires in California, Over 60,000 Acres Burned
At least 13 active wildfires across California have burned just over 60,000 acres of land, as fire officials continue to try to contain each.
According to data from Cal Fire, the National Interagency Fire Center and InciWeb, the national wildfire information system, the Lava Fire in Siskiyou County is the largest active wildfire in the state. The Lava Fire has burned at least 19,680 acres, northeast of the community of Weed, and is 27 percent contained.
"Afternoon winds caused the fire to flare yesterday in unburned pockets within the interior, east of Highway 97. Fire continues to actively spread to the northeast with short range spotting. Dozers are establishing and improving existing containment lines along the northeast and south side of the fire," fire officials said in an update on Thursday.
The Lava Fire was first reported on June 25 and fire officials listed its cause as lightning.
Authorities have ordered evacuations for several areas including north along Highway 97 to County Road A-12, Community of Juniper Valley off Big Springs Road from Highway 97 to McDonald Lane, Big Springs Road on both east and west sides, Mount Shasta Vista Subdivision-County Road A-12 north and south and Harry Cash Road.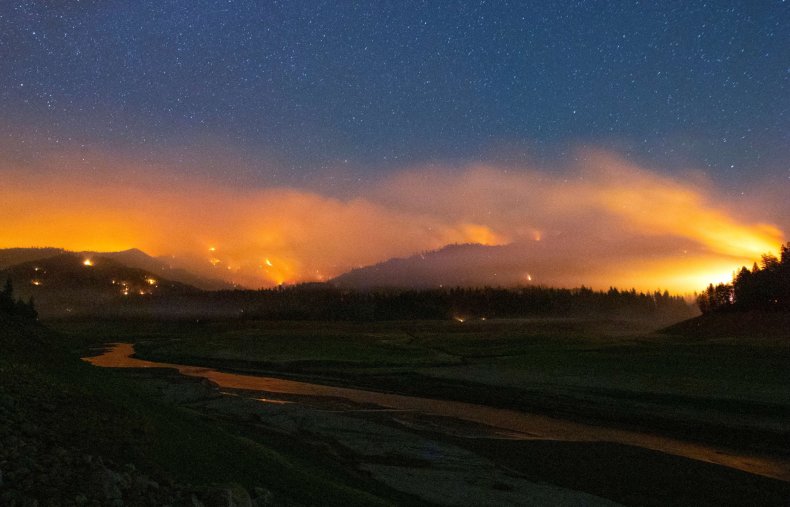 Following behind the Lava Fire in size is the Tennant Fire, which also is in Siskiyou County near Tennant Road and Pengrass Road. According to Cal Fire data, the Tennant Fire has burned 9,439 acres and is just 6 percent contained.
The Tennant Fire was first reported on June 28, and fire officials said: "Hot temperatures and winds have fueled rapid fire growth since the fire started."
The Salt Fire, in Fresno County, has burned 4,500 acres and is 0 percent contained.
"Initial report on conditions was 5 acres progressing east and north, moderate to rapid rate of spread," fire officials said on InciWeb. "Weather conditions and terrain are making the suppression efforts challenging as fire personnel continue to construct containment lines."
The Willow Fire in Monterey County has burned at least 2,877 acres and is 87 percent contained. Despite its size, fire officials said on InciWeb that "Winds should remain moderate, and the fire is not expected to increase in size during this time."
At least nine other wildfires remain active across California, including the Shell Fire in Kern County, which has burned 1,984 acres and is 90 percent contained. In total, all of the active wildfires in California have burned at least 60,986 acres.
As California recently faced a wave of blistering heat, with record-breaking temperatures recorded in several areas, fire officials have continued to warn of the potential fire dangers ahead of the upcoming Fourth of July holiday.
The Ventura County Fire Department tweeted a reminder on Thursday that fireworks are illegal in several parts of Ventura County.
The National Weather Service in Los Angeles also issued a firework warning, writing, "Please keep the fireworks to the professionals! Fireworks can spark a wildfire if released recklessly so please be extra vigilant this holiday weekend."