Five Reasons Why Trump Fired Rex Tillerson
Donald Trump announced on Twitter early Tuesday that he is removing Secretary of State Rex Tillerson from his administration, a move that follows nearly a year of tension between the president and his top diplomat.
"Thank you to Rex Tillerson for his service!" Trump tweeted. He also said CIA Director Mike Pompeo will now head up the State Department.
It appeared the last straw was Tillerson's statement that Russia was "clearly" behind a chemical weapon attack on British soil last week targeting a Russian double agent.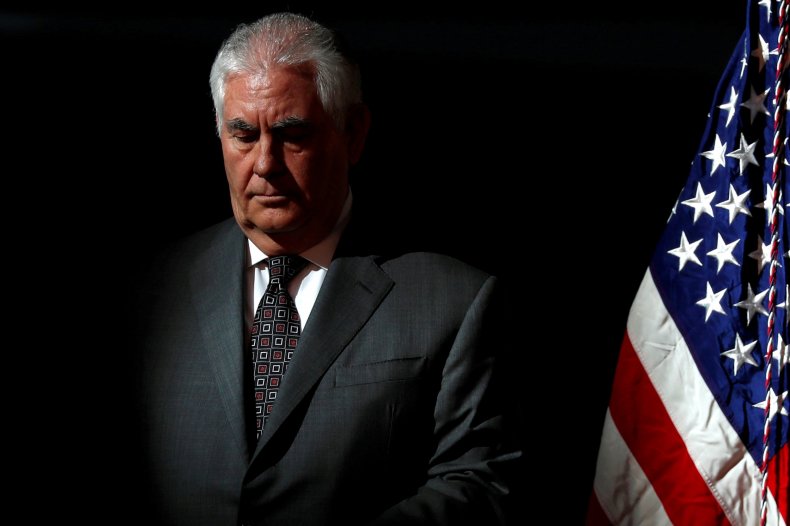 "The Secretary did not speak to the President and is unaware of the reason" he was fired, said Steve Goldstein, undersecretary of state for public diplomacy and public affairs, in a statement to ABC News. Goldstein added that Tillerson had "every intention of staying."
Trump told reporters Tuesday that he made the decision "by myself" and said the two were "talking about this for a long time." Trump acknowledged that his approach to foreign policy has repeatedly clashed with Tillerson's.
Here are five reasons why Trump may have fired Tillerson.
1. Late Monday, Tillerson said that while it wasn't clear "whether [the spy attack] came from Russia with the Russian government's knowledge," he trusted "the U.K.'s investigation and its assessment that Russia was likely responsible for the nerve agent attack."
Tillerson's response broke with the White House line, which stopped short of blaming Russia for the attack. Tillerson also told reporters that the attack would "certainly trigger a response."
2.Last October, Trump challenged his top diplomat to an IQ test after it was reported that Tillerson had called him a "moron" after a meeting at the Pentagon. During that meeting, Trump had called for an increase in America's nuclear weapons stockpiles in contravention of international treaties. "I can tell you who is going to win," the president told Forbes during an interview later.
Related: Trump fires long-suffering Rex Tillerson, names Mike Pompeo as secretary of state
3. Trump and Tillerson have clashed over the administration's approach to North Korea and its intensifying nuclear weapons program. Last summer, as tensions rose when Kim Jong Un and Trump traded insults, Tillerson said the U.S. wanted to "resolve this through talks" rather than the military options that the White House said were on the table.
Last week, Tillerson said an upcoming meeting between Trump and Kim would focus on "talks" rather than "negotiations." Yet the president appears to expect a deal with Kim on denuclearization.
4. Trump disagreed with Tillerson's policy approaches on whether the U.S. should mediate in a dispute between Qatar and Saudi Arabia. The two also disagreed on whether the U.S. should pull out of the Iran deal brokered in 2015 to stop the country's development of nuclear weapons.
5. Tillerson almost quit in frustration last year, according to reports, after Trump publicly berated Attorney General Jeff Sessions over his decision to step away from the Russia investigation. Several sources told CNN that Tillerson believed the president's behavior was unprofessional.