Nearly 100 cats were rescued from a burning house in what authorities have dubbed as an "extreme hoarding situation."
The second-alarm fire broke out on Thursday afternoon in the Orange County town of Monroe, New York. The local fire department and nearby Woodbury Animal Shelter were called to the scene just before 4 p.m., with responders reporting that the condition of the building made it difficult to extricate the animals from the inferno, according to Mid-Hudson News. The cause of the fire has yet to be determined.
The Woodbury Animal Shelter reported that close to 100 cats, who were kept in cages, were rescued from the burning home. Some of the felines that were not caged at the time were able to escape on their own. They have since been taken in by the shelter and are receiving needed medical attention.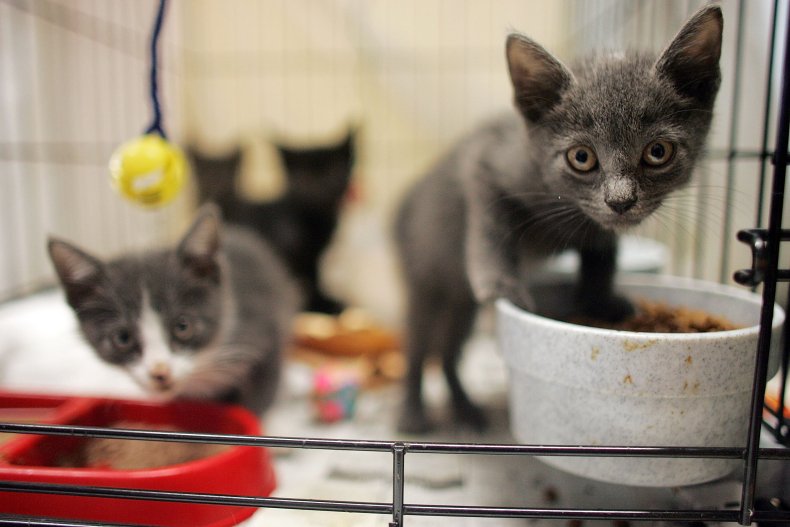 "Lucky many of the cats that were loose were able to escape and will be trapped soon," the animal shelter said in a statement, according to Mid-Hudson News. "We are unsure at this time of how many cats perished in the fire."
The shelter has put out a call for help from the community, requesting things like food, litter, and bowls that are large enough for baths to help care for the cats. The shelter can be reached by phone at (845) 928-7661, ext. 8.
Monroe is located roughly 55 miles northwest of New York City, just north of the border of New Jersey.
Newsweek reached out to the Monroe Joint Fire District for a comment on this story.
The incident in Monroe came only days after a similar blaze endangered over 100 cats in Rochester, New York, according to Rochester First. Rescued Treasures Pet Adoptions and Keller's Kats Rescue Inc. took on the shared responsibility of caring for the now-homeless animals in the wake of the fire. Some of the felines were found in the remains of the fire, walking on debris and broken glass.
At least 28 of the cats were found as of Sunday, with the shelters continuing to handle the rest. Two of the cats found at the scene were determined to be pregnant. The cats will remain in foster care until their kittens are born and are old enough to go out on their own.
The two shelters estimated that the cost of rescuing the animals is nearing $15,000 and urged members of the community to donate what they can to help them.