Biggest Blaze in the U.S.: Utah Battling Nation's Largest Active Wildfire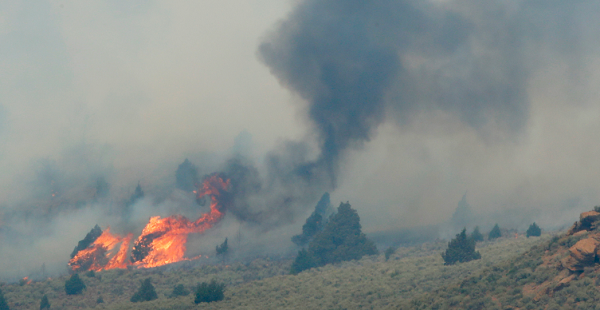 After burning through 77 square miles of land, a wildfire raging through Utah since June 17 is considered the biggest active wildfire in the U.S.
Firefighters in California and Arizona have managed to maintain smaller wildfires that broke out in various areas recently. However, firefighters haven't been so lucky in southern Utah, where 100-foot flames are engulfing an area near the Brian Head Ski Resort. The blaze has since spread about 20 miles east, near Panguitch Lake, according to the Associated Press.
Emergency crews have managed to contain only 9 percent of the Brian Head fire since it started.
Making matters worse, low humidity and strong winds were expected to arrive in Utah on Tuesday, causing worries that the fire could spread further north. State emergency officials told the AP on Monday the weather conditions have "high potential" for creating even more "extreme" fire behavior.
The wildfire has already forced over 1,500 people from their homes, and so far, 13 homes have been destroyed. Although about 175 people who live near Panguitch Lake were allowed to briefly return to their homes Sunday. On Monday, more evacuations were ordered for folks living in areas expected to see strong winds and low humidity.
The state is expecting to face an estimated $7 million in damages caused by the massive fire. That amount could increase if the blaze progresses.
The wildfire was initially started by someone using a torch tool to burn weeds near the popular ski resort. Officials told the AP they had a suspect in mind, but no information on the person's identity or potential charges had been released as of Tuesday afternoon.
As for the wildfires in California, about 10 percent of the blaze scorching up Riverside County—80 miles from Los Angeles—has been contained, according to local reports. Meanwhile, firefighters in Santa Margarita were able to contain about 40 percent of the fire, which scorched about two square miles of land on Tuesday.
In Arizona, the Department of Forestry and Fire Management said in a statement that the Goodwin Fire, which started about 14 miles south of Prescott on Saturday, had burned nearly 4,400 acres of land in the Bradshaw Ranger District of the Prescott National Forest. As of Tuesday, officials said only 5 percent of the fire had been contained.