Firearm Background Checks Surge 42 Percent From October 2016 As U.S. Headed Into General Election
Presidential election years often spark a rise in firearm interest and with two months left in 2020, background checks for firearms have already broken 21-year-old records.
As of October 31, more than 32.3 million firearm background checks were run through the National Instant Criminal Background Check System (NICS), a system used by stores to determine whether a person can legally buy or own a firearm. Of those checks, 3.3 million were conducted in October, a 42 percent increase from the same month in 2016.
The pandemic and civil unrest are likely contributing to the uptick in firearm sales, making it difficult to ascertain exactly how much the election impacted people's decision to pursue purchasing a gun. However, of the first 10 months of both 2016 and 2020, October was the fourth-highest month for firearm background checks, according to the FBI.
"This year, Americans watched as politicians used the pandemic to restrict their rights, close firearm stores, and furlough prisoners. Then, we watched riots and unrest erupt on American streets amid calls to defund the police," Amy Hunter, director of media relations for the National Rifle Association told Newsweek. "Americans often buy more firearms before an election because they're worried an anti-gun politician will soon take office. The NRA believes these were among the major contributing factors to the historic rise in gun ownership."
President-elect Joe Biden has an "F" rating from the NRA and as a senator, he helped pass the Brady Handgun Violence Prevention Act, which established the NICS. Senator Biden also aided the passage of a 10-year ban on assault weapons and high-capacity magazines in 1994, a measure he said he will once again enact as president. Once in the Oval Office, Biden plans to restrict people from purchasing more than one firearm per month.
Background checks were down in 2017 after President Donald Trump's election victory and now that Biden's taking over as president, experts told CNN it's possible gun sales will increase. Mark Oliva, director of public affairs for the National Shooting Sports Foundation, a trade group that tracks and analyzes gun sales, told CNN that it could depend on whether Democrats win the two Senate seats up for grabs in Georgia's runoff election in January. If the Democratic Party wins both, there'll be a 50-50 tie in the Senate, giving Vice President-elect Kamala Harris, the power of casting the tie-breaking vote. If Republicans win one of the seats, they'll retain control.
"The industry is taking the Biden campaign at his word," Oliva said.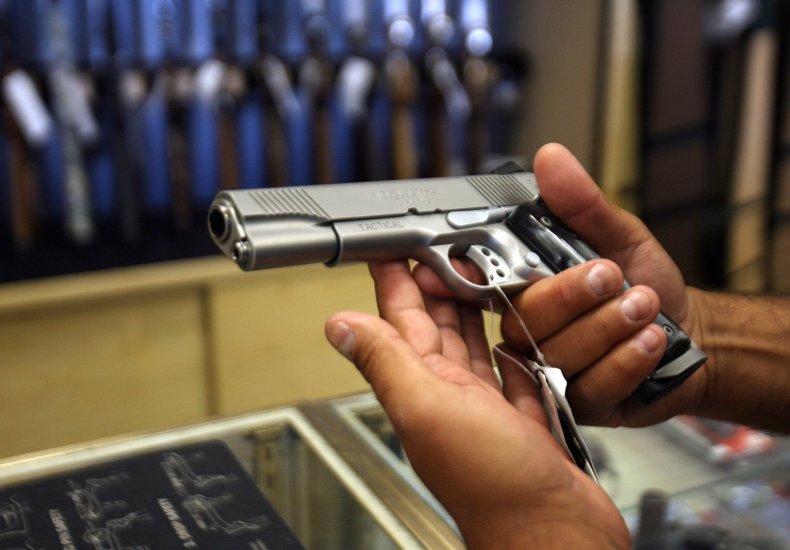 Of the past four presidential election years, 2020 saw the greatest increase in October firearm background checks from the previous year. Compared to the 38 percent increase in October 2020 from October 2019, in October 2016 there was an 18 percent increase from the same month in 2015, a 20 percent increase in October 2012 from October 2011, and a 15 percent increase in October 2008 from October 2007.
Along with breaking the record for the number of firearm background checks in a year, the 2020 presidential election year has broken records for the largest increase in firearm sales from the previous year.
In 2016, Democratic-candidate Hillary Rodham Clinton also made gun control part of her platform and there was a record number of firearm background checks in the months leading up to the election. The first 10 months of 2020 has bested that record by about 10 million more background checks.
Of the top 10 highest days for firearm background checks since November 30, 1998, five of those days were in 2020. Eight of the 10 highest weeks for background checks are also in 2020, according to the FBI. The FBI's data on firearm background checks only represents the number of checks initiated through the NICS. It's not indicative of the number of firearms that are sold and on average, there's a .5 percent denial rate, according to data from the FBI.
The 2020 election may not be the number one driver of firearm background checks, though. The two highest months for background checks so far in 2020 were March, when lockdowns began in an effort to curb the spread of COVID-19, and June when protests against police brutality turned violent in cities across the country.
"It's kind of the perfect storm for big gun sales," Damon Bruker, a firearm salesman in Montana, told KECI. "We have seen a big decline in availability of virtually everything that we sell: handguns, long guns, ammunition, all that kind of stuff has really been hard to get. It's kind of a nationwide shortage."
This article has been updated with comment from Amy Hunter.