50 Firearms and 4,000 Bullets Stolen from Puerto Rico Police Station, Thieves Threaten Governor Ricardo Rosselló to Resign
Around 50 firearms and 4,000 bullets have been stolen from a police station in Puerto Rico, with the thieves threatening Governor Ricardo Rosselló to resign.
FBI agents are investigating after a number of munitions, including assault rifles and pistols, were discovered to have been stolen from the vault of the Office of Shooting Instructors of the Guayama Area Command on Thursday morning.
Along with the missing firearms was scrawled a message on the wall, "Ricky resign silver or lead." The expression, originally "plata o plomo" in Spanish, is a Colombian slang phrase made famous by drug lord Pablo Escobar, in which the speaker is telling the listener to either accept a bribe or lose their life.
Henry Escalera Rivera, the commissioner of the Police Bureau, said they were working to locate the thieves. "We do not rule out any angle of this investigation, which is beginning. Our commitment is to find the responsible person, and a threatening message against the governor was found on a wall in the same warehouse," he said, according to el Vocero.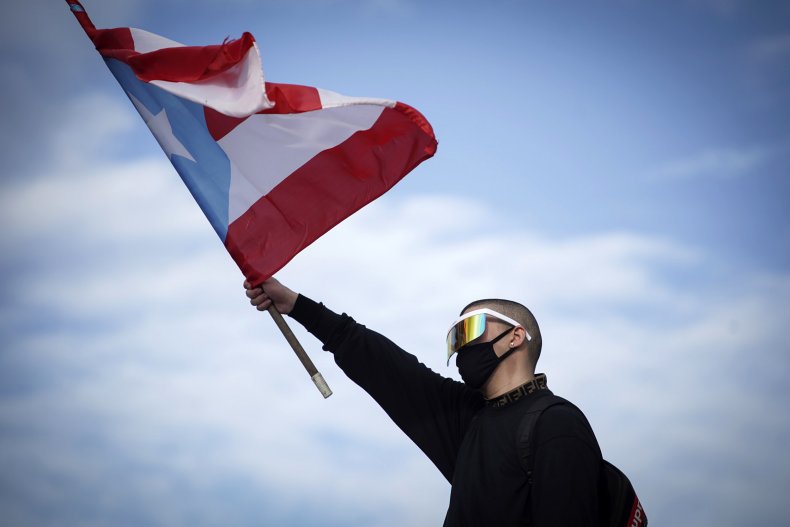 Elmer L. Román, the Secretary of the Department of Public Safety, added: "We have communicated this incident to the federal authorities so that they can collaborate in the investigation process. We will continue investigating until we find the whereabouts of those responsible for this escalation that threatens Puerto Ricans safety."
The burglary and threatening message towards Puerto Rico's governor comes as tens of thousands of people across the U.S. territory continue to call for Ricardo Rosselló to resign following the leak of a number of sexist and homophobic text messages written by the governor.
The nearly 900 pages of messages between Rosselló and 11 of his aides and cabinet members, obtained by Puerto Rico's Center for Investigative Journalism, include jokes about Hurricane Maria victims and references to singer Ricky Martin's sexuality.
Since the leak, thousands of people have flocked to the streets across the Caribbean island for five consecutive days calling for Rosselló's resignation, including Martin and Hollywood actor Benicio del Toro. Hamilton creator Lin-Manuel Miranda took part in a separate protest against the governor in New York.
Marching while chanting "Ricky, renuncia!" ("Ricky, resign!") demonstrations heated up on Wednesday when protesters overturned barricades, resulting in police firing tear gas into the crowd.
Rosselló has apologized for the messages but refused to step down. "I have not committed any illegal or corrupt acts," he said in a statement. "I committed inappropriate acts and have expressed regret for that."