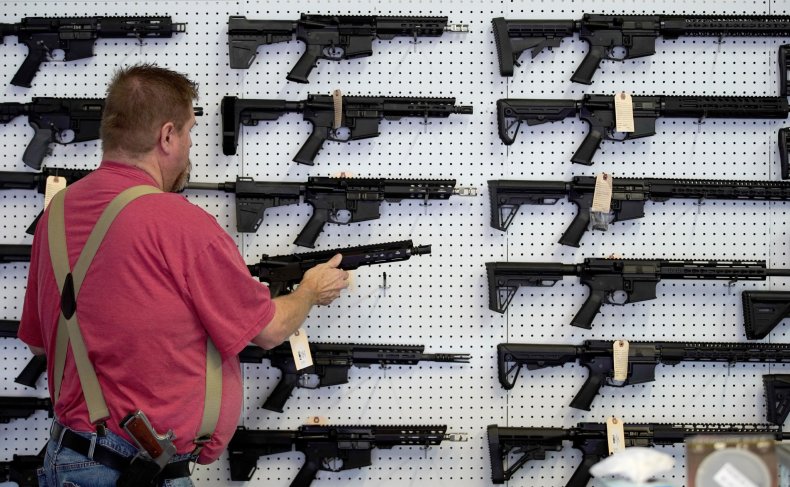 One day after the Federal Bureau of Investigation (FBI) reported an unprecedented surge in background checks for prospective gun buyers, a coalition of 16 Democratic U.S. senators is expressing concerns about guns ending up in the hands of prohibited purchasers.
In a letter Thursday to FBI Director Christopher Wray and Acting Director of the Bureau of Alcohol, Tobacco, Firearms and Explosives (ATF) Regina Lombardo, the senators warn that a dramatic increase in gun sales could "overwhelm" the FBI's capacity to screen out domestic abusers, among those prohibited from owning firearms.
The letter, the result of an effort led by Massachusetts Senator Ed Markey and Connecticut Senators Richard Blumenthal and Chris Murphy, was obtained by Newsweek.
The FBI is chiefly responsible for conducting background checks through its National Instant Criminal Background Check System (NICS), which searches three FBI-maintained databases to produce records indicating whether a prospective gun owner is prohibited by federal or state law from possessing a firearm.
Spokespersons for the FBI and ATF did not return requests for comment in time for publication.
In March 2020, the FBI conducted around 3.7 million of these background checks, more than in any single month since the NICS system was established in 1998 by the earlier-enacted Brady Handgun Violence Prevention Act. The rise in interest is largely attributed to fears of social unrest or racist attacks due to the spread of the novel coronavirus.
While background checks do not have a one-on-one correlation with gun sales—checks can be performed at other points in the process, such as when an individual obtains a carry permit—other analyses indicate that this record number of checks in March was indeed representative of a massive spike in sales.
Jurgen Brauer of the firm Small Arms Analytics & Forecasting estimated that these numbers translate into over 2.5 million guns sold last month, largely driven by sales of handguns.
The National Shooting Sports Foundation, an industry trade group, has warned retailers that "there is a large and growing backlog of checks in delay status" amid the nationwide surge in interest in firearms.
Federal law sets a minimum period of just three days for unresolved NICS queries, after which individual dealers can decide to proceed with a sale absent an explicit green light.
"Local law enforcement agencies and courts across the country suddenly face staffing shortages and resource challenges that may prevent them from providing timely responses to NICS requests," the senators write.
According to the Giffords Law Center, which is affiliated with the identically named gun-control group, at least seven states go further to require a green light before proceeding or to extend the waiting period from three days to anywhere between 10 and 60 days.
A handful of other states require purchasers to obtain permits, which themselves trigger background checks that can have long waiting periods, ranging from a couple weeks to six months.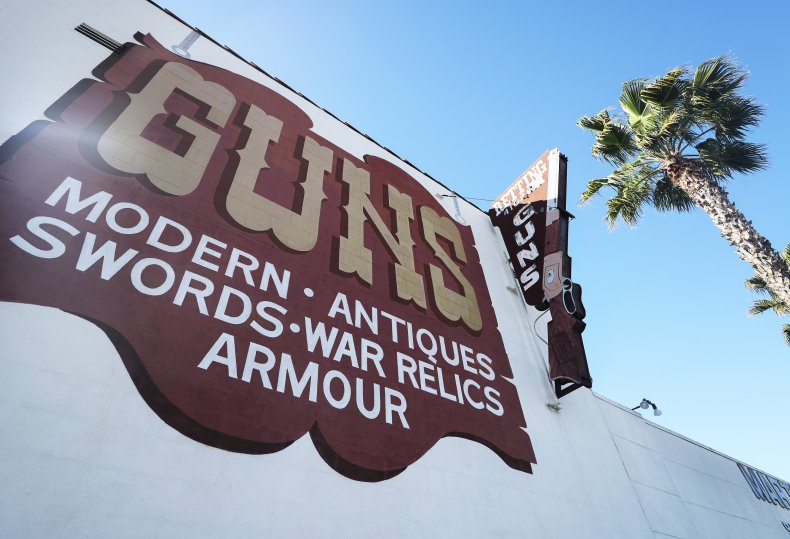 Notwithstanding these safeguards, the senators warn that "even absent a public health emergency, law enforcement does not always have enough time to accurately determine pre-sale whether someone is a prohibited buyer."
The State Police in New Jersey—one of 13 states that mediate NICS transactions on behalf of gun dealers for all sales—told Newsweek that there may be a delay in processing requests "due to the implementation of the extraordinary precautionary measures being taken across government agencies in response to the COVID-19 pandemic." However, New Jersey allows for a month-long period before a purchase permit can be issued.
The senators are requesting that the FBI provide data to Congress on how many background checks during the last three months have surpassed the three-day backstop, including an estimate for how long it will take to complete background checks during the emergency period.
According to FBI data, 90 percent of NICS checks in 2018 yielded a result within minutes, while the rest required an additional review of the law enforcement records.
In 2017, the FBI referred 6,004 cases to the ATF where a delayed background check ultimately resulted in a denial after the three-day waiting period had already passed. In 4,864 of these cases, the FBI believes the purchaser "probably acquired" the gun anyway.
An audit from the Justice Department's inspector general in 2016 determined that the error rate for NICS transactions was "exceedingly low," though it observed that even a single breakdown in the process "can have tragic consequences," noting the fatal shooting at the Emanuel AME Church in Charleston, South Carolina, the year prior. In that incident, the perpetrator, Dylann Roof, was able to acquire a gun because the three-day waiting period had lapsed.
The letter also calls on the FBI to issue an emergency directive so that background information discovered through unresolved NICS checks isn't deleted after 90 days, as is currently required. Beyond this, the senators want the FBI to routinely search the National Data Exchange (N-DEx) System, in addition to the three currently used databases, when conducting background checks.
N-DEx provides criminal justice agencies with "an online tool for sharing, searching, linking, and analyzing information across jurisdictional boundaries." It includes records such as arrest and booking reports, pretrial investigations and supervised release reports.
The Justice Department believes that, were this database included in routine NICS searches, prohibiting records would have been identified during Roof's background check in 2015.
In addition to Markey, Blumenthal and Murphy, the other signatories include Senators Elizabeth Warren, Cory Booker, Kamala Harris, Bob Menendez, Sherrod Brown, Chris Coons, Chris Van Hollen, Michael Bennet, Amy Klobuchar, Patty Murray, Tom Carper, Kirsten Gillibrand and Mazie Hirono.