Fired Amazon Worker Says Company Isn't Being Honest About Number of Coronavirus Cases, Plans New Strike
A former Amazon.com worker who was recently fired from the company planned a strike for Monday.
According to WABC-TV in New York City, Chris Smalls, the fired Amazon worker, recently sent a text message announcing the protest. Smalls was recently fired after protesting the company's coronavirus safety precautions in a New York City warehouse. Amazon has said that he was fired for violating the company's quarantine policies during the coronavirus pandemic.
Small's text messages planned for a protest on Monday at Amazon's Staten Island facility, which is home to 4,000 staffers. Smalls was formerly an assistant manager at the facility.
Small's planned protest comes shortly after he organized a one-day walkout at the Staten Island facility after criticizing the company's handling of the pandemic in regard to its workers.
Small's has said that the company is not being honest with its reported number of coronavirus cases.
After Amazon said that only one worker had tested positive at the Staten Island warehouse, Small said, "That's a boldface lie, because I sent home the third case directly," according to WABC-TV.
Before being fired, Smalls was placed in quarantine by Amazon after coming into close contact with a fellow employee who had tested positive for COVID-19, the respiratory disease caused by the coronavirus. According to WABC-TV, the worker was sent home Tuesday when she showed symptoms of the virus but was allowed to return to work on Thursday, prior to receiving the results of her test, which was conducted Wednesday.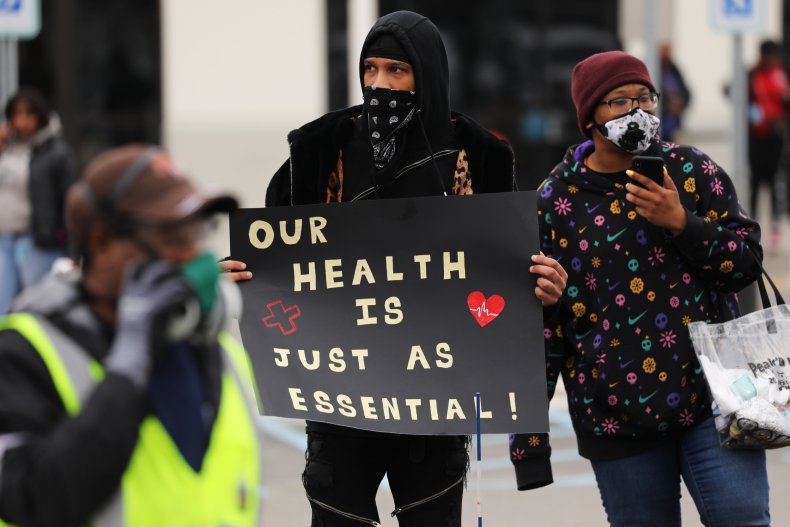 Following this, Smalls expressed his concern over the company allowing the employee back to work after being tested for COVID-19.
"She already had time to spread it. Her friend caught it. Her friend was the third case," Smalls told WABC-TV. "She tested positive and she's a supervisor in the pack department, and the pack department is right before the items go out [the] door to customers. It's dangerous."
Smalls planned the one-day walkout while in quarantine, which he then attended at the Staten Island warehouse. In an email sent to Newsweek, an Amazon spokesperson explained that Smalls was fired for violating the company's social distancing guidelines.
"We did not terminate Mr. Smalls' employment for organizing a 15-person protest. We terminated his employment for putting the health and safety of others at risk and violations of his terms of his employment," the Amazon spokesperson said in an email sent to Newsweek.
The spokesperson continued, "Mr. Smalls received multiple warnings for violating social distancing guidelines. He was also found to have had close contact with a diagnosed associate with a confirmed case of COVID-19 and was asked to remain home with pay for 14 days, which is a measure we're taking at sites around the world. Despite that instruction to stay home with pay, he came on-site, further putting the teams at risk."
Smalls has continued to criticize the company and responded to his firing by saying that he didn't "violate any safety guidelines."
"As far as the quarantine, what gives Amazon medical expertise? Who's making these decisions on who gets quarantined? What is their definition of close contact?" Smalls asked during an interview with Fox Business.
Following his termination from the company, Smalls released a statement saying that "Amazon would rather fire workers than face its total failure to do what it should to keep us, our families, and our communities safe."
In the email to Newsweek, the Amazon spokesperson explained how the company has been combatting the virus across its different facilities and said Smalls' accusation that the company lied about the number of coronavirus cases was "simply unfounded."
This company is "working hard to keep employees safe while serving communities and the most vulnerable," the email said. "We have taken extreme measures to keep people safe, tripling down on deep cleaning, procuring safety supplies that are available, and changing processes to ensure those in our buildings are keeping safe distances. The truth is, the vast majority of employees continue to show up and do the heroic work of delivering for customers every day."
The spokesperson added: "These accusations are simply unfounded.... We are committed to protecting our employees through our preventative health measures, enhanced cleaning and sanitation, and a broad suite of new benefits, including extended paid leave options for full-time employees, additional $2 per hour, double time for overtime, and paid time off benefits for regular part-time and seasonal employees.
"We enforce strict 6-foot social distancing on our property and throughout our facilities. We also communicate when a COVID-19 case is confirmed in one of our buildings to all individuals who work at that site—not just to those who've come in close contact with the diagnosed individual," the email said.