Fired Navy Secretary Calls Trump's Involvement in Gallagher Case 'Shocking and Unprecedented Intervention' in Op-Ed
Former Navy Secretary Richard Spencer called President Donald Trump's public involvement in the case of Navy SEAL Chief Petty Officer Eddie Gallagher a "shocking and unprecedented intervention" today in an op-ed piece published by The Washingon Post.
Gallagher was accused of war crimes and convicted of having his photograph taken with the corpse of a teenage ISIS member he had killed in Iraq. After Trump restored Gallagher's prior rank and paygrade, the Navy chose to bring Gallagher before a review board with the intention of removing his Trident pin and ousting him from the SEALs. In response, Trump fired Spencer.
Spencer referred to Trump's restoration of Gallagher's rank as a "shocking and unprecedented intervention in a low-level review."
"It was also a reminder that the president has very little understanding of what it means to be in the military, to fight ethically or to be governed by a uniform set of rules and practices," Spencer continued.
Spencer also said he stopped consulting Defense Secretary Mark Esper on the procedure, calling that decision "a mistake for which I am solely responsible."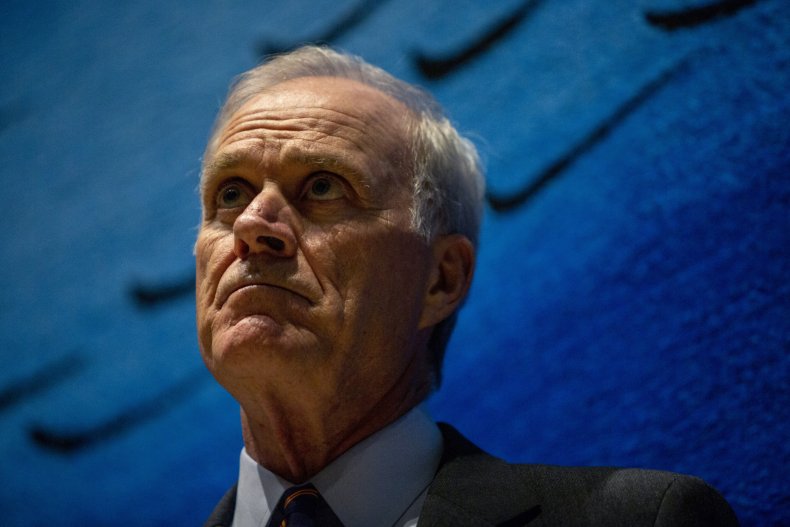 "President Trump involved himself in the case almost from the start," Spencer wrote. Trump asked Spencer to remove Gallagher from a Navy brig, which Spencer refused to do. Gallagher was eventually relocated to "the equivalent of an enlisted barracks" at Trump's order.
"I came to believe that Trump's interest in the case stemmed partly from the way the defendant's lawyers and others had worked to keep it front and center in the media," Spencer wrote.
Gallagher had already submitted his retirement papers, leaving Spencer with three decisions to make.
"Would he be permitted to retire at the rank of chief, which is also known as an E-7?," Spencer recounted, noting that a jury had already said Spencer should be demoted. "The second was: Should he be allowed to leave the service with an 'honorable' or 'general under honorable' discharge? And a third: Should he be able to keep his Trident pin, the medal all SEALs wear and treasure as members of an elite force?"
Trump, however, ordered Spencer to restore Gallagher's rank. Another tweet from the president said Gallagher would be permitted to keep his Trident pin.
"I recognized that the tweet revealed the president's intent," Spencer wrote. "But I did not believe it to be an official order, chiefly because every action taken by the president in the case so far had either been a verbal or written command."
Spencer expressed his desire to learn from the Gallagher incident and "keep fine-tuning these procedures to prevent a case such as this one from happening again."