Fired Police Chief Walks Home in His Underwear in Snow, Says "I Did as Ordered"
Richard Lee, the chief of police in Croydon, New Hampshire, had to walk home from his last day of work in his underwear during a snowstorm after the city unexpectedly dissolved the department.
The Union-Leader reported that the town's three-member board of selectmen voted to end the one-man police department on Tuesday. The order was effective immediately, meaning that Lee was made to strip off his town-owned clothes and could not use his police car to return home.
Lee told the paper, "I was told that I had to turn over the keys to the cruiser and my uniform immediately. I had no other means of transportation, as the cruiser is a take-home vehicle, and I have no spare clothes in the office, so I did as ordered."
It was snowing in Croydon on Lee's last day, but he set out for his home in nearby Newport in just a hat, boots, T-shirt and underwear. He made it a little under a mile before his wife came in their personal car and picked him up.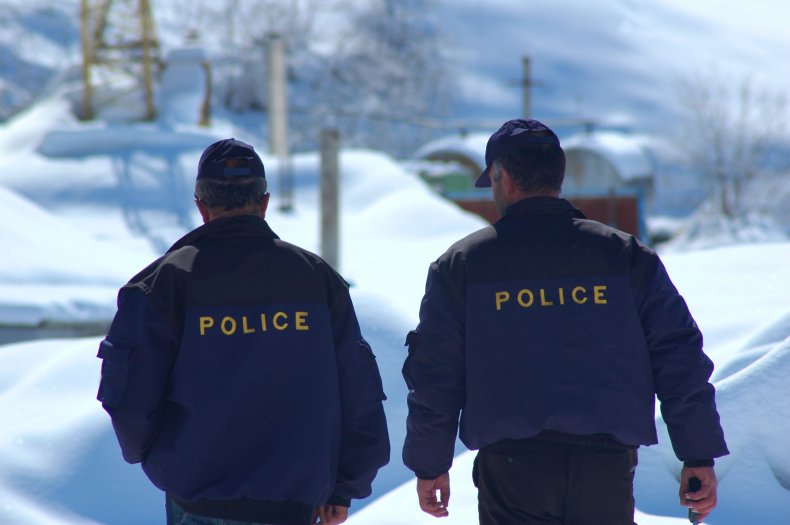 Lee had struggled with the town's selectmen in the past. In March 2019, the board passed a surprise warrant article on their ballot to disband the department and fire Lee. Croydon would then contract with Newport's police department to serve the town at an estimated cost of $55,000 a year.
The board of selectmen had previously used town funds to pay for an outside investigation of Lee's management of the police department and drew criticism for not making the results of that investigation public.
The decision to terminate Lee's position was then reversed in May after a special town meeting. Two selectmen resigned after that vote.
According to the Valley News, there was no indication that Lee's job was on the line at this month's meeting, with only a line item reading "Police Department" where the vote was taken.
When asked for comment, the board sent a statement to Newsweek that read "At the Select Board Meeting of February 18, 2020 the Croydon Select Board, voted to dissolve the Croydon Police Department. The minutes of the meeting are public record and are available at the town clerk's office and Coniston Store in Croydon."
Lee had worked for the town for approximately two decades. In addition to being Croydon's only police officer, he was also the town's prosecutor.
Croydon now has no dedicated personnel to handle any criminal cases that may arise within town limits. The town will rely on state police for all law enforcement needs.
Lee told the Valley News that he will meet with a lawyer to determine whether he has standing to sue.
"If there's something I was doing wrong, tell me," he told the paper. "I can't get anybody to answer the question."
This article has been updated to add a statement from the Croydon board of selectmen.