Spectacular 'Firefall' Viewing Season Begins in Yosemite, Park Officials Say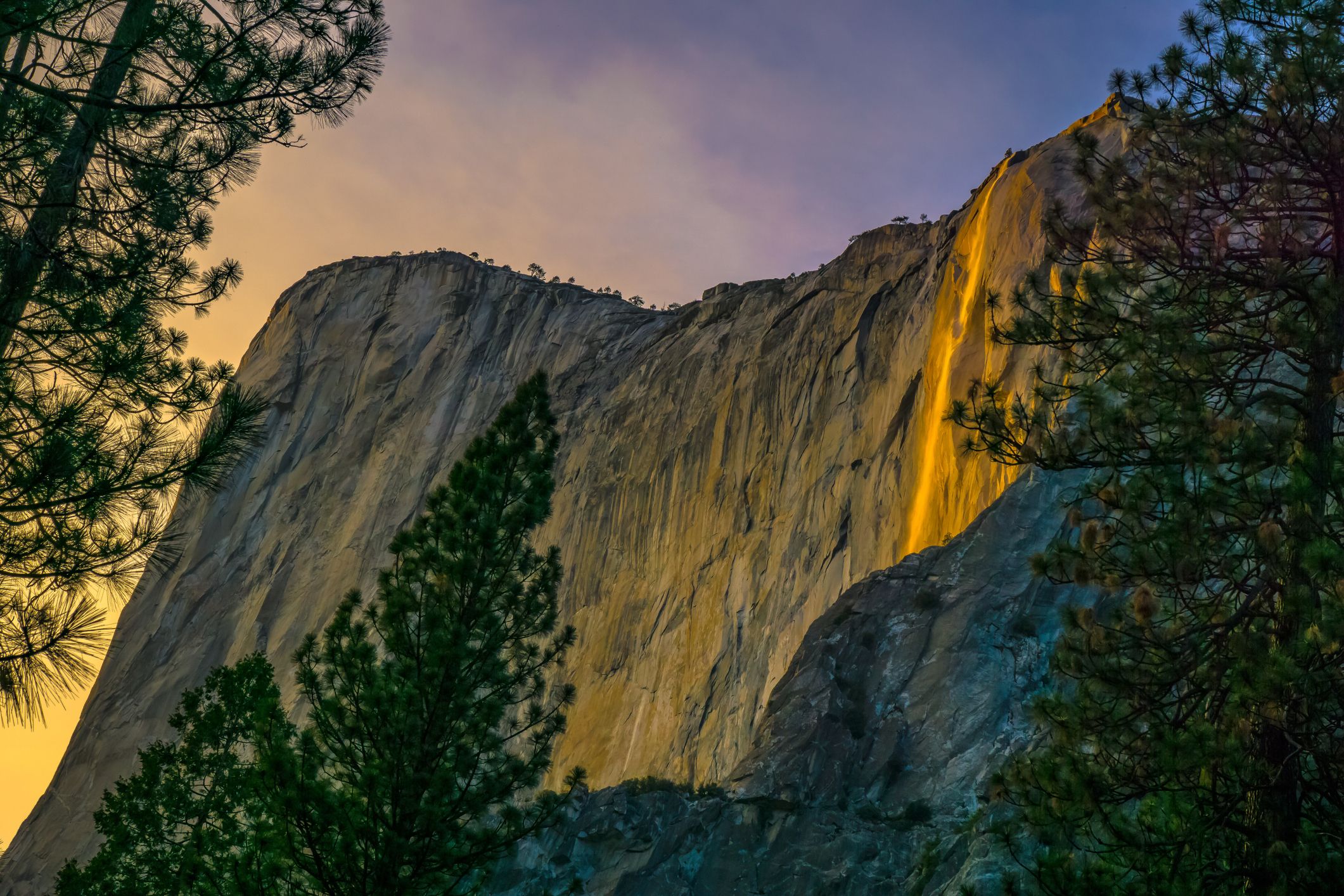 Every year, millions of visitors flock to Yosemite National Park in California's Sierra Nevada mountains to admire its outstanding natural beauty. But one of the park's most fascinating sights occurs for only a couple of weeks every year—and viewing season is now underway.
In mid-to-late February, given the right conditions, Horsetail Fall—located on the eastern face of the dramatic El Capitan rock formation—is illuminated by light as the sun sets in such a way that it glows a striking reddish-orange color, giving the impression of falling lava or fire.
The phenomenon, often referred to as a "firefall," is temperamental however, and will only occur when several factors perfectly align.
Firstly, water must be flowing through the 1,570-foot fall. This will only happen if there is enough snowmelt, according to James Kaiser, author of Yosemite: The Complete Guide. Secondly, the angle that sunlight hits the fall is key to the illusion: these conditions are only right in October and February—although there is usually no water falling during the former, so it cannot be seen. Thirdly, the sky must be clear at sunset so that light is able to strike the falling water.
As a result, park officials cannot guarantee that the phenomenon will be visible on any given day, but this doesn't stop hundreds of spectators from traveling to the fall with the hopes of witnessing the phenomenon. When the illusion does occur, it usually lasts for around 10 minutes.
According to Yosemite National Park spokesperson Jamie Richards, the 2019 viewing season starts now and will last until February 24, peaking next week, Travel + Leisure magazine reported.
Unlike last year no permit or reservation will be required to view the fall, according to park officials. However, visitors should be prepared to hike for at least a mile in the snow to get to the closest viewing points from the nearest available parking location.
"Due to accumulated snow in pull-offs, icy roads, and nonexistent shoulders, no stopping, parking, or pedestrians will be permitted along Southside Drive between the El Capitan Crossover and Swinging Bridge," a statement from the park read.
"The closest parking to view Horsetail Fall will be in the Yosemite Falls Parking Area near the Yosemite Valley Lodge and on Northside Drive along El Capitan Straight," the statement continued. "Vehicles displaying a disability placard may park at the El Capitan picnic area."
While the firefall phenomenon has been viewable in the past couple of years, it did not occur between 2014 and 2016 due to a drought, which meant that no water flowed through the falls.