Firefighter Brings Home 15,000 Bees From New Mexico Supermarket
When fire department personnel in Las Cruces, New Mexico, were assigned to an usual emergency incident involving roughly 15,000 live bees over the weekend, they called off-duty firefighter Jesse Johnson to assist in their response.
Johnson is a learned beekeeping hobbyist, who arrived with appropriate resources to manage the swarm of insects that had infiltrated the backseat area of a person's car on Sunday afternoon. After safely removing the bees from the vehicle, which was parked outside a Las Cruces supermarket, fire department officials said that Johnson relocated the swarm to his personal property.
"After blocking off the immediate area to ensure the safety of nearby shoppers, Las Cruces firefighters called upon the services of off-duty firefighter Jesse Johnson who, in his spare time, is a beekeeper," the department said in a statement on Monday.
"Johnson arrived with the proper tools for the trade—a hive kit, lemongrass oil, gloves and proper attire—and was successful in removing the bees from the car and relocating them to a more suitable location. Estimated 15,000 bees were removed and relocated to Johnson's property that's outside of city limits," the statement added, while photos alongside Las Cruces Fire Department's update showed Johnson wearing full beekeeper attire and collecting bees from the vehicle's backseat using hive boxes.
"The fire crew was on scene for nearly two hours while the bees were removed and rehomed," the department continued in Monday's statement. "A security guard at Albertson's was stung and it is possible a few patrons may have had close encounters, but no major injuries were reported."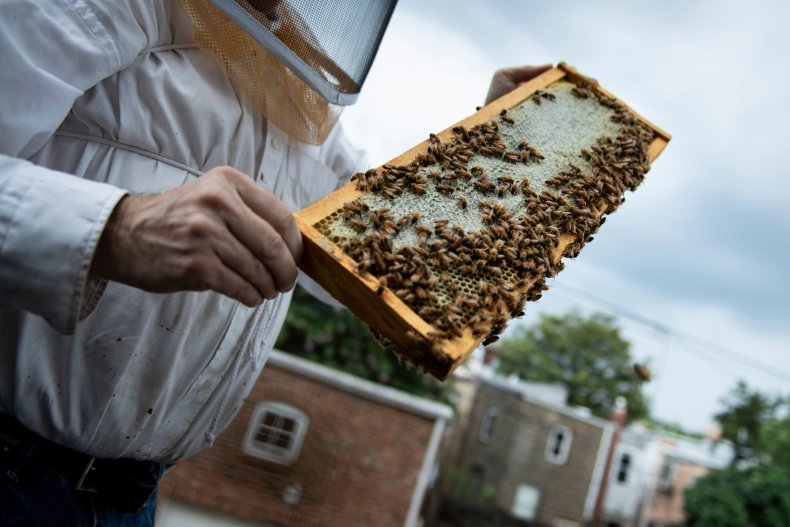 For additional reporting from the Associated Press, see below:
City of Las Cruces spokesman Dan Trujillo says the incident occurred Sunday shortly after 4 p.m. outside an Albertson's supermarket.
A shopper had put his groceries in his car and was about to drive when he spotted the swarm in the backseat.
Firefighters were called and secured the area. Trujillo says crews decided to call on Jesse Johnson, an off-duty firefighter with beekeeping experience.
Johnson arrived with proper beekeeping attire as well as tools and was able to remove the bees. The whole process took about two hours.
Fire officials say a store security guard was stung but no other injuries were reported.
Trujillo says the Las Cruces Fire Department does not normally remove bee swarms. But they thought calling Johnson was the quickest course of action given the amount of traffic in the area.