It's been four years, but Tomas Jaunzems remains a legend worldwide.
A video clip of a heroic rescue by the firefighter from Latvia, has resurfaced and gone viral on sites like Reddit. Over 86,000 people on the platform's "Make Me Smile" forum have appreciated his public service as a member of the State Fire And Rescue Service Of Latvia.
The clip dates back to a 2018 rescue where, according to Bored Panda, Jaunzems' unit received a call to a multi-apartment building due to the suspicion that a suicidal woman may jump from a fourth-floor window.
Jaunzems and his crew reportedly arrived at the complex knowing a rescue attempt was imminent. A video recorded by a fire rescue service member shows Jaunzems situated at a window while another colleague stands at the ready for assistance. Both were wearing harnesses for stabilization.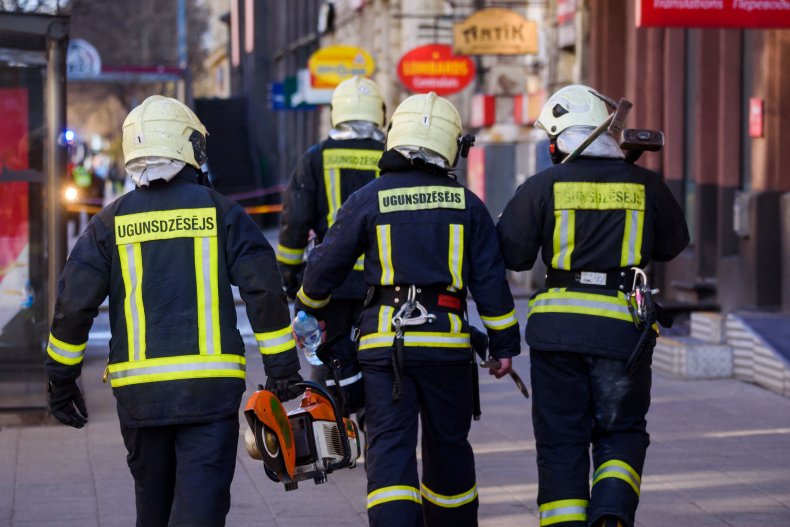 The video shows the split-second rescue by Jaunzems, who was anticipating the woman's jump from above. He corrals the woman in mid-air, his back bending at a complete 90-degree angle and then some.
The woman can then be seen being hauled in by him and two other colleagues.
"It was the first time I have done this," Jaunzems told Bored Panda at the time. "We haven't been practicing this...It is nearly impossible to tell you what the most difficult thing was during that day because every day in firefighters' lives is different [and] challenging. We just do the thing we do the best: help people!"
He was a five-year member of Latvia's fire and rescue team at that point, saying he wanted to be his "country's patriot" and entered the profession to save people and their properties.
His efforts and those of his fellow service members were commended by Rihards Kozlovskis, Latvia's Minister of the Interior, who gave them an award, along with the country's fire rescue service.
The World Health Organization (WHO) reported in 2021 that about 700,000 people worldwide die annually by suicide, and it's the fourth leading cause of death for individuals among 15-19 year-olds. About 77 percent of suicides occur in low- and middle-income countries.
The WHO's report said that Latvians of all ages had 384 suicide deaths in 2019, of which 311 of them were males. That is an age-standardized rate of 16.1 per a population of 100,000 people.
Redditors were in awe of the rescue, with one summing it up in one word: "Insane."
Many commented on Jaunzems' back taking a beating in that moment, with one saying he probably had "to take a year's worth of hydrocodone for that back."
"I can comprehend how fast a person accelerates when falling and how badly I could be injured grabbing them from a fall," one Redditor said. "Catching even a lightweight person might result in a pretty terrible, permanent injury. I'm thinking torn stuff in your arms and shoulder."
Thoughts were also with the jumper.
"I genuinely hope that person went on to live a better and a happier life," one comment read.
Newsweek reached out to Jaunzems for comment.