Firefighter and Dog Tirelessly Trawl Through Miami Condo Wreckage for Survivors
A firefighter and her search-and-rescue dog have been working 16-hour shifts to find survivors of the Miami building collapse.
The 12-story residential Surfside building collapsed early on Thursday morning, in a matter of seconds. At least nine people are dead and more than 150 are missing.
Search teams with specially trained dogs have been searching for survivors, with dozens pulled from the rubble, as reported by the BBC.
The Broward Sheriff's Office dedicated a Facebook post to Battalion Chief Nichole Notte and Dig, who have been working tirelessly to find survivors in the debris.
The sheriff's office said that Notte and her K-9 Dig arrived at the site within 45 minutes of the collapse and began searching for 12 hours.
They then headed home to repack a bag and briefly rest before returning to the site. Notte and Dig have been working 16-hour shifts from 9 a.m. until 1 a.m. local time since Friday, and have slept near the site on their breaks.
The Broward Sheriff's Office said: "There is a lot of densely packed rubble making it hard for the dogs and their handlers to walk on and search through. Battalion Chief Notte and Dig continue to search, holding out hope they can find a survivor and bring them to safety.
"The duo step off the pile when they are tired. Battalion Chief Notte will rest, sometimes cry, shore up her strength, and she and Dig will return to work, searching for signs of life."
Facebook users are thanking and praising Notte and Dig for their hard work, and are praying for their safety.
Sandy Ossman said: "Thank you to all. Dig you are amazing. Looks like you're about ready for retirement, beautiful boy. God bless you." And Patricia Harvell-Kossol added: "God bless you and keep you safe as well as the other brave men, women, and dogs searching."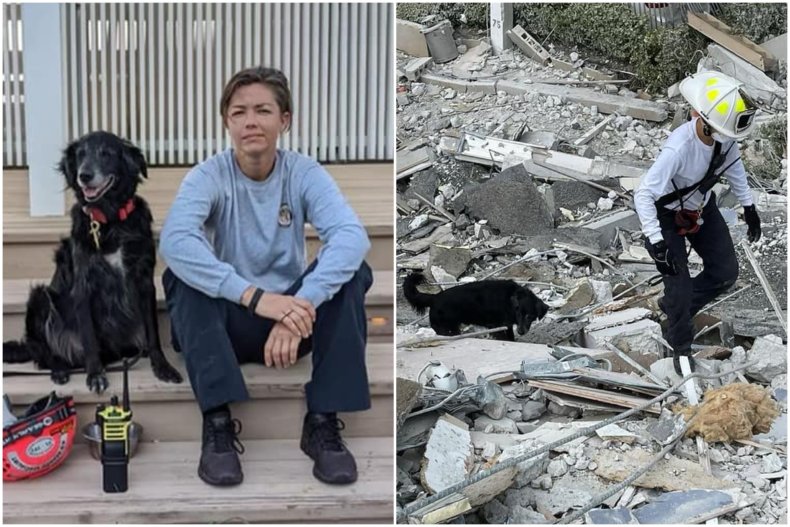 The cause of the collapse is still unknown, though on Saturday the city of Surfside released a 2018 engineering report that found "major structural damage."
At the time, a structural engineering firm uncovered "abundant cracking and spalling of varying degrees" in the "concrete columns, beams and walls" of the building's parking garage, as well as "major structural damage to the concrete structural slab" that held up the ground-floor pool deck.
Additionally, a 2020 study focusing on the sinking of buildings in Miami and the coastal town of Norfolk in Virginia found that the condo building had been sinking since the 1990s.