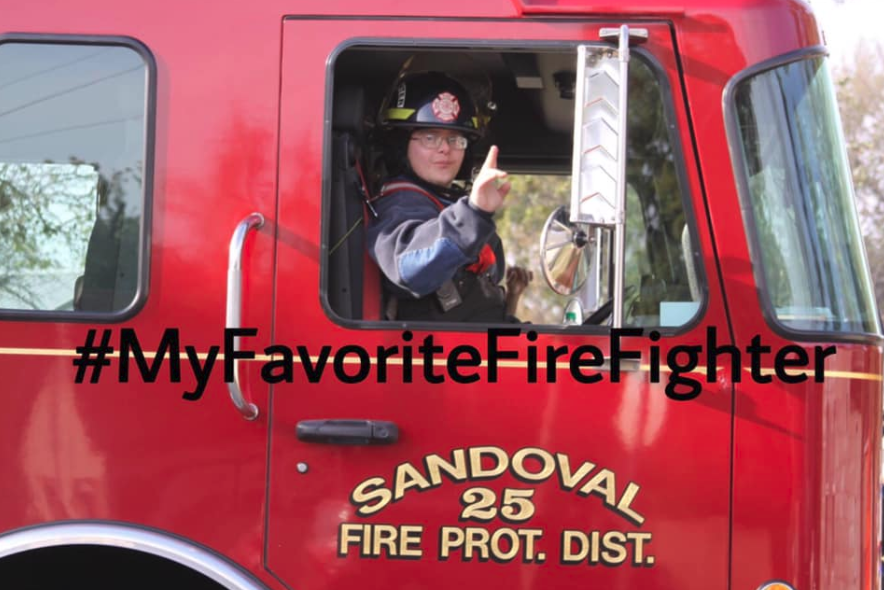 The family of a firefighter with Down syndrome have said that he quit after he was bullied by colleagues, some of whom called him a "retard."
A post written by the sister of Jason Eagan, a volunteer firefighter in Sandoval Illinois, outlining the abuse, has been shared on Facebook 2,000 times. The story gained so much traction that she now says the board of trustees at the fire department has offered him his job back.
"My brother, Jason Eagan, has Down syndrome and became a firefighter in Sandoval, IL. He responded to every single call and it has come to my knowledge he quit a few months back due to harassment from a fellow fireman," Kristine Sian wrote on February 7.
"It disappoints and angers me that this was allowed and that a grown man bullied a fellow fireman simply because he's different," she added, explaining in an update that a number of members of the Sandoval department had called Eagan a "retard."
The Belleville News-Democrat reported that Eagan returned to his job Monday after the story went viral. The Sandoval Fire Department is slated to hold a meeting over the situation later this week after Eagan met with several members of the department and a Sandoval trustee. Apologies from the fire department were made to the young man.
Eagan became a volunteer firefighter with the Sandoval Fire Department in 2016 after years of trying. There had been an initial disagreement over his disability when he applied. However, the 33-year-old passed the physical and completed all paperwork involved, meaning he could not be refused.
He left the department three months ago. His family only realized he was quitting when Eagan was seen taking his uniform and equipment to hand them back in.
"He always put that fire department over even family," Eagan's aunt, Mary Kay Eagan-Robbins said. "That was what was always so important to him."
She explained that several of the firefighters had reached out to the family following his decision to quit. It appears, however, that one firefighter in particular, with the help of three others, bullied Eagan to the point that he wanted to give up his dream.
"It went good for two [or] three years and then, all of the sudden, someone at the fire department started harassing Jason and picking on him and bullying him," Eagan-Robbins said. Eagan was also reportedly deleted from the paging system that contacts firefighters over incoming emergency calls.
Sian said Monday that one of the four firefighters involved in the episode had resigned over their behavior and another is expected to follow suit. The family, who have contacted attorneys and disability advocates, have now said their principal interest is to make sure the bullying does not resurface.
"He is excited to return," Sian said. "We just have to make sure this will not happen again."