Firefighter Needs Lung Transplant Due to COVID After 'Putting Off' Vaccination
A Houston firefighter needs a transplant after COVID-19 destroyed his lungs, his wife Caitlin Davis said. She received the vaccine but her husband, Wayne, "kept putting it off."
Six weeks ago, Wayne contracted the virus while on the job with the Houston Fire Department (HFD), local outlet KHOU reported. The firefighter spent a few weeks in a hospital, but his condition declined. Today, he's in the ICU and needs both lungs replaced to survive.
Looking back, Caitlin said her husband wishes he had just gotten the shot—thinking that it didn't have to be this way.
"I was vaccinated and I just kept getting on him to go do it," she said. "He would say, 'I'll go do it,' and kept putting it off. He just never did it."
Caitlin said she prays that other families learn from them, and that they're sharing her husband's story to encourage others to get vaccinated.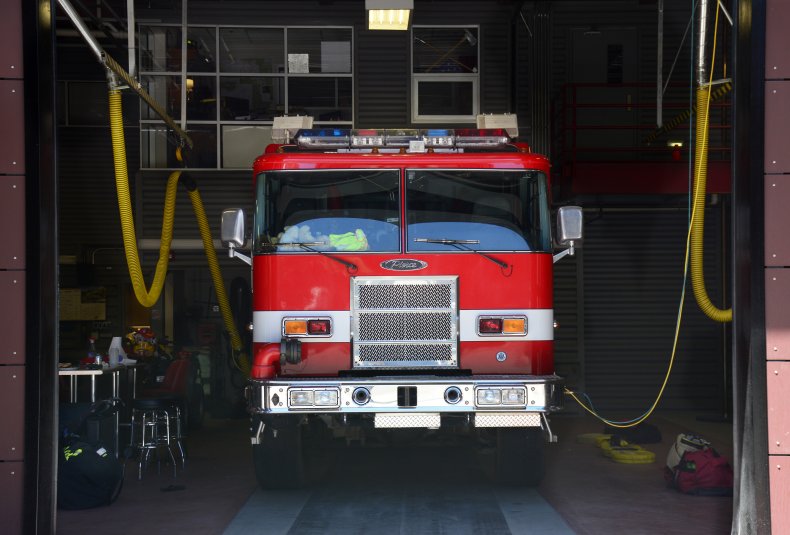 Prior to contracting the virus, Wayne was a healthy person and Caitlin never expected they'd be at this point.
"The virus destroyed his lungs," she said.
Now, doctors believe that if Wayne doesn't receive the transplant, he'll die. Every day Caitlin wonders if she's going to get a phone call that he passed.
"Anybody that's still on the fence, I would show them a picture of Wayne now with the tubes and just say would you rather have a six week period in the hospital knowing you could possibly die, or just go to Walgreens for 20 minutes and get a shot," Caitlin said.
Due to the seriousness of Wayne's condition, he was moved to the top of the transplant list and surgery could be possible within a few weeks. Caitlin said it's a waiting game and that they're just waiting on the call that lungs are available.
"Our story shows people that it isn't just older people, it can be your family very easily," Caitlin said.
The Houston Fire Department and CY-Fair Fire Department held a joint prayer vigil on September 10 for Davis and firefighter Hugo Guevara.
"I truly believe that these two men have done more for us than we could ever do for them because they brought all of us together for one common purpose, one common reason, which is to pray," Houston Fire Department Chaplain Rick Ponce said.
Four firefighters from HFD have died of COVID-19 and many first responders haven't been vaccinated, according to KHOU. On the same day as their report, HFD Engineer Operator Tanner Reed was laid to rest after passing away from COVId-19 earlier this month.
Newsweek reached out to the Houston Fire Department for comment but did not hear back in time for publication.