Firefighter Rescues Stuck Kitten, Adopts It Weeks Later—They 'Had a Very Special Bond'
A Michigan firefighter has proudly adopted a rescued stray kitten, just weeks after rescuing it from a storm drain in the night.
Brandon Mulvaney is a part of the Saginaw Fire Department that was called in to rescue the stray, now named Huntley, in August after locals heard crying from the drain.
The heroic firefighter said he knew straight away he wanted the kitten to be the newest member of his family after it came straight to him during the rescue. Now, Huntley is settling into his new home with Mulvaney, his wife, their four children and dog.
In August, Saginaw police were dispatched to reports of a stray kitten stuck in a storm drain at 1:00 a.m., with the note: "Caller can hear it crying."
"Officers were able to hear the kitten but could not see it," explained Bonnie Kanicki, director of Saginaw County Animal Care and Control, who took the kitten in after the rescue. "Since we do not have the resources to access the drains nor the training to go into them, the Saginaw Fire Department was contacted to assist."
Luckily, Mulvaney had been on duty that night when they received the call. "Upon arrival we were able to figure out that there was a very small kitten, trapped below ground, running, running back and forth between a main drain and a curb style storm drain," he told Newsweek.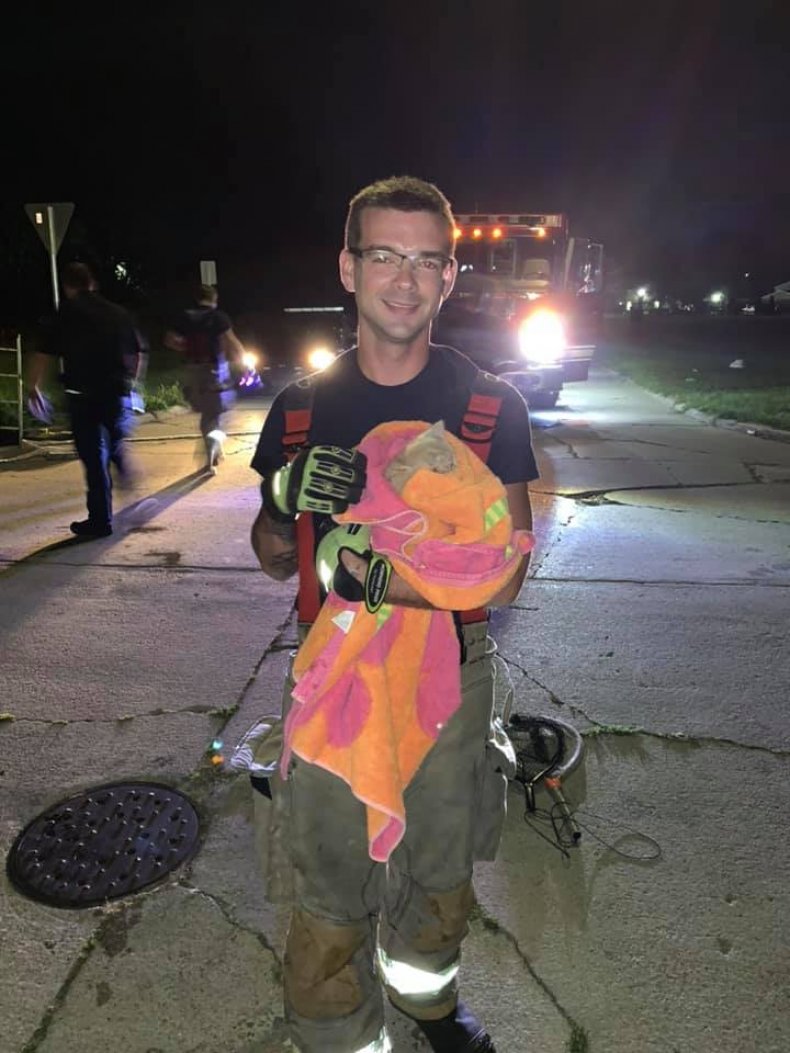 "After coming up with a strategy on how to remove the kitten, our engineer came up with the idea of climbing down in the access manhole cover, [only] to discover another smaller pipe that the kitten was running in," added Mulvaney.
With the safety of a gas monitor and a net, the firefighter descended around 7ft below the pavement before crawling through a pipe for around 10ft and finally finding the smaller pipe Huntley was stuck in.
"After a few minutes of waiting and calling from the cat, it peeked out of the pipe and I grabbed it and carried it out. At that moment I knew I wanted the kitten because it came right to me," said Mulvaney.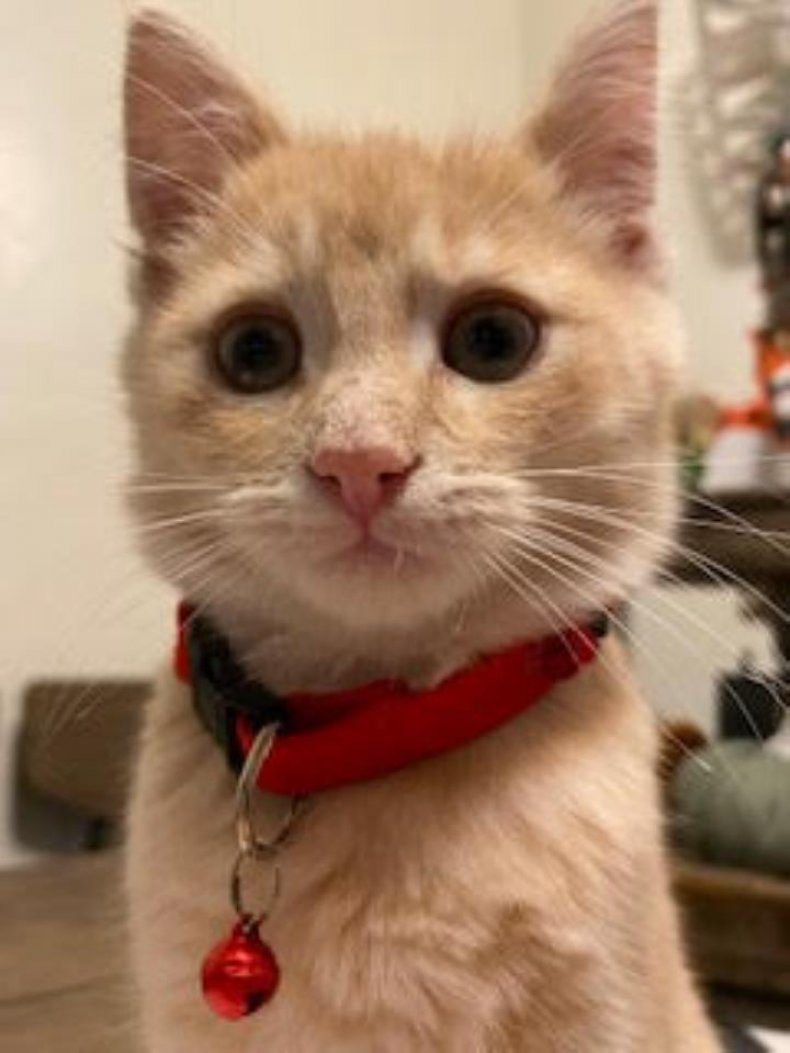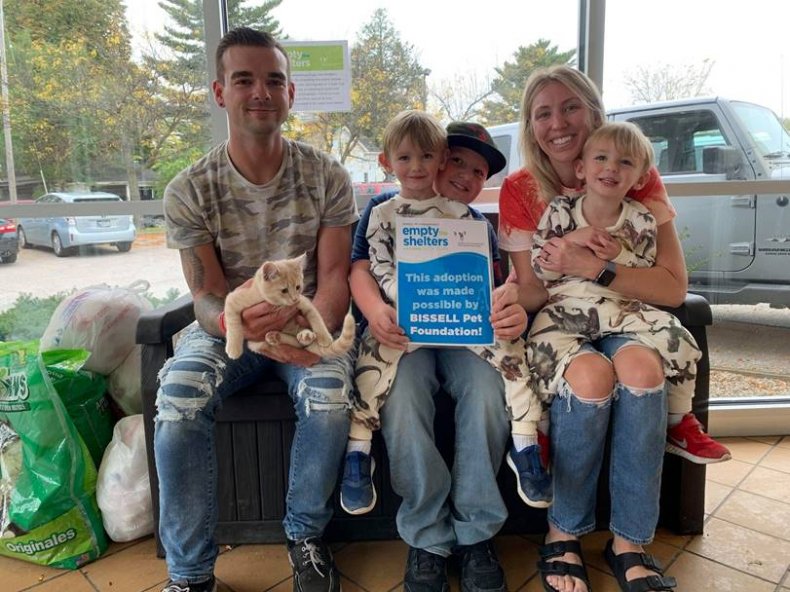 The firefighter said he knew instantly what he would name the kitten—Huntley, after the intersection he was found at called Huntley and Bridgeton. "Our four childrens' names and our dog's name contains Y so it seemed fitting," he said.
When Huntley arrived at Saginaw County Animal Care and Control he was small at just 2.7lbs and a few weeks old, soaking wet and scared, "but overall in good condition except for an eye infection," said Kanicki.
"A lot of TLC by staff and volunteers and weekly vet checks," went into nursing Huntley back to health, said Kanicki. "We continued medicine on his eyes until the vet advised he was medically cleared."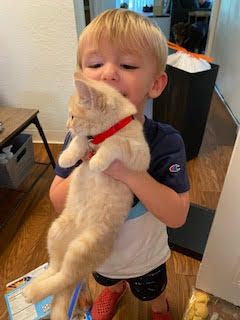 Brandon Mulvaney's son and Huntley.
Brandon Mulvaney
Mulvaney heard back from Saginaw County Animal Care and Control about the kitten's health and age within a week. "During this phone call is when I decided to adopt it, it deserved a better life than being a feral cat when it got older," he said.
"I have never adopted or rescued an animal prior to this from an animal shelter so it was my first experience and I wanted to follow through with it. I felt as though the kitten and I had a very special bond through this process. I called once a week for about two and a half months until I got the approval for adoption," he added.
The adoption was supported by the BISSELL Pet Foundation's "Empty the Shelters" campaign, which pays for the adoption process.
Huntley is settling into his new forever home, after an overwhelming first few days. "[He] has developed over the last few days," said Mulvaney. "The first few days were very rocky as he is still small and four children and another pet is very overwhelming, but he is handling it just fine and is a spitfire.
"He is such a blast and a love bug."
Correction 10/14/21, 7:30 a.m. ET: This article was updated with the correct spelling of the BISSELL Pet Foundation.