Firefighter Who Threatened to Kill People Was 'Overwhelmed' By Death at Surfside Collapse
Fernando Castano, a Miami-Dade firefighter who was arrested for reportedly threatening his estranged wife with a firearm, was significantly impacted by his constant work at the collapsed Surfside condominium building.
Officials mobilized a mass of first responders to the site of the Champlain Towers South, a 12-story condominium building, after it suddenly collapsed. The hope was that rescuers would find people alive in the rubble, but aside from those who were found only hours after the collapse, the month-long search and rescue mission was only able to recover the bodies of those who were killed.
Castano, a nearly 21-year veteran of Miami-Dade Fire Rescue, worked at the Surfside site "from day one" until he returned home on Friday, criminal defense attorney Michael Catalano told Newsweek.
"The whole family knew that he was becoming unglued and they thought it was because of the Surfside collapse," Catalano said. "The last two weeks everyone noticed something was really, really disturbed with what was going on."
During Wednesday's hearing, Catalano told Judge Ellen Sue Venzer that his client got "overwhelmed" by his work at the site of the collapsed condominium site.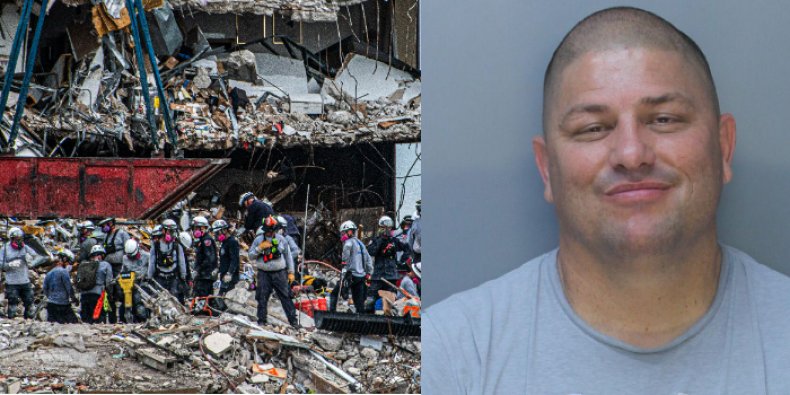 His wife had moved out of their home with their children and on Tuesday, Castano, 47, asked to meet the family at a restaurant, but they refused, according to WPLG. He then reportedly went to where they were staying to try to talk to his wife about their marriage.
At one point, he allegedly pointed a firearm at her and said, "If you want to end things, I should end it now." He also reportedly told his wife that he would not "end up in the back of a police vehicle" and would "commit multiple homicides and kill himself," according to an arrest report obtained by WPLG. He also is accused of pushing his wife.
"From what I heard from police officers, it was horrendous. The smell, the body parts, it was just disgusting. He lost control of himself, apparently, from what everyone's saying," Catalano told the judge.
Castano was arrested following the incident and faces five separate charges, including three counts of assault and one count of battery, according to court records, both of which are misdemeanors. The 47-year-old was also charged with aggravated assault with a firearm, a felony that comes with up to 10 years in prison.
The firefighter pleaded not guilty at Wednesday's hearing and was released on a $10,000 bond. He was also ordered to stay away from his wife.
Miami-Dade Fire Rescue confirmed to WFOR that the agency was aware of Castano's arrest and said he was placed on administrative duty pending further review of the incident as is the county and department's policy.