Firefighters Find Baby in Burning House After Mother Denies Anyone's Inside Except 20 Dogs
Authorities are investigating a Detroit house fire after four adults, who managed to get to safety, reportedly failed to inform firefighters there was an 18-month-old baby inside.
Detroit firefighter LaVaughn Williams told WDIV he found the baby in a smoke-filled room after he noticed movement in the crib. At the time, firefighters were unaware there were any other people in the house because the baby's adoptive mother reportedly said everyone was out "except for the dogs."
"I felt like a father at that moment," Williams, who has a 3-year-old, told WDIV. "I just grabbed the baby and ran as quickly as I could to get her away from the smoke. She was struggling to breathe."
Detroit Fire Department Battalion Chief Mike Nevin said he asked the baby's adoptive mother multiple times if anyone else was in the home and she said there was not. She urged firefighters to rescue the animals, though, and officials found 20 dogs inside the home, according to WDIV.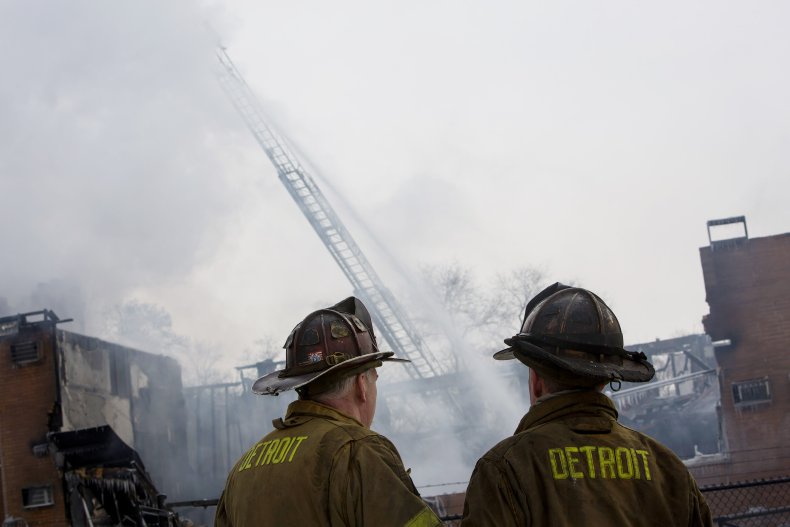 Williams questioned how a parent could not tell firefighters there was a child in the home and Nevin said he wouldn't put that baby in the "hands of any civilian" until it was taken to the hospital. The case was turned over to Child Protective Services and the Detroit Police Department and a report indicated the baby showed "signs of abuse," WDIV reported.
"We noticed that, we felt that there was a possibility that the child had been neglected," Nevin told WJBK. "Not only neglected, we noticed the possibility of some bumps and stuff on the child."
Multiple agencies are investigating the fire and WDIV reported the fire department considers it "suspicious" because the home was filled with toxic smoke and burning accelerants.
When wood and other materials burn in a fire, the smoke is made up of a mixture of gases and fine particles, according to the Department of Environmental Protection. This can create a wealth of health problems because particles can penetrate "deep into your lungs."
The 18-month-old firefighters found in the home is expected to make a full recovery, according to WDIV.
Newsweek reached out to the Detroit Fire Department and the Detroit Police Department for comment but did not receive a response in time for publication.
A neighbor, who asked not to be identified, told WJBK she witnessed the fire and disagreed with the fire department's narrative. She said the woman repeatedly told firefighters she had "10 dogs and a baby in there," and speculated firefighters may not have heard her.
"Due to that fire, they try to make it seem like oh she did something like she didn't care about the baby or whatever and that's not true. That is not true," she said.
Nevin told WJBK that "absolutely" wasn't the case and said 21 firefighters would stand by the belief they were never informed a baby was inside.
No charges have been filed and the baby has been placed with another guardian, Detroit Police Officer Holly Lance, a spokesperson for the police department, told The Detroit News.