Firefighters Lead Protests Ahead of Vaccine Passports Being Required in France
Firefighters led a protest in Marseilles, France, on Saturday ahead of the nation's vaccine passport—which will require people to be vaccinated in order to use public transportation or attend public venues including cinemas and cafes—going into effect on Monday.
Video posted on Twitter shows the firefighters—some wearing masks—carrying the French flag while walking through Marseille, the second largest city in the nation.
Other videos depict similar protests across the nation. Videos show more than 60,000 people marching through Paris and carrying signs and flags while flanked by police officers.
Another video shows another another large protest featuring chanting in Aix-en-Provence, a city north of Marseille.
The health pass has prompted several protests in recent weeks, as more than 100,000 people across the country have taken to the streets over the issue. However, despite the demonstrations, two recent polls indicate that a majority of the French support the idea of a vaccine mandate for everyone in the country.
The health pass law was approved by the French parliament in July and is meant to prevent another new lockdown and limit the risks of vulnerable people. Initially, it will apply to all adults but will apply to everyone 12 and older starting September 30, according to the Associated Press. To get the pass, people must have proof they are fully vaccinated, recently tested negative or have recently recovered from the virus.
Since French President Emanuel Macron announced the health pass on July 12, more than 7 million people have received their first dose of the vaccine.
A separate law mandates that healthcare workers must be vaccinated by mid-September, and a majority of them have been vaccinated against COVID-19. In June, France's public health agency estimated that 72.2 percent of doctors and 58.7 percent of nurses had received their first dose.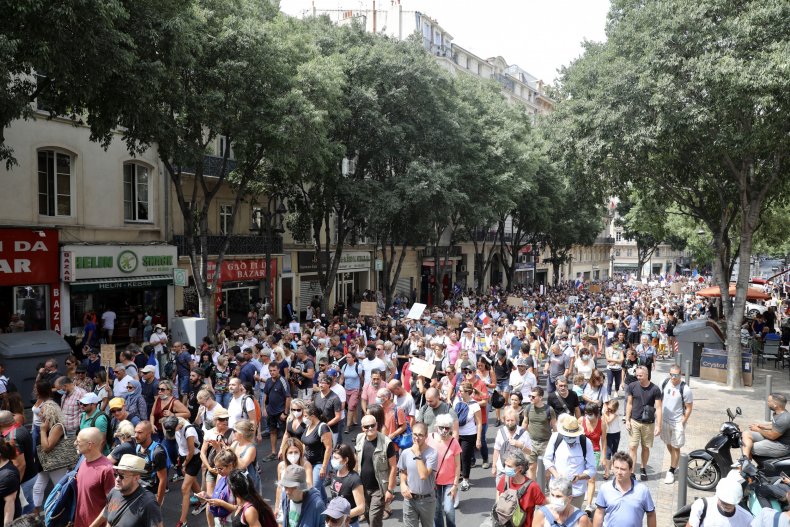 The protests come two days after France's Constitutional Council upheld most provisions of the law, according to the Associated Press. The council ruled that the automatic 10-day isolation of people infected with the virus goes against French freedoms.
Other European countries have also adapted similar policies. In Italy, a similar pass requires the vaccine to access indoor cultural venues and other gathering places, went into effect on Friday and has also sparked protests. There also similar policies in Denmark and Austria.
COVID-19 cases have increased in France in July as the Delta variant sparks a worldwide surge in cases. On Friday, the country's 7-day average of new cases was 22,504—nearly 10 times higher than a month earlier on July 6, when the 7-day average was 2,388 new cases per day, according to data from The New York Times. Just under 50 percent of the nation is fully vaccinated against the virus, reported John Hopkins University.