Firefighters Make Containment Progress as Fires Continue to Burn Across Southern California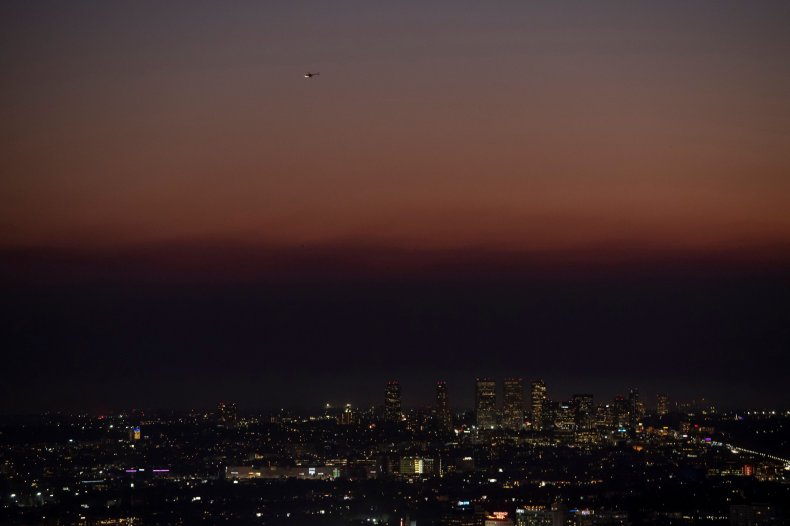 More than two million Californians in the northern part of the state got their electricity back on Sunday, while others in the south were still left without power as firefighters continued to work to contain the fires in the area.
"Aggressive suppression efforts and favorable weather conditions (have) provided opportunities to make gains in obtaining full containment," the Los Angeles County Fire Department said in a statement published in USA Today. "Full extinguishment is expected."
Shortly after midnight on Wednesday, Pacific Gas and Electric (PG&E), California's largest power utility, initially shut down power for 750,000 customers across 34 counties before the fires began, citing "widespread, severe wind" that only exacerbated conditions that were likely to start fires. Most customers had received their power back within 48 hours, according to PG&E.
Governor Gavin Newsom, who declared a state of emergency on Friday due to the fires, blamed the preemptive forced power outage on a series of bad choices on the part of PG&E. According to USA Today, he said the utility's problems were "a story about greed and mismanagement over the course of decades. Neglect. A desire to advance not public safety, but profits."
The Saddleridge fire in the Northern San Fernando Valley continued to burn but was 41 percent contained by Sunday afternoon, according to NBC Los Angeles. Saddleridge has been the largest fire to affect Southern California this weekend, coming in at 8,000 acres. The fire caused the death of one person and injured two. All evacuation orders were lifted Saturday evening.
On Sunday morning, the California Department of Forestry and Fire Protection tweeted that the Mariposa County's Briceburg fire--5,563 acres large--was 63 percent contained.
The Reche fire, a small blaze which affected the Moreno Valley, destroyed only one structure and was contained around 7:30 a.m. PDT. It caused no fatalities or injuries, according to NBC Los Angeles.
Over three-quarters of the 1,000-acre Sandalwood fire in the northern part of Riverside County had been contained by Sunday afternoon, according to NBC Los Angeles. The fire has resulted in two deaths and the destruction of 74 buildings. Evacuation orders remained in place for Villa Calimesa Mobile Home park, where the two victims' bodies were found. Authorities have identified one of the victims as 89-year-old Lois Arvikson and are working to identify the second victim.
Authorities said they are thus far uncertain as to what caused the Sandalwood fire.
"We're trying to determine whether there's criminal culpability," Riverside County Sheriff Chad Bianco said. "We're investigating to see if we need any type of criminal charges."