Fireworks Warehouse Explosions Near Mexico City Kills At Least 19, Injures 40
A series of fireworks explosions in Tultepec, Mexico, killed at least 19 people and injured another 40 on Thursday, officials announced. Four explosions rocked fireworks workshops located just north of Mexico City.
The Mexican government announced that at least 19 people have been killed in the blast. According to The Guardian, among those dead are four firefighters and two police officers who arrived at the scene following the first explosion and were killed by the second blast.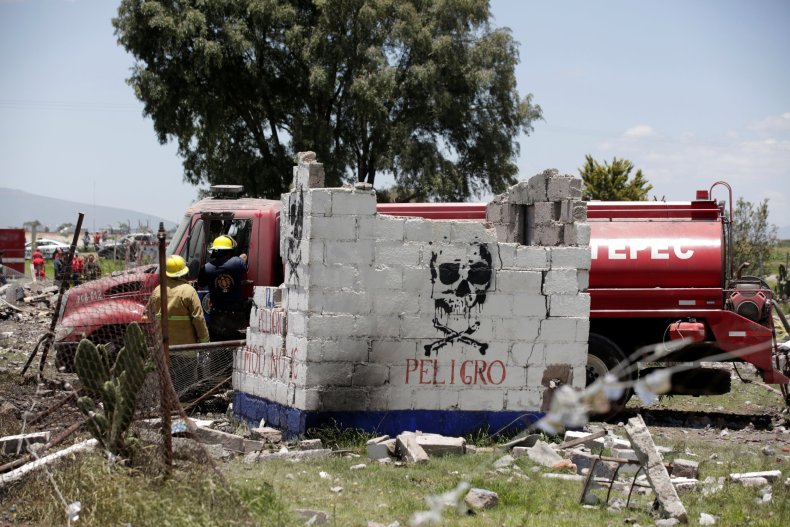 Authorities reported that firefighters and rescue crews are at the scene and are transporting the injured to area hospitals, CNN en Español reported. The Mexican Red Cross said that units from Cuautitlan, Coacalco and Ecatepec are on the scene to help.
Luis Felipe Puente, the chief of Mexico's civil defense agency, told Milenio news network that there were a total of four explosions that ignited at an unauthorized workshop. Puente said that a minor and a civil defense worker were also among the dead.
"The problem was that after the first explosion, people went running to help, and when the second explosion occurred, these people who ran to help were killed," he told Milenio.
More than 300 police officers have been sent to the scene, The Guardian reported. Four small buildings were destroyed in the blasts, authorities said.
The blasts occurred in a zone where fireworks are made and there are no homes. The town of Tultepec is known for its production of homemade fireworks. An explosion in June left seven dead and eight more injured, The Guardian reported.
Authorities have urged residents to avoid the area.
This is a developing story and will be updated as more information becomes available.