First 2017 Academy Awards Ceremony Ignores Sexual Misconduct Scandal
The 90th Academy Awards ceremony might be four months away, but in Hollywood it's never too early to hand out some hardware. On Saturday, the industry gathered for the Governors Awards, an annual pre-Oscars event that recognizes filmmakers for their lifetime accomplishments. Receiving golden statues were actor Donald Sutherland, director Agnès Varda, writer/director Charles Burnett, and cinematographer Owen Roizman. Alejandro G. Inarrritu also won an award for his six-minute virtual reality installation, Carne y Arena.
The event, meant to celebrate careers well spent, took place amid the ballooning sexual assault and misconduct scandal that has taken down power players like Harvey Weinstein and Kevin Spacey. But in the tradition of Hollywood, attendees at the awards ceremony chose to treat the event as a bit of escapism.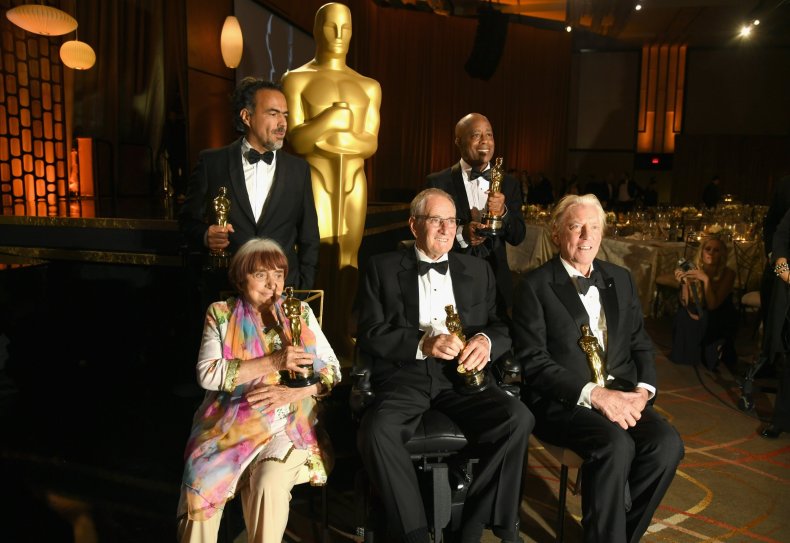 "[This event] is isolated from the horrific revelations that are occurring daily in our industry and all industries where there are abuses of power," Andrew Garfield told USA Today. "This is an endemic, patriarchal, toxic masculine issue that's coming to the surface now. These people have opened the floodgates and begun the healing."
Wonder Woman star Gal Gadot added, according to Vanity Fair, said "Let's just have a nice night."
That was the spirit of the honorees, too.
Varda, 89, is the first female director to win an honorary Academy Award. The French New Wave icon (Cleo from 5 to 7) and indelible documentarian (The Beaches of Agnès) received her Oscar from Angelina Jolie. When she did, she said that the it was "a big event, very serious. But if I have to choose between serious and lightness, I choose lightness." And then she began to dance with Jolie.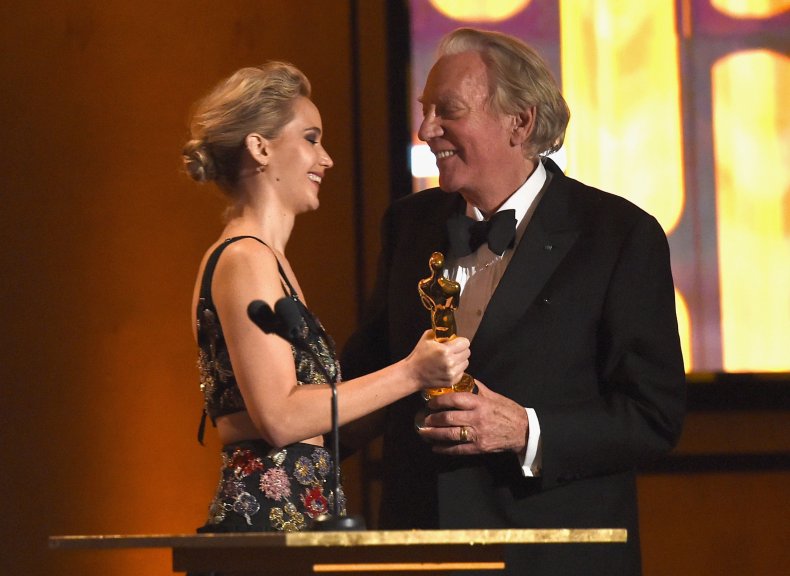 When Sutherland received his award, he pulled out an old chestnut from the comedian Jack Benny. "[Benny] said, as I say to you now, 'I don't deserve this. But I have arthritis. And I don't deserve that either.'"
Sutherland, 82 and Hollywood royalty, has incredibly never been nominated for an Oscar. In his 50-plus year career, he appeared in films like The Dirty Dozen, MASH, Klute and Ordinary People. But he's likely best known to younger viewers as the evil President Snow in the Hunger Games trilogy.
Burnett's Oscar was also a long time in coming. The 73-year-old, who was part of the L.A. Rebellion group along with Julie Dash and Larry Clark, became one of the most important independent voices of the 1970s and '80s thanks to films like Killer of Sheep and My Brother's Wedding. He received his award from Ava Duvernay, a director heavily influenced by Burnett and Dash.
The focus-on-the-honorees spirit was put to the test when Roizman, the cinematographer on classics like Tootsie, The Exorcist and The French Connection, received his statue from Dustin Hoffman. The actor is one of the people caught up in the misconduct scandal after a woman accused him of sexually harassing her in 1985 when she was a 17-year-old production assistant. Hoffman has since apologized, but chose not to address the scandal—or his place in it—at the ceremony.
"Thank for sharing with us your remarkable gift," Hoffman said in presenting Roizman his award.
After leaving the stage, Hoffman returned to his table and sat silently with his wife for the rest of the night.