GLAAD, The Advocate, The Gazette and One Iowa teamed up to sponsor an LGBTQ presidential forum in Cedar Rapids, Iowa tonight, which was held in Coe College's Sinclair Auditorium and broadcast across multiple platforms on Friday evening.
"If your candidate isn't here," said host Angelica Ross, "use the hashtag #lgbtqforum to ask them why not." That hashtag ultimately trended at number two in the U.S. and at number four worldwide.
Marianne Williamson's purported belief that HIV-positive people could be cured by "positive thought" was once again brought up. She denied having said such a thing or believing in such a thing, mentioning that her cancer-stricken sister had been told similar things. She brought up her work with Project Angel Food, a meals-on-wheels-style delivery service for HIV-positive housebound people. When questioned, she said that she thinks that HIV/AIDS is more of an international issue versus an American one.
Former Rep. Joe Sestak opened with many long thoughts and personal anecdotes about his own life—which quickly absorbed his question-and-answer time. When questioned about banning the trans panic defense, he unequivocally answered "absolutely."
"That is a hate crime. That is hate. That excuse is not an excuse," he said.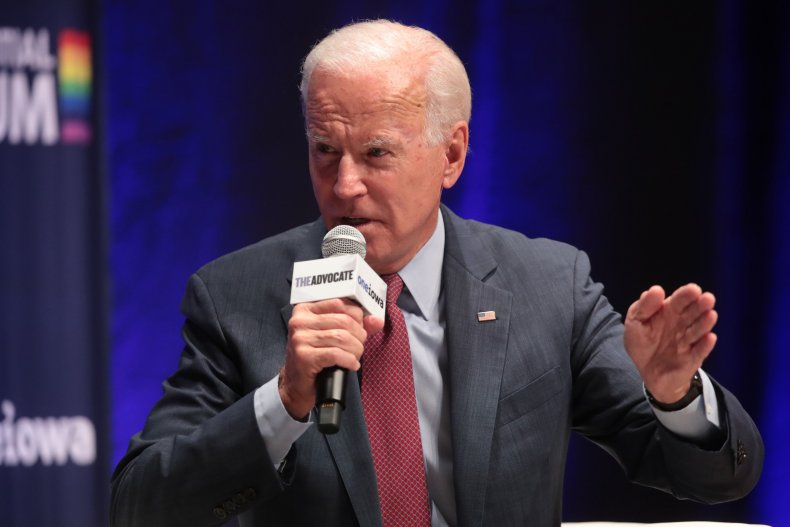 Joe Biden said that in the first hundred days of his presidency, he'd sign the equality act into law—and undo "all of the harm" that President Donald Trump has done during his term. He also expressed support for insurance for gender confirmation surgery. When reminded that he praised Mike Pence as a "decent guy", he dodged the question.
"I don't think he's been a decent guy to most Americans," said the moderator.
"Neither has Trump," said Biden.
He also expressed support for gay marriage. "I came out on Meet the Press in support of gay marriage before it was said by anyone nationally," he added.
Cory Booker picked up his moderator—"Oh my God," he said, "a man picked me up on national television!"—before delivering a fiery speech and explaining what he would do to stop hate crimes against transgender individuals.
"You can't pass legislation to make someone love me, but you can pass legislation to stop them from lynching me," Booker said.
"The first flag I raised before any other was a pride flag," he pointed out. "This has been an urgent point of my life for my entire career."
Representative Tulsi Gabbard spoke of her 100 percent rating from the Human Rights Campaign, and promised to end "wasteful regime change wars in other countries" were she to become president.
A questioner suggested her evolution toward supporting LGBTQ people was skin-deep, and if Gabbard, who hasn't made any public statements about the transgender community, supports trans issues and rights. "My record speaks for itself," Rep. Gabbard replied, who subsequently says that she voted against the military's transgender ban.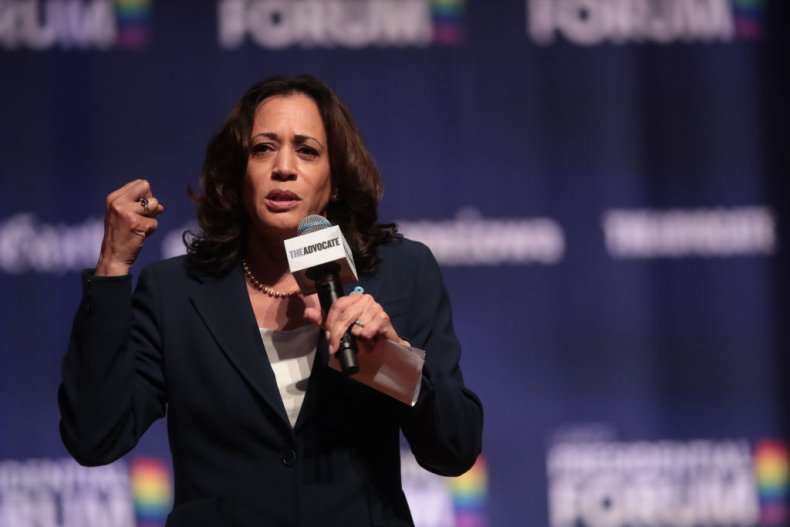 Senator Kamala Harris declared she'll pass her PrEP act if she becomes president, and promises to end HIV/AIDS within a generation.
After it was brought up that she voted against allowing gender confirmation surgery for transgender inmates, Harris was asked how transgender individuals could be sure that they would be advocated for under her presidency. Harris brought up previous advocacy for transgender rights, including fighting the gay panic defense as district attorney of San Francisco and fighting anti-transgender abuse in prisons.
"You've talked a lot about what you've done," said the moderator, "but when are you going to talk about what you're going to do?"
When asked about transgender rights in schools, Harris said that policies need to be changed. "First of all, Betsy DeVos needs to go."
Mayor Pete Buttigieg vowed to "end the war on trans Americans coming from this Whitehouse," and promised to sign the equality act into law, as well as create equality in housing. He spoke about the recent lifting of a blood donation ban by gay men by the Red Cross, and about being the only openly gay candidate.
He spoke about working with Vice President Mike Pence. "Faith is supposed to be about making people whole, and making people happy," said Buttigieg, adding that when religion is used in a way that may be seen as discriminatory, "To me that's an insult against religion itself," and advocated for a more culturally diverse medical profession.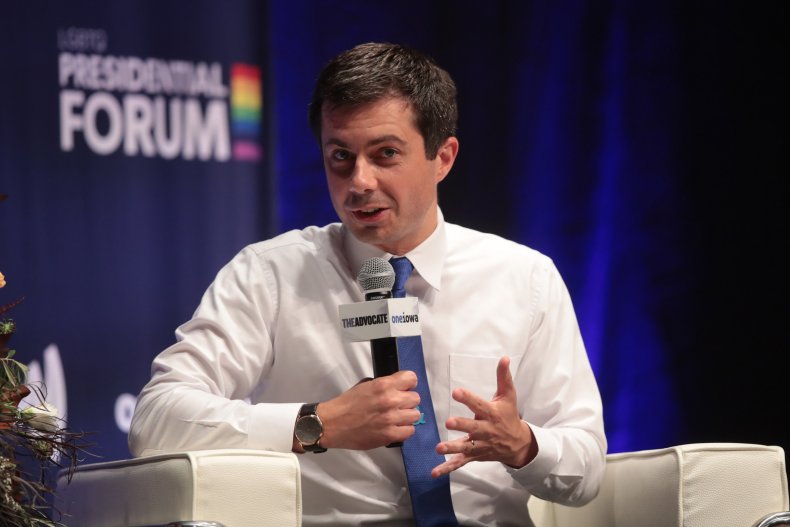 Sen. Amy Klobuchar vowed to pass the marriage equality act on day one if elected, improve mental health programs and ban conversion therapy.
"On day one," she said, "I will get rid of Betsy DeVos."
While taking a question from a Pulse Nightclub shooting victim, someone in the audience began to shout, asking Klobuchar what her position is on the rights of sex workers, a question that went ignored.
Concluding by addressing a question about gun control, Klobuchar vowed, "as your president, I will not fold to the NRA."
Senator Elizabeth Warren opened by reading the names of every transgender woman of color who has been murdered this year in the United States. "It is time to say their names," she said, to loud applause from the audience.
"We are going to fight together, we are going to persist together, to protect every vulnerable person in this country," said Warren.
Warren explained her reversal of position on allowing transgender inmates to receive gender confirmation surgery, citing her belief in Medicare for all being behind the change, and evoked Matthew 25 and the story of the division of the sheep. Warren also demanded Congress act to guarantee worker protection for LGBTQ citizens ahead of an upcoming Supreme Court decision on LGBTQ worker discrimination.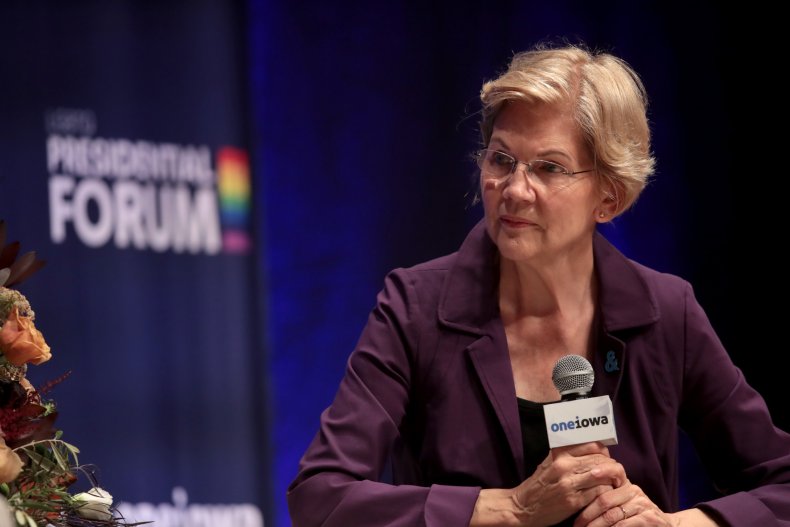 Former HUD Secretary Julian Castro vowed to return laws that Trump rolled back to their Obama administration era status quo, including expanded religious exemptions for companies. He also vowed to have the deaths of transgender women of color investigated and "connect the dots of policy" back to discrimination. He also vowed to stop separating families at the border and separating HIV positive asylum seekers from their families.
"I don't want kids in cages," said Castro. "I want people to have justice."
One notable candidate who didn't appear was Sen. Bernie Sanders of Vermont. Sanders claimed a previous commitment. He will also not be at the upcoming LGBTQ debate on October 10, also due to prior commitments.
For those who missed the forum, video is archived in full on GLAAD's YouTube channel.