Alexandria Ocasio-Cortez Must Unblock Twitter Users Because It's Unconstitutional, First Amendment Group Tells Democrat
Representative Alexandria Ocasio-Cortez and President Donald Trump have at least one thing in common: they like to block people on Twitter.
But a First Amendment foundation at Columbia University is advising the freshman New York Democrat to unblock users on her personal account because the act by a public official violates the U.S. Constitution based on a recent court ruling involving Trump.
"While there may be reasonable restrictions that don't go to the specific views that are being expressed on Twitter, at the end of the day, the First Amendment prohibits public officials — like Representative Ocasio-Cortez — from silencing critics because of the views they're expressing," Carrie DeCell, a staff attorney for the Knight First Amendment Institute at Columbia University, told Newsweek.
DeCell is one of several legal experts from the New York school who signed a letter that was sent to the freshman Democrat on Wednesday, warning her of the constitutional violation she's committing by blocking Twitter users because she disagrees with their views and criticism.
Former Democratic New York state lawmaker Dov Hikind and GOP New York congressional hopeful Joseph Saladino are in the midst of separate federal lawsuits against Ocasio-Cortez for blocking them on the social media platform. As of Thursday afternoon, both men confirmed to Newsweek they remained blocked.
"This practice is unconstitutional, and we are writing in the hope of dissuading you from engaging in it," DeCell and her colleagues wrote to Ocasio-Cortez.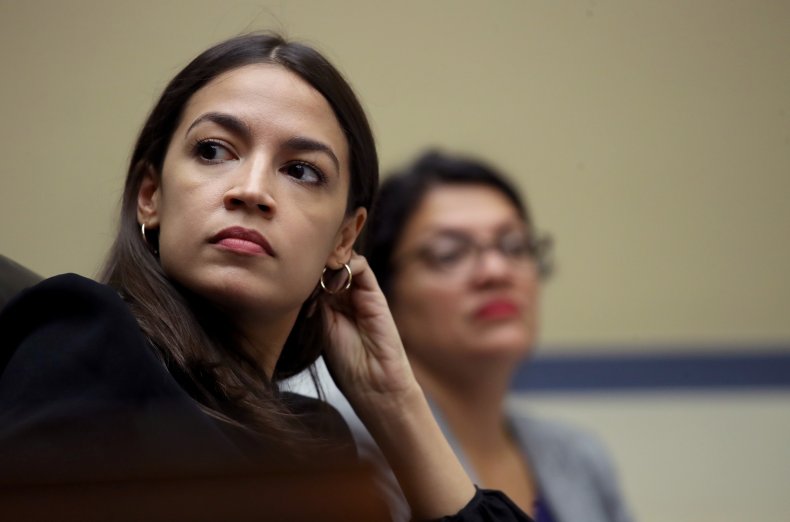 Ocasio-Cortez's office did not respond to Newsweek's request for comment.
A federal appeals court ruled last month that Trump cannot block users on Twitter, despite it being through his personal @realdonaldtrump handle, because the digital platform is viewed as a public forum for officials. The account is used "to conduct official business and to interact with the public," the court ruled, rendering the president unable to bar the general public from accessing the information he disseminates. The Knight Institute represented the plaintiffs in the case.
Ocasio-Cortez uses her personal account, @AOC, in the same way, as do the vast majority of lawmakers.
"The @AOC Twitter account has all the hallmarks of an official account," DeCell said, pointing to several examples of the congresswoman using it to make statements, provide information and ask questions that are all directly pertinent to her job and constituents. "Representative Ocasio-Cortez seems to use it predominantly for the purpose of communicating with constituents and members of the public about very significant matters of public concern."
One exception for lawmakers to block users, DeCell explained, would be if threats were made to Ocasio-Cortez on the platform. Still, the burden would be on the lawmaker to prove that is the case.
Responding to the Knight Institute's letter, Ocasio-Cortez wrote in a tweet that she has "less than 20 accounts" that are "blocked for ongoing harassment. 0 are my constituents. Harassment is not a viewpoint. Some accounts, like the Daily Caller, posted fake nude photos of me & abused my comments to spread it. No one is entitled to abuse."
In the two pending lawsuits against her, Ocasio-Cortez's attorneys have argued that she is exempt from the First Amendment because she's using her personal account. Hikind said they've also claimed Ocasio-Cortez did not block him because of his criticism or difference in opinion, but they failed to provide a reason for the block.
"AOC's lawyers presented these ridiculous arguments — I mean pathetic," the former Democratic state lawmaker told Newsweek. "So, why did she block me? Did she throw a dart at a bunch of names on a wall and it landed on me? It's disingenuous and I think it's cowardly, to be honest."
Hikind believes his criticism of Ocasio-Cortez has always been respectful.
"If you're an elected official, you gotta tolerate people's different points of view," he continued. "The court ruled this is my freedom of speech. AOC is a progressive. I don't get what her values are. When you're a progressive, you're supposed to be able to tolerate other people's points of view. It's called the First Amendment."
Vish Burra, Saladino's campaign manager, said they plan to "pursue [the lawsuit] all the way to judgment." Saladino, a Republican, is running to unseat New York Democratic Representative Max Rose.
"Mr. Saladino doesn't have a problem with her blocking him. What he does have a problem with is the apparent bias in how these rules in relation to the court ruling are being applied," Burra told Newsweek. "This is more of a test for the legal system."
Corrections: This story was corrected to clarify there is more than one exemption for public officials to block Twitter users and to replace "Knight Foundation" with "Knight Institute" on the second reference of the organization.
This story was updated to include a response from Ocasio-Cortez on Twitter.