Senator Ted Cruz (R-Texas) tweeted on Thursday that the First Amendment tablet from the Newseum building in Washington, D.C. had just been "jack-hammered" off the facade.
Cruz said he hoped the removal of the large marble structure was not a "foreshadowing" of what comes over the next four years.
However, the Senator soon had to correct himself as it was pointed out by commenters that the tablet had not been earmarked for destruction, but was being moved to a new home.
Cruz tweeted to his 4.4 million followers on Thursday to suggest that the 74-foot-tall, 50-ton tablet had only recently been removed from the Newseum, a nonprofit dedicated to journalism and the five freedoms of the First Amendment.
"Depressing. They just jack-hammered the text of the First Amendment off the wall in front of what used to be the Newseum in DC," Cruz wrote. "I hope that's not foreshadowing what's to come over the next four years...."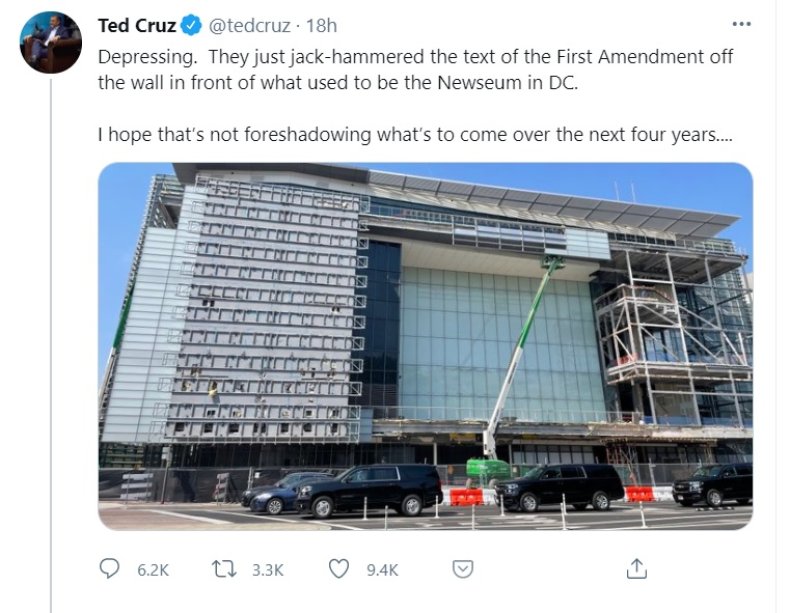 The First Amendment tablet has indeed been removed from the four-story-high Pennsylvania Avenue facade of the Newseum, but this is not a new development.
It was announced in March that the tablet would be removed from the museum, which closed in 2019, and will be given a new home at the The National Constitution Center in Pennsylvania.
"We are thrilled to bring this heroic marble tablet of the First Amendment to the National Constitution Center, to inspire visitors from across America and around the world for generations to come," National Constitution Center President and CEO Jeffrey Rosen said in a statement at the time.
"It's so meaningful to bring the text of the First Amendment to Philadelphia, in a majestic space overlooking Independence Hall, where the original Constitution was drafted, as a permanent monument to the five freedoms of speech, press, religion, assembly, and petition."
Cruz did acknowledge his mistake in a follow-up tweet several hours later.
"Good news. Commenters have said they removed it intact & are transporting it to the National Constitution Center in Philly," Cruz wrote. "I didn't know that - just saw it was gone - and am very glad to hear it!"
Cruz has not deleted the original tweet, which has been shared more than 3,000 times. In comparison, Cruz's tweet admitting he was wrong about the tablet has been retweeted just over 300 times at the time of publication.