Citywide average prices for regular unleaded gas hit $5 per gallon in San Francisco, making it the first major city to reach that threshold, experts at GasBuddy said on Thursday.
"San Francisco just made history as the first ever U.S. city to reach an average of $5 gas," GasBuddy head of petroleum analysis Patrick De Haan said in a Thursday news release. The city's record is "likely just the beginning of a larger trend" in California as gas prices continue to rise across the nation, he added.
Several states have reported price jumps of 20 cents per gallon or more in the past week, according to data from AAA. Prices are increasing in response to concerns about potential disruptions that Russia's February 24 invasion of Ukraine could have on the global oil supply.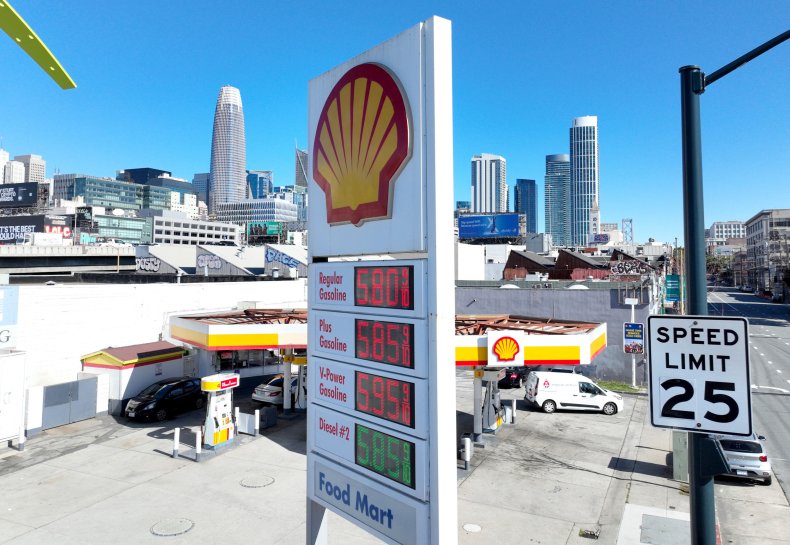 As the price of oil jumped, so too did prices at the pump. AAA data shows the U.S. national average cost of a single gallon of regular unleaded gas increased more than 18 cents over the past week, reaching $3.728 by Thursday morning.
California has set several statewide average price records in recent days, with another set on Thursday. The current statewide average price of $4.94 per gallon is nearly 17 cents above the statewide average recorded one week ago. But it represents a smaller increase than that recorded in Michigan, where statewide average prices have jumped nearly 39 cents since February 24.
De Haan told reporters last week the national average price for a gallon of gas could hit $4 by April, while the statewide average cost of gas in California could soon reach $5. Some California counties have already been recording average gas prices above $5, with major metropolitan areas like Orange County and San Diego creeping closer to the $5 mark over the past several days.
San Francisco's new gas price average follows an upward trend that began last October, when a new citywide record of $4.75 per gallon was set. GasBuddy noted in a Thursday press release that the city's gas prices "have continued to increase" since that time, with surging prices over the past week ultimately pushing San Francisco to the $5 mark.
In addition to price increases widely credited to Russia's invasion of Ukraine, experts attributed California's high prices to the state's gas taxes, which are the highest in the U.S. An expected uptick of drivers on the road, which typically accompanies the spring and summer months, could also continue to push prices up, according to GasBuddy.
"While Bay Area prices might be leading the way for now, there's a possibility here for the entire state of California to follow suit, with gas prices potentially rising over the $5 mark this spring," De Haan said Thursday.
Newsweek reached out to San Francisco Mayor London Breed's office for comment but did not hear back before publication.