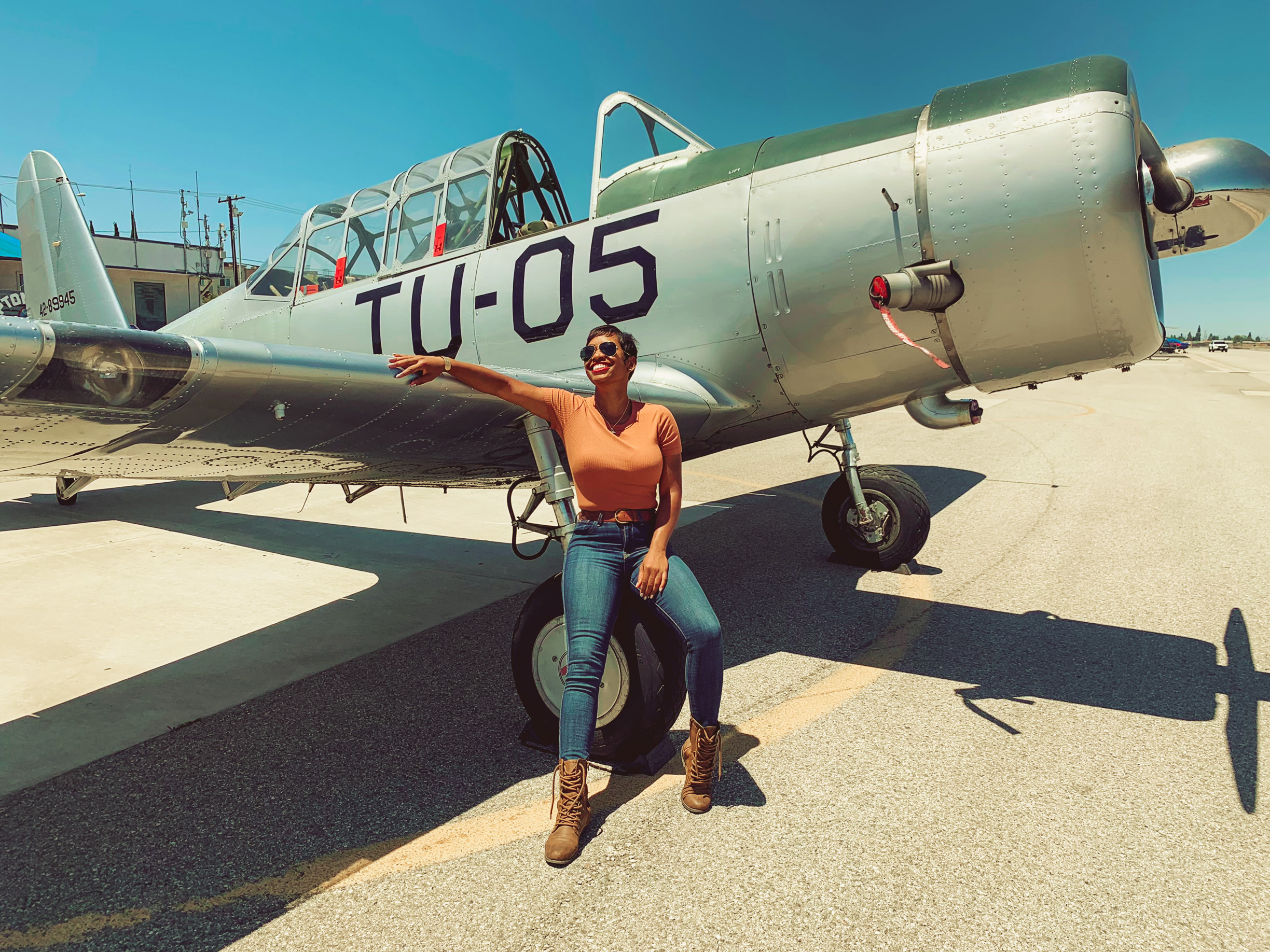 Travel personality Kellee Edwards is unstoppable, exploring the world by land, sea and air. A licensed pilot, advanced open water scuba diver and a solo adventurer she takes travel to a new level flying herself to remote locations around the world, landing without a runway or air traffic tower. She's the first Black woman to land her own travel TV series, hosting Travel Channel's Mysterious Islands. Edwards has explored Indonesian caves with thousands of buried bodies, freedived with the matriarchal divers on South Korea's Jeju Island and piloted an aircraft in Alaska's temperamental Aleutian Chain. She's even been dubbed "The Most Interesting Woman in the World" by Outside magazine. Changing what the face of exploration and adventure looks like, her story is only beginning as she wants to bring others along for the ride.
Newsweek talks to Edwards about the need for more diversity in travel, exploring the world in the time of COVID, her wildest moments filming and the responsibility that comes with leading the path for the other "Most Interesting Women in the World" today.
You've been called "The Most Interesting Woman in the World," by Outside magazine. That's quite a title. How did you feel getting that title? And what do you think makes an interesting woman today?
When Outside named me "The Most Interesting Woman in the World," I was overwhelmed with emotion. When I thought about being a young woman from the South Side of Chicago and San Bernardino, California—places that are not known for the great outdoors or explorers or adventurers—it made me emotional.
That is a title that my work will continuously and hopefully, live up to. It's a very big title, and one that comes with a lot of responsibility. I feel like I definitely live my life and need to continue living my life to make sure that I am representing my community, my culture, my gender, so that other people can know that they too are interesting. It's not just me.
I don't think I'm doing anything special, and yet I know I'm doing everything special if that makes sense. I wake up just like everyone else. And I decide that I want to know what makes this world go around. And that includes the people, the culture, the traditions, the governmental systems in place, the leadership.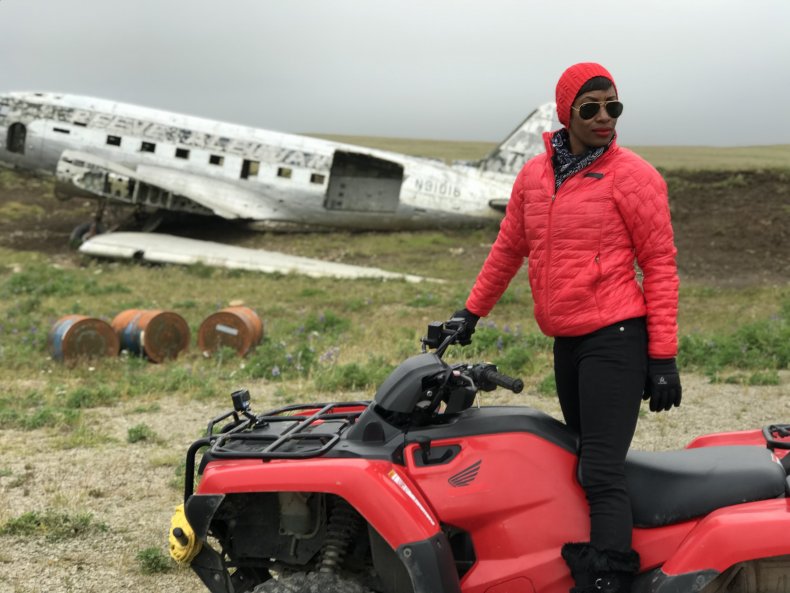 I want to fly all the things, climb all the mountains, dive in all the oceans. And I just make that part of my lifestyle. And so if that makes me "The Most Interesting Woman in the World," a woman who genuinely has curiosity to see what this world is, then so be it.
You were the first Black woman to host her own travel and adventure series on Travel Channel and on any network. What obstacles did you encounter on this journey? How did you break into this white male dominated space?
Frankly, networks and production companies simply did not know what to do with me because they hadn't seen me before.
I heard, "Wow, I love you; you're doing amazing things. We don't have anyone who's doing any of this, but we don't know how our audience will take to you." They didn't know if people will understand because there is a mold of the older white male in the space. And so that was the obstacle, that was the frustration.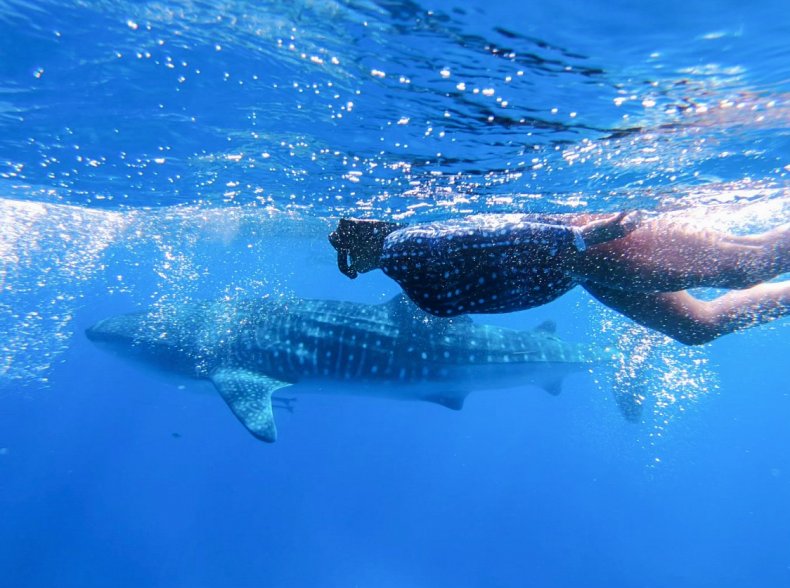 However, what I did was use that frustration as fuel. It lit a fire under me. I'm going to continue having these adventures that are not seen on television that are not seen by a woman that are not seen by a Black woman. And at some point, I'm going to start getting press, you're going to have no choice but to pay attention to me, and that's what started happening. It made production companies and networks more comfortable with doing something with me, which made me happy and ticked me off at the same time.
The reason my platform happened is because to this day, you still can't find an adventure travel journalist or host who is flying themselves to their own destination, who's climbing mountains, who's diving, who's exploring the world the way I do. And I'm proud of that because that took me years to do; it took me almost a decade to get to where I am now.
Learning to fly was not easy; learning to dive was not easy; climbing so many mountains was not easy. Getting on a plane and going around the world by myself was not easy. But I knew if I could prove to myself that I could do these things that I was meant to be in that place. And that I would along the way inspire others to know that they too can go and conquer anything that they put their mind to. Even if they're uncomfortable.
The more uncomfortable it makes me, the more determined I am to do it.
One of the most interesting things about you is that you fly yourself to all these remote places around the world. What inspired you to get your pilot's license?
When I wanted to break into the world of adventure travel television, I was looking at everyone up there: Anthony Bourdain, Andrew Zimmern, Bear Grylls, Jeremy Wade, Josh Gates—all these badass people exploring the world in their own different ways. And I think, well, everyone's getting on a plane to go to these far flung places. But no one's flying themselves there. I need to become a pilot.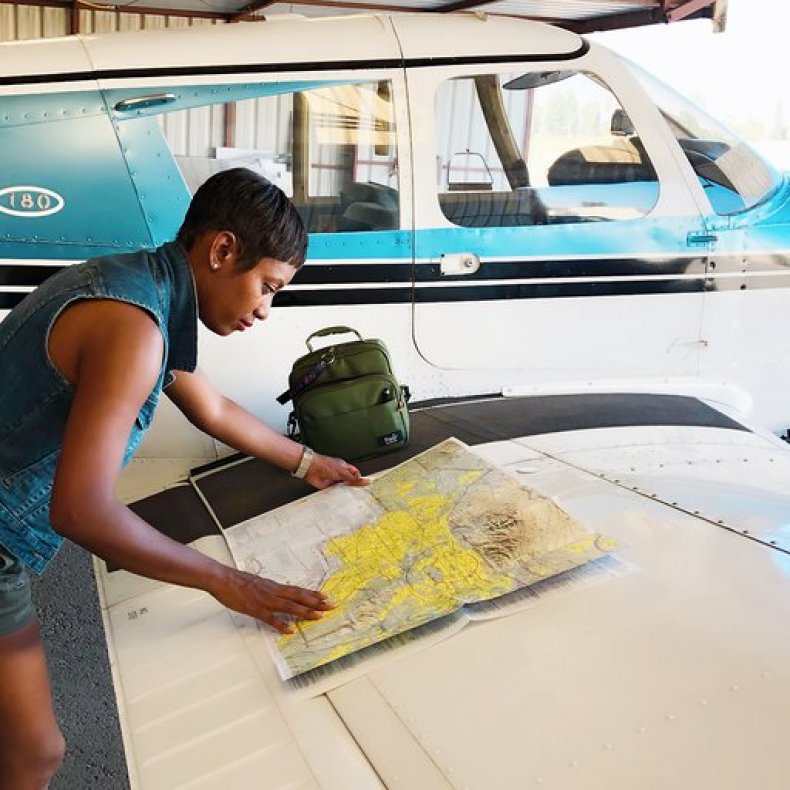 I had that epiphany when I was sitting at Burbank Airport here in Southern California and I saw a small plane with a man in it landing in between the Deltas and the Uniteds. At the gate, I googled "one man small airplane" and general aviation came up. I took a $99 discovery flight. And I definitely got sick in the plane; I didn't throw up but practically was on the verge. But when we took off and I started seeing the mountains, the ocean, my neighborhood...That sickness that I felt was going to have to go away. Because what I'm able to access right now—especially when they gave me the controls—that power that I felt I thought, I'm never turning back. If I can learn how to fly this plane, my adventures will literally be taken to the next level.
So that became your differentiating point—and you get your own show on Travel Channel where you fly yourself around the world in Mysterious Islands. What are some of the wildest places you filmed in and was there a moment where you couldn't believe this was now your job?
For sure. So all of it. [Laughs.] One of the craziest places I flew while filming was in the Aleutian chain in Alaska. It took us I think three to four days just to fly above the Aleutian chain because the weather was so crazy. The Aleutian chain is treacherous on sea, it is treacherous in the air—it's not for the faint of heart. I'd be up in the air, flying for five or six minutes and would have to turn around. I had a whole crew in the plane with me; and we all have to make it back safely. So turning around and landing as a pilot, making the call as a pilot is not about testing the plane's capabilities, especially when there's other lives at stake.
The craziest experience that I had definitely was filming in Sulawesi, Indonesia, in the Toraja Region, where they celebrate something called Rambu Solo. When a family member passes away and they wait until they have raised or saved over $100,000 for a funeral.
They keep the family member in their home until they have this money so that ranges from a month to two months to over 20 years. They live with the family member in their home, and they treat them as if they're still alive. They bring food, cigarettes, water, money—all as if they're still alive. They communicate with them. It's the highest honor you can have to have this ceremony. So then they go back into where they were buried (their coffins are put in these caves) and they pull the coffins out, take the bodies out, clean them up, dress them and parade them around town.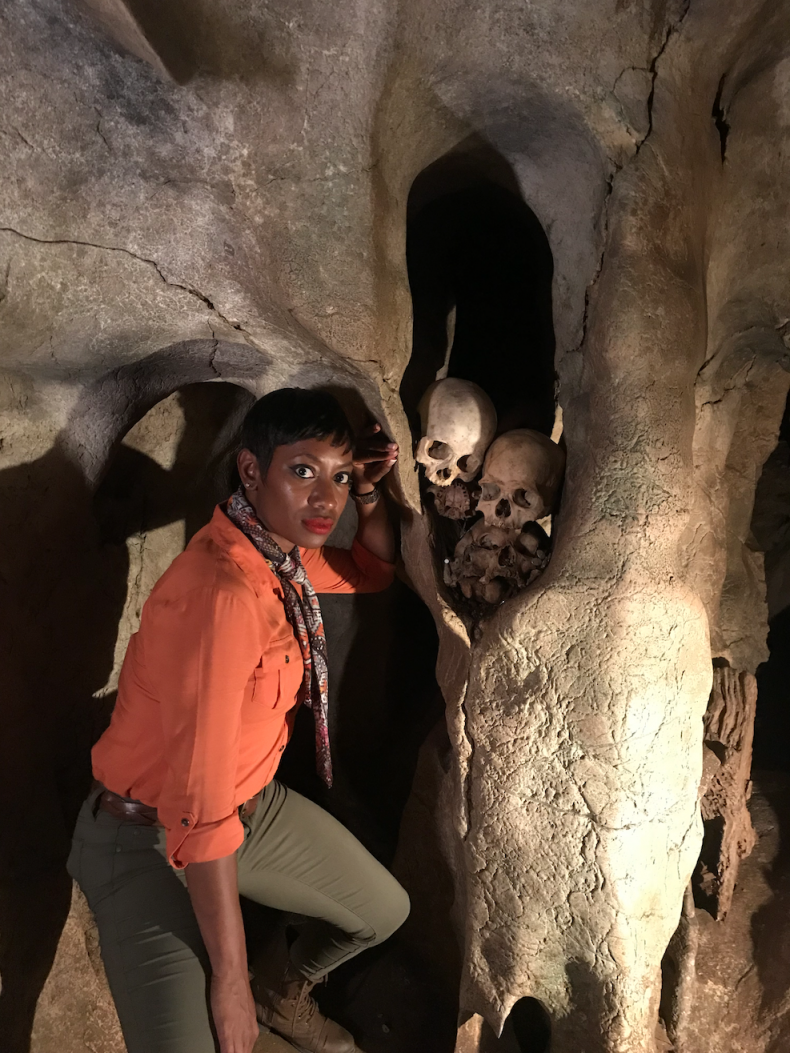 It is the most eye-opening experience. I think as Westerners, we often feel like our way is the best way and the only way. As an explorer and an adventurer and as a journalist, it's our responsibility to be more open-minded. I wish that we could find a way to honor our families when they pass in a similar way—to not be in such a rush to send them off to complete strangers to handle everything.
How do you think the pandemic is going to change the way we view travel?
Travel is a beautiful thing, but there's also overtourism. And while that might be good for
for capital gains, it's bad for preserving the true culture and the history of a place. This slowdown has helped places to recoup. Of course, it makes me sad that there are so many people who are out of work in travel because of the pandemic, but I'm hoping that tourism companies and destinations around the world are also looking to reset sustainably.
This is an opportunity to find a way to make the world a better place cohesively among different cultures and races and identities and genders. The planet was hurting. I'm now seeing stars in places I've never seen stars before. We've been able to make our houses a home. We've been able to connect more with each other and with our families.
I think travel absolutely will come back and come back really strong. But there will also be a sense of respect for another person's space. When I travel, I'm a curious person. I want to talk to the shopkeeper, the person on the street—but now you're going to have to be thinking of safety. "Do you mind if I talk to you?" You will have to be more aware of your fellow human. And I think that that's a great thing.
The pandemic and everything else happening in 2020 has been shifting perspectives. How do you think that we can make the travel world more diverse, not only amplify Black voices but be more inclusive of Black travelers?
First of all let's just talk about the buying power. African Americans alone spent over $63 billion in 2018 on travel.
If these companies, destinations and brands were smart they would appease who is spending money— they would speak to these audiences in their marketing campaigns. When I land in an airport and I see an ad with the typical two-parent, white family with a blond-haired boy and a girl, frolicking off somewhere, I think it could have easily been a Black family. We do those things, too. It's time to reflect all people of color and, most importantly, to acknowledge, as a community, that Black people, we travel too. We scuba dive. We love the great outdoors. We are pilots. We are explorers. Matthew Henson was a Black man who reached the North Pole first. Who talks about that? No one.
Do you think that the Black Lives Matter movement will have a lasting impact on the travel world?
Some of those black squares that were there, they're not there anymore. That's performative. But there are also a lot of people in the travel industry who have done a deep dive into the infrastructure of their company. And I know because I've had conversations on the phone with these people. And it is a wonderful thing. Was it uncomfortable for them? Yes. Do they continue to do it, even in spite of the backlash that they receive. Yes. And those are the companies who will get my dollars and who will get other people's dollars because they're truly doing the work in spite of what their core base or consumer is. This is the time to acknowledge that you can build a new core consumer, that there is another buyer out there that you have not been paying attention to because you keep focusing on your core consumer.
You need to talk to a person who's willing to tell you what you don't want to hear, or what you aren't aware of—who's not in your immediate circle. You've got to bring in outside voices and outside eyes, outside opinions to really understand how things can be done better, what community you're trying to reach out to, because if you guys knew that already, we wouldn't be here.
What keeps you going now, in these times, in this pandemic?
I'm glad that I chose to lead this adventurous lifestyle over 10 years ago because I have already been social distancing and physical distancing. The things I love to do there's not a lot of people at.
I can go get a plane and I can go take off and fly. I can go hiking still where there's not a lot of people, and you know the ocean has always been pretty remote. I'm fully equipped to continue my adventures without having to be in contact with another person during this pandemic so for me. That's been a blessing.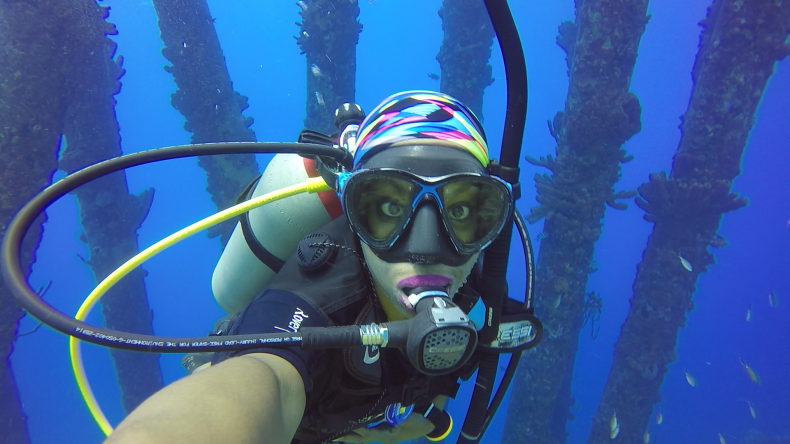 But what I've been really trying to do lately is inspire my friends and family to connect with the great outdoors. We're always getting tested (I have to be tested because I'm out working still). Now I'm taking people on hikes, taking people flying. I've been able to share my gifts with people who are around me and it's had such a great impact. I have friends now sending me pictures showing me they don't need me to take them hiking anymore. I'm just the vessel; I'll take you out, I'll show you, then it's up to you to lead the rest of the way. I'll be behind you, you tell me where we're going this time.
What's your next big adventure?
I'm working on a television project right now that I believe will be very meaningful. I'm also writing a children's book. You'll see me on bigger and larger platforms in the adventure and travel space. And that's all I can say about it right now.
So when are we going to see you in a Dos Equis commercial replacing "The Most Interesting Man in the World"? There needs to be redo for 2020.
Listen, Dos Equis, I'm ready. Let's do this. It's time to have the "most adventurous" or the "most interesting woman in the world." Give me a call and I'm ready to show up. I'll bring my own toys. I'll bring my own diving gear. I got the plane ready. I got the cars. Let's do it.