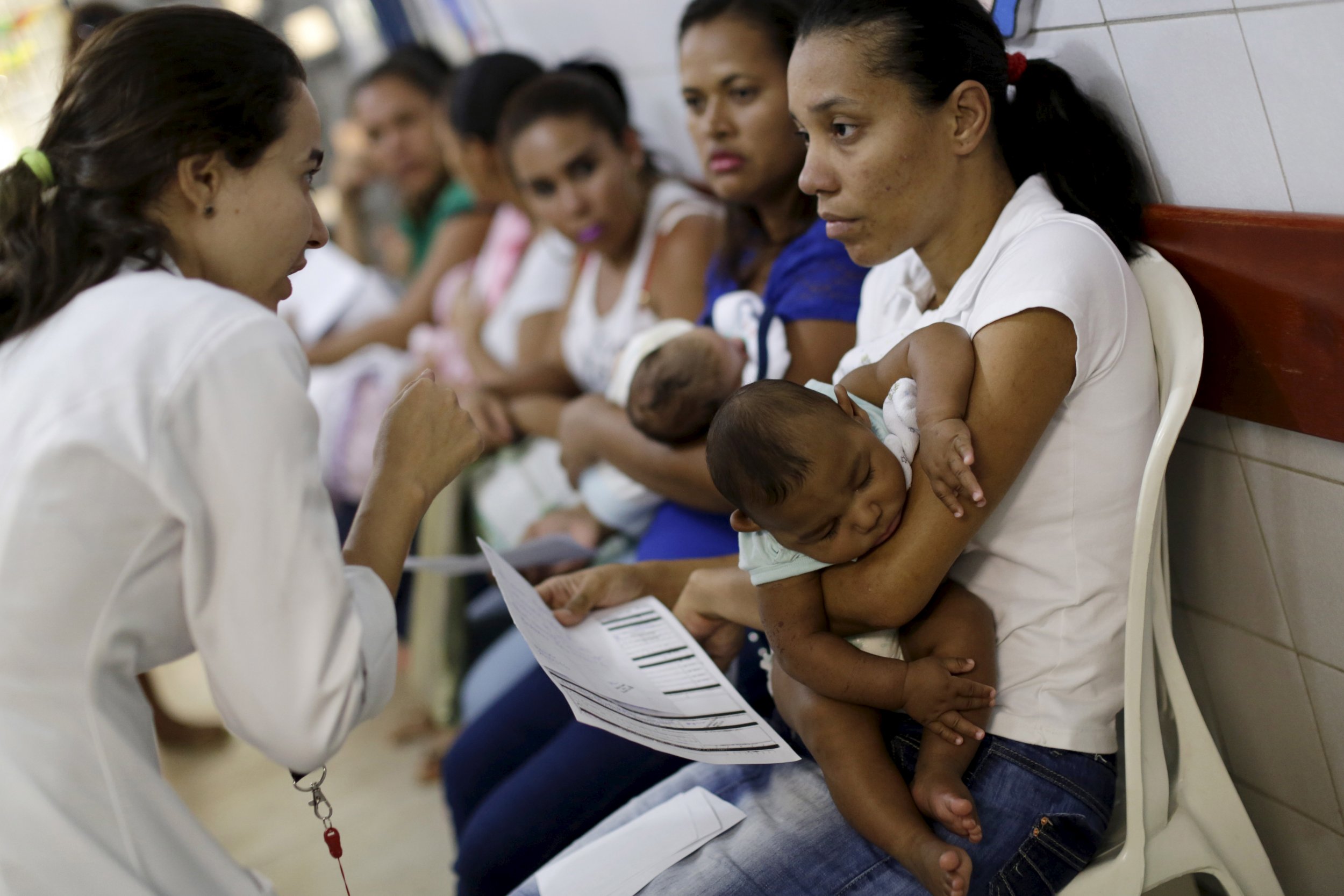 Nine pregnant women who are U.S. residents and recently traveled to Zika-affected countries tested positive for the virus, and one gave birth to a child with microcephaly, according to the U.S. Center for Disease Control and Prevention (CDC). On Friday, federal health officials released a report with details on four of the nine cases.
Among the nine women, two elected to terminate the pregnancies, two miscarried and three delivered infants. One of those babies had severe microcephaly; the other two are healthy. The remaining two pregnant women plan to carry out their pregnancies to full term, so far without any complications.
These women traveled to American Samoa, Brazil, El Salvador, Guatemala, Haiti, Honduras, Mexico, Puerto Rico and Samoa. All of the countries have reported local transmission of the Zika virus.
The impact of Zika on fetal development has been of high concern. Since the outbreak of the mosquito-borne virus began in early 2015, more than 4,000 infants in Brazil have been born with microcephaly, a condition in which a baby has an abnormally small skull and incomplete brain development.
Some reviews of data on rates of infection and reported cases of microcephaly suggest exposure to the virus during the first trimester is most detrimental to fetal development. The woman who delivered the baby with microcephaly had traveled in Brazil up until the end of week 12 of her pregnancy. One of the two patients who miscarried at eight weeks was traveling in a Zika-affected country during her fifth week of gestation. In both cases, tissue and fluid samples from the pregnancy—such as placenta and amniotic fluid—tested positive for the Zika virus. However, up to 20 percent of all pregnancies end in miscarriage, so health officials can't say definitively if Zika was the reason why two of the nine pregnancies ended.
One of the women highlighted in the report elected to terminate her pregnancy in her second trimester after an abnormal routine ultrasound detected severe birth defects to the central nervous system and brain atrophy. The woman told physicians she had traveled to a Zika-affected country toward the end of her first trimester.
"There's still a lot we don't know about when Zika has an effect on pregnancy and when we first can detect this effect, and we're studying those issues," Dr. Denise J. Jamieson, co-leader of the CDC Zika virus response team's pregnancy and birth defects team, said in a press conference held on Friday. "Microcephaly can be hard to detect on ultrasound early on. The later in pregnancy, the easier it is to see abnormalities of skull and brain."
In the last of the four case studies highlighted in this report, the woman delivered a baby at full term and all tests—including cranial ultrasound, newborn hearing screen, and ophthalmologic examination—were normal.
Earlier this week, a group of researchers in the U.S. and Brazil published a case study that suggests Zika's impact on pregnancy could extend beyond microcephaly—it could raise the risk for a number of different birth defects and for stillbirth. Dr. Albert Ko of the Yale School of Public Health suggests the virus may prove to have some impact on seemingly otherwise healthy infants.
The CDC is also investigating 10 additional reports of Zika virus among pregnant women in the U.S., but details of these cases have not yet been released.
In mid-January, the CDC issued a travel alert that advised pregnant women to postpone travel to countries affected by the current outbreak. More than 40 countries have now reported cases of local Zika transmission. In addition, the Zika virus is now a "nationally notifiable disease" in the U.S., meaning state health officials must report any cases diagnosed to federal health officials. The CDC has developed a voluntary registry to collect information tracking health outcomes of pregnant women with confirmed Zika infections.