First Congress Member Tests Positive for COVID After Capitol Lockdown
Representative Bonnie Watson Coleman of New Jersey became the first Congress member to test positive for the coronavirus following last week's lockdown during the riot at the U.S. Capitol.
The congresswoman's office said she believed "she was exposed during protective isolation in the U.S. Capitol as a result of insurrectionist riots" and announced she received a positive rapid antigen test result for the virus in a statement made Monday.
"Following the events of Wednesday, including sheltering with several colleagues who refused to wear masks, I decided to take a Covid test," Watson Coleman tweeted. "I have tested positive."
She said she is experiencing mild, cold-like symptoms and is resting at home and that she will continue to isolate as she awaits the results of a PCR test she took. Her age, 75, puts the congresswoman in the high-risk category of contracting coronavirus.
Watson Coleman previously received the first dose of the Pfizer COVID-19 vaccine, which was recently made available to members of Congress, the efficacy of the vaccine is only just over 50 percent after a single dose.
The news comes a day after the Capitol's attending physician warned lawmakers and other Capitol staff in a memo that the January 6 lockdown could have resulted in possible exposure of COVID-19.
"On Wednesday January 6, many members of the House community were in protective isolation in (a) room located in a large committee hearing space. The time in this room was several hours for some and briefer for others. During this time, individuals may have been exposed to another occupant with coronavirus infection," Dr. Brian Monahan wrote.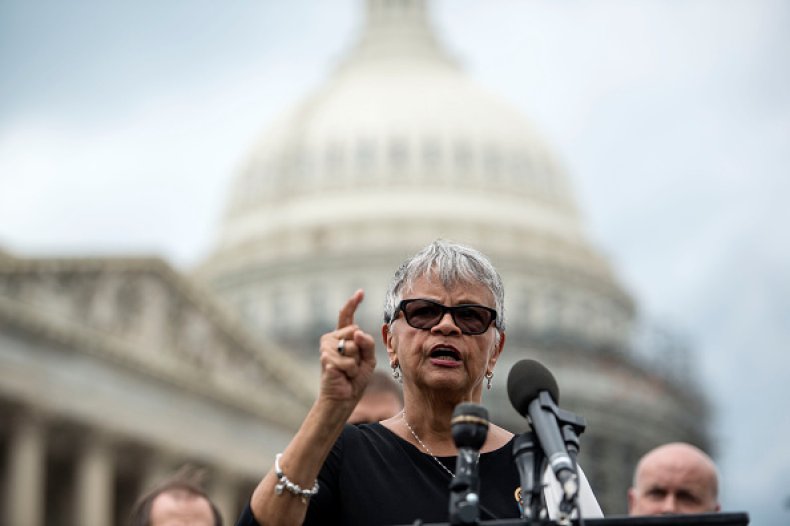 Members of Congress were forced to hide out in close quarters after the U.S. Capitol was breached last Wednesday by Trump supporters who attempted to stop the certification of electoral votes in the 2020 presidential election.
Although representatives and senators returned late that evening to continue the certification, they remained in lockdown for several hours, potentially exposing themselves to COVID-19 exposure.
A number of House Republicans were seen on video refusing masks offered by a Democrat colleague, Representative Lisa Blunt Rochester of Delaware, during the lockdown last week.
Rochester had told CNN last week that she was concerned the lawmakers "were sitting in a super-spreader event."
Six Republican representatives who declined Rochester's offer were Marjorie Taylor Greene, Markwayne Mullin, Andy Biggs, Scott Perry, Michael Cloud and Doug LaMalfa, who were seen unmasked and gathered closely together.
Newsweek reached out to the Committee on House Administration for comment but did not hear back before publication.