'First Daughter Suite' Theater Review: Barbara Bush Gets the Last Word in the Public's Latest Political Musical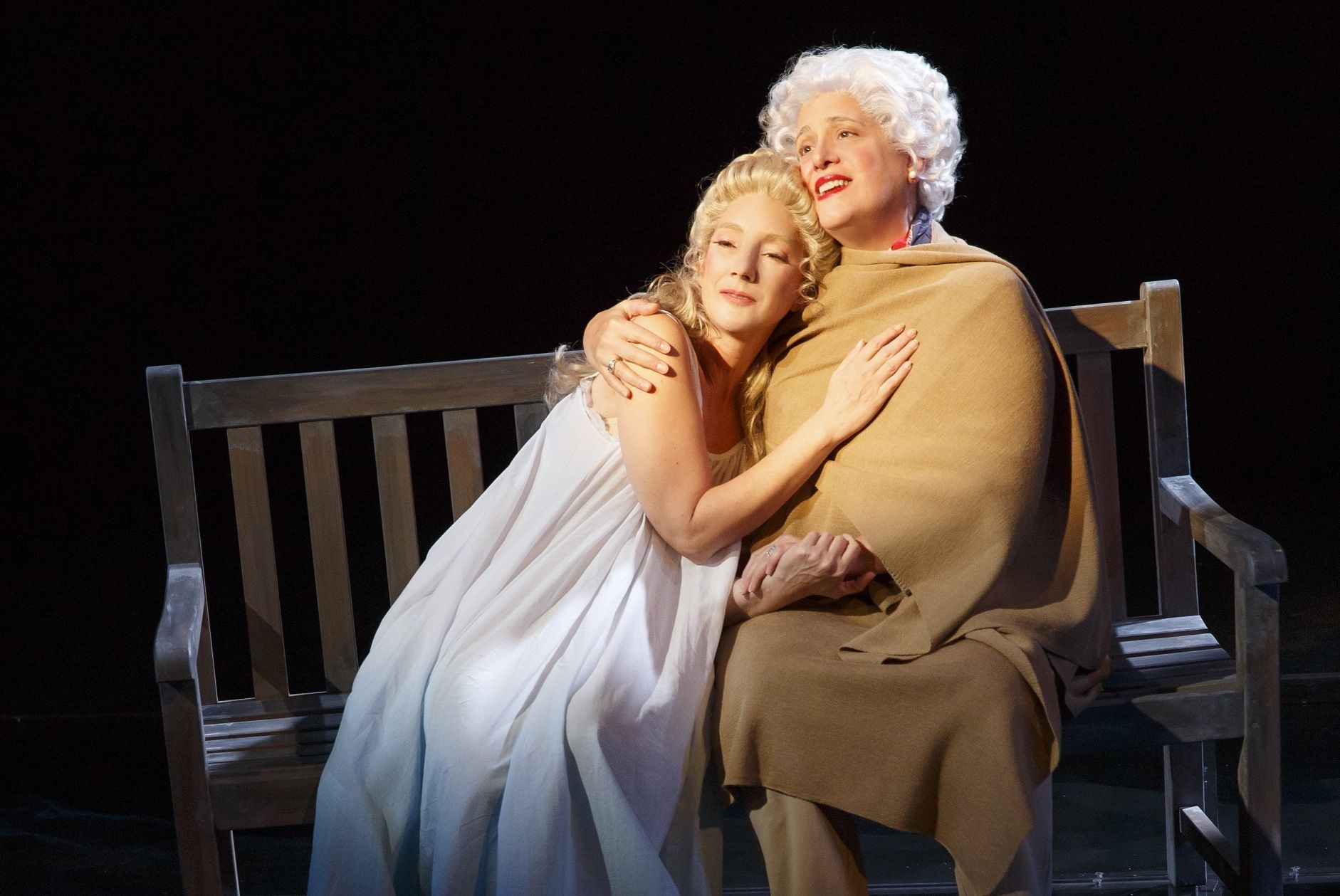 There's something inherently sad about the limbic lives of first daughters. If Malia Obama, at the age of 17, can't step within 30 feet of a beer pong table without becoming a trending topic on Twitter, what chance does she have at experiencing any of the normal rites of passage we regular Americans associate with adolescence?
The surreal plight of young girls who come of age at 1600 Pennsylvania Avenue is indeed ripe for dramatic exposition, but strangely, Michael John LaChiusa seems less interested in exploring the topic than the title of his new show, First Daughter Suite, would promise. The wandering tetraptych of musical vignettes, which opened Wednesday at Manhattan's Public Theater, deals vaguely with mother-daughter relationships on the periphery of the U.S. presidency. But it finds its soul in its first ladies—specifically, Pat Nixon, Rosalynn Carter, Nancy Reagan and Barbara Bush—who as characters are more carefully rendered, and more interesting, than the daughters they spar with.
This is both the musical's strength and its weakness. After a powerful opening number, in which the excellent company laments being trapped in the "house that will never be a home," the show quickly loses steam. We begin at the White House East Sitting Room in the early 1970s, where the Nixon sisters, Tricia and Julie, are preparing for Tricia's outdoor wedding and having a meltdown as they wonder if the weather will cooperate. Their squabbling is interspersed with alpha-female jostling between their mother, Pat Nixon, and her mother-in-law, Hannah Milhous Nixon, who we soon learn has a lot in common with the rest of America in that she considers her son Richard a huge disappointment. The wedding drama is juxtaposed with the specter of the Watergate scandal, but it's hard to care about any of it by the time we reach the limp climax.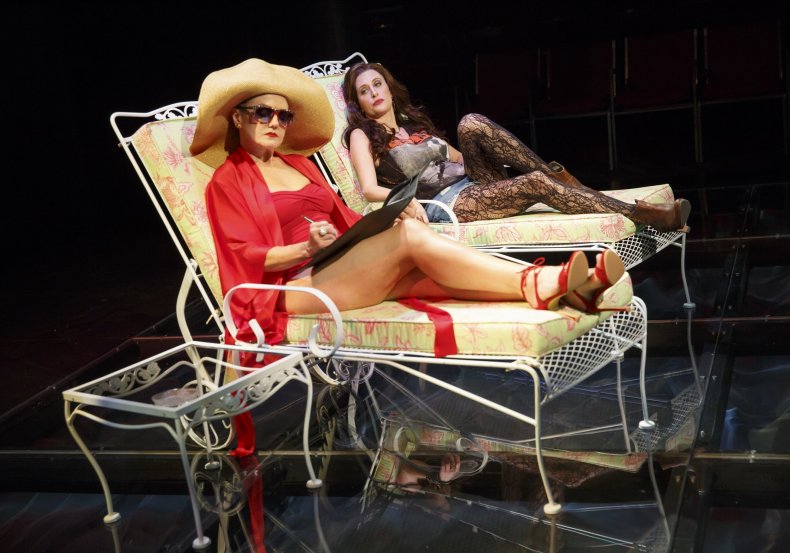 Next, we're transported eight years forward, to a farcical dream sequence set on the deck of the presidential yacht, where 12-year-old Amy Carter has decided that the only way to save her father's embattled presidency is to drive the boat to Iran and rescue the American hostages being held captive there. The skit devolves into an SNL-like exercise in absurdism, which might have worked as a one-off but feels out of place and unfocused amid the more serious-minded stories that flank it.
"Daughters of presidents, daughters of kings, can never experience everyday things," Rosalynn Carter, played with spot-on restraint by Rachel Bay Jones, sings to her daughter in one of the segment's more heartwarming moments.
Thankfully, the musical springs back to life with the third vignette, beginning with an intense poolside conflict, circa 1986, between Nancy Reagan and her rebellious daughter Patti Davis, who has just written tell-all book thinly disguised as a work of fiction. Mrs. Reagan, who betrays a callous perfection in the hands of actress Alison Fraser, is written here as an abusive mother, an unfeeling operative and a calculating right hand to her husband, more concerned with preventing her loose-lipped daughter from spilling secrets about the burgeoning Iran-Contra scandal than forging any kind of bond. Caissie Levy, as Patti, proves a fine counterbalance to Fraser's detached presence, offering a spirited and magnetic picture of the damaged Reagan dilettante, who in her early 30s is still sporting combat boots and a torn Clash T-shirt.
After the fireworks, we're ushered to a quieter scene in the mid-2000s, where Laura Bush is trying to convince her mother-in-law, the former first lady, to campaign for her husband's reelection. The country is already tiring of the Iraq War and George W's popularity is waning by the minute. The problem is, one does not convince the obstinate Barbara Bush to do what she does not want to do. At 78, she is over politics, not particularly happy with her oldest son, and quietly in mourning over a painful memory 50 years in the past. Mary Testa, the veteran Broadway actress, embodies these qualities with a stoic fearlessness that will quickly strip you of any Bush baggage you may have going in.
In this sketch, LaChiusa has clearly saved the best for last, delivering an insightful and layered glimpse of the Bush dynasty that eschews gratuitous cheap shots (let's be honest, "Dubya" jokes write themselves) in favor of a thoughtful examination of family dynamics. Fair warning: If you aren't ready to feel sympathy for Barbara Bush—or by extension her son George—stay far away from this show.
LaChiusa, a Tony nominee for 2000's The Wild Party, is a known White House enthusiast who wrote on similar themes in 1993's highly acclaimed First Lady Suite. As a follow-up, First Daughter Suite may not live up to its potential, but it bristles with the kind of keen references that could only come from a bona fide connoisseur. If you had forgotten, for instance, that Nancy Reagan had a personal maid who dodged charges of ammunition smuggling, or if you simply never cared enough about the '80s to learn it, there is plenty of trivia in the show to keep you smiling. But it's not enough to give this montage of familial discord the thematic cohesion it needs.
First Daughter Suite; book, music and lyrics by Michael John LaChiusa; directed by Kirsten Sanderson; choreographed by Chase Brock; scenic design by Scott Pask; costume design by Toni-Leslie James; lighting design by Tyler Micoleau; sound design Ken Travis; hair and wig design by Robert-Charles Vallance; orchestrations by Michael Starobin and Bruce Coughlin; music coordinator Seymour Red Press; music direction by Or Matias; Public Theater, 425 Lafayette Street, New York; publictheater.org.