In the First Debates, Democrats Need to Speak to the Majority of Americans: Women | Opinion
Women are 51 percent of this country and are the majority of activists, organizers, donors and voters. In 2018, women made up 55 percent of the electorate, propelling a record number of women and women of color into office. And in 2020, women are poised to again to be the determining factor in the election.
However, issues that are essential for women's economic equality—pay equity, raising wages, maternal health, support for survivors of sexual violence, reproductive rights, paid family leave, and affordable, quality child care and elder care—are all dismissed as "social" or "soft" issues, rather than embraced as the national imperatives that they are.
As the presidential hopefuls take the debate stage, they should know women are watching, and we are ready for our issues to be front and center.
American women on average still earn just 80 cents for every dollar a man earns—and that gap is much wider for women of color and trans women. This is unacceptable, and it affects not just women but our entire economy. Women are the primary breadwinners in more than 40 percent of American households, and economists estimate that if every single woman took just one day off work, it would cost the U.S. economy $21 billion in gross domestic product.
Yet, in the nearly 700 questions asked of candidates in CNN, MSNBC and Fox News forums leading up to the debates this week, just two have been on pay equity—and both were directed to female candidates. It's no wonder there's a significant increase in perceived sexism in our society and that 69 percent of Americans—a 17-point increase over the previous year—believe the country would be better off with more women in office.
Similarly, to achieve economic equity, women need to earn a livable wage. That starts with raising the minimum wage. Right now, nearly two-thirds of minimum wage workers in the U.S. are women. Our federal minimum wage hasn't changed for 10 years—marking the longest time ever without an increase. A mother working full time at minimum wage today lives below the national poverty level.
Despite this, in the 32 CNN, MSNBC and Fox News candidate forums ahead of the debates, there have been a total of two questions on minimum wage.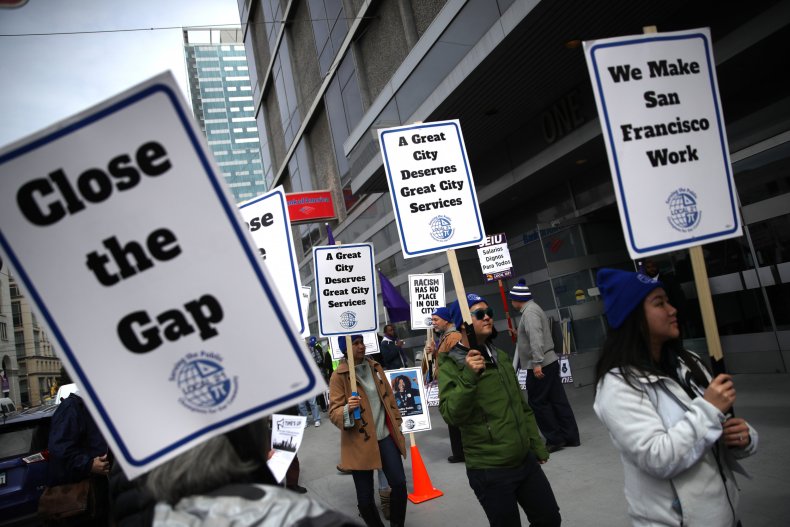 At the same time, the U.S. is failing to support new mothers. Women living in America today are 50 percent more likely to die in childbirth than their own mothers, and the U.S. leads the developed world in maternal mortality. For women of color, this crisis is even worse: Black pregnant women are three to four times more likely to die than white women.
The U.S. is also still the only industrialized country without paid family leave. Just 11 percent of American workers had paid parental leave from their employers in 2018. And across the country, only five states—California, New Jersey, Rhode Island, New York, Washington—and the District of Columbia have active paid family-leave programs. This is despite the fact that a supermajority of Americans support paid family leave.
Add to this the cost of child care, and you understand why so many families are strapped and struggling to make ends meet. Today, the average price of child care is a staggering $1,230 per month for an infant, and many families spend up to a third of their paychecks on child care. As a country we are failing our families, and we need solutions like universal family care to meet the needs of mothers and all kinds of caregivers.
And with state abortion bans multiplying and flying directly in the face of Roe v. Wade, women are asking themselves: What is our ability to plan for our families, participate in the economy and support our community if we can't make decisions about our own bodies?
One in four women will have an abortion in their lifetime, and 77 percent—a supermajority—of Americans do not want Roe v. Wade overturned. Yet, anti-abortion politicians across the country continue to pass extreme laws, restricting women's rights and making vulnerable populations even more so—poor women, trans women, and rural women to name a few.
Right now, six states are down to just a single health center that can offer safe, legal abortions. Senator Cory Booker, Senator Elizabeth Warren, Senator Kirsten Gillibrand, Senator Bernie Sanders, former Representative Beto O'Rourke, Governor John Hickenlooper and Senator Kamala Harris have all released plans for protecting reproductive rights. But with Justice Brett Kavanaugh on the Supreme Court and Roe in greater jeopardy than ever before, women are looking for all candidates to discuss their specific plans for protecting this constitutional right.
Each of these issues—closing the pay gap, protecting reproductive health care, raising the minimum wage and providing universal family care—are supported by the majority of Americans. For too long, they've been pushed to the side, but women are fed up, fired up and want all candidates to lay out their plans for addressing these issues.
We aren't a special interest group. We're the majority of the country. And at the core, we want a government that thinks all women matter. That's what we're watching for in the debates this week.
Cecile Richards, Ai-jen Poo and Alicia Garza are co-founders of Supermajority, a new effort to build women's power across the country by training and mobilizing a multiracial, intergenerational community who will lead the fight for gender equity.
The views expressed in this article are the writers' own.