First-Ever Female NCAA Catcher Breaks Baseball Barriers
Baseball has long been considered America's pastime, though it has also been dominated by male players from the beginning.
Slowly, Major League Baseball has opened its doors to women — while not on the field itself, in positions such as coaches, general managers and analysts.
As the push continues to create more opportunities for women on professional sports fields often dominated by men's teams, some women are beginning to break the barriers at the collegiate level.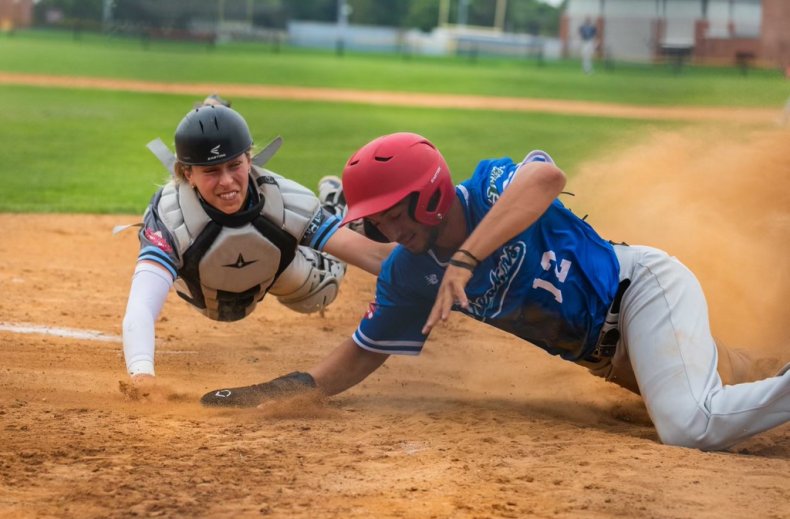 Marika Lyszczyk has been playing baseball since she was a little girl. For years, she played both softball and baseball until it became just too hard to balance both. Despite knowing that softball, the sport more often played by female athletes, would be her most promising option once college came around, she stuck with baseball where she felt she truly excelled.
Lyszczyk grew up in Vancouver, British Columbia, and by high school was playing as a catcher and pitcher for the Whalley Chiefs at one of the highest levels available to students in the area.
In 2019, when Lyszczyk was in 12th grade, she traveled to Texas for MLB GRIT, a showcase for young female baseball players to show their skills.
Lyszczyk loves being a catcher and, despite suggestions to focus more on pitching, has stuck to her passion for being behind the plate. At her first showcase, she was shocked not only to learn that a college scout had shown interest in her, something already rare for female athletes, but that she was being considered as a catcher.
"Just having one person like that believe in me that I could play a position in college other than pitcher was crazy," Lyszczyk told Newsweek.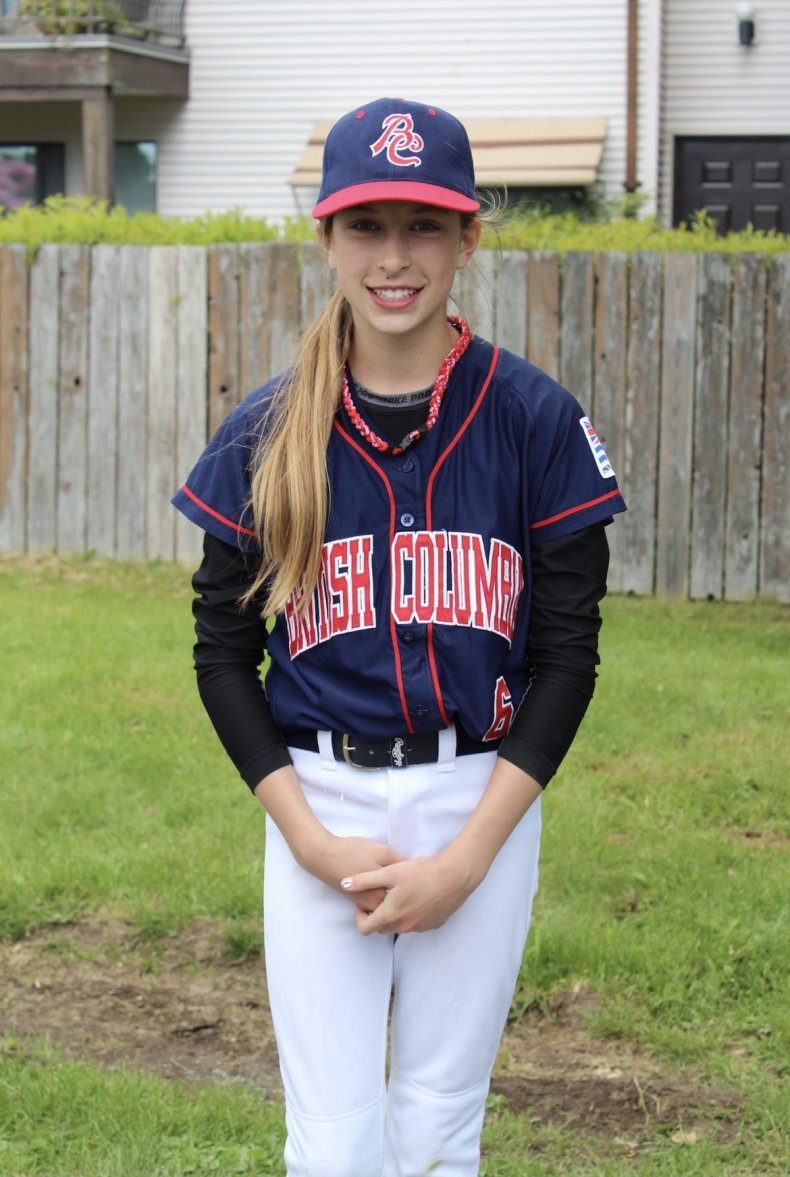 In January 2020, Lyszczyk traveled to Nashua, New Hampshire and suited up to join the men's baseball team at Rivier University, becoming the first-ever female catcher to play NCAA baseball.
Then COVID-19 hit and her season was cut short. She packed her bags and headed home.
Taking her talents to The Hamptons
Despite the disappointment of an abbreviated college career, a new opportunity was presented to Lyszczyk where she would, again, break barriers for future female players.
Each summer, college baseball players come together to play in various summer baseball leagues across the country. From Cape Cod to Santa Barbara, players hang up their college uniforms and suit up to play with and against other collegiate players to help improve their skills and prepare for the next season.
In 2008, The Hamptons in Long Island, NY decided to join in on the fun with the establishment of the Hampton Whalers. Now, almost 15 years later, the Hamptons Collegiate Baseball League (HCBL) has grown to seven teams (six this year due to lack of housing options) spanning throughout the island.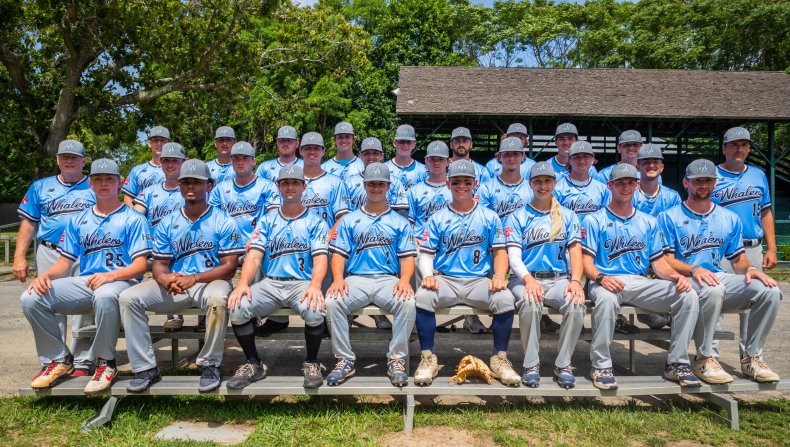 In 2018, after years of managing the Whalers, now known as the Sag Harbor Whalers, Sandi Kruel became the first female president of the HCBL.
"We had a great season in 2019 and then 2020 — COVID hits and it's like someone ripped my heart out," Kruel told Newsweek. "Because, you know, it was like having to call 195 kids and be like, 'Yeah, you're not playing baseball in the Hamptons this year.'"
Those 195 kids, Kruel says, are like her own kids.
A few years ago, before the world shut down, Kruel got a call from the league's recruiter to tell her about a pitcher that caught his attention.
"There's a little more to the story" she recalls him telling her, "the player is a female."
"No way," she told him. "Playing on a men's college baseball team?"
Lyszczyk had sent in an application to the league, knowing that Kruel already opened the door for female players like her.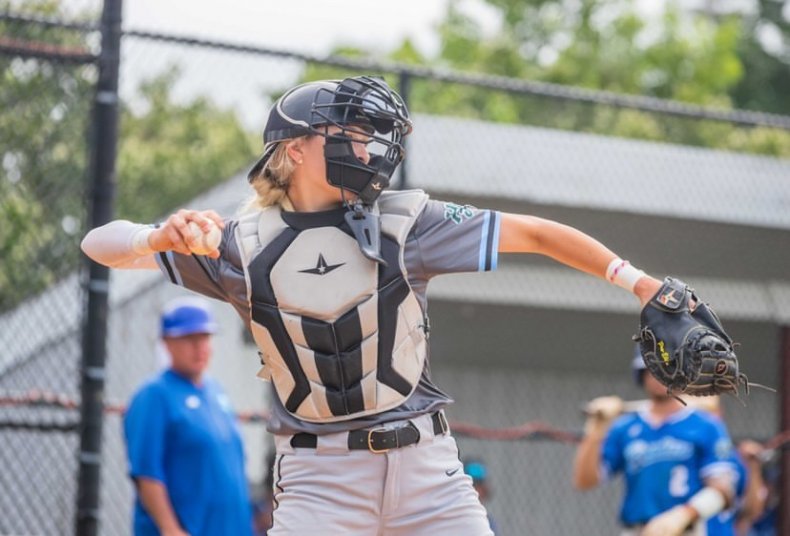 "I'm like, absolutely," Kruel said. "The only thing is wherever she goes, we have to make sure that the coach that we have on that team buys into it. And we really need to keep a close eye because it could be really, really good, or it could go really, really bad."
Because the league was put on pause last season, Lyszczyk was able to defer her invitation and became the first female baseball player to join summer collegiate baseball this year.
Though Kruel and the team have worked to make sure Lyszczyk was seen just as a baseball player regardless of her gender, it was hard to fly under the radar once she hit the field.
Kruel says that when Lyszczyk is on the lineup, they see a big turnout of spectators wanting to see "the girl."
"She really just wants to be considered as a player," Kruel said. "But, unfortunately, the long blonde ponytail kinda gives it away."
Tom Walker, the head coach of the Sag Harbor Whalers, still remembers first seeing Lyszczyk play before her arrival in Sag Harbor. "[I thought] I have a ballplayer," he said. "I know she's a female ballplayer — but she's a ballplayer like the other 26."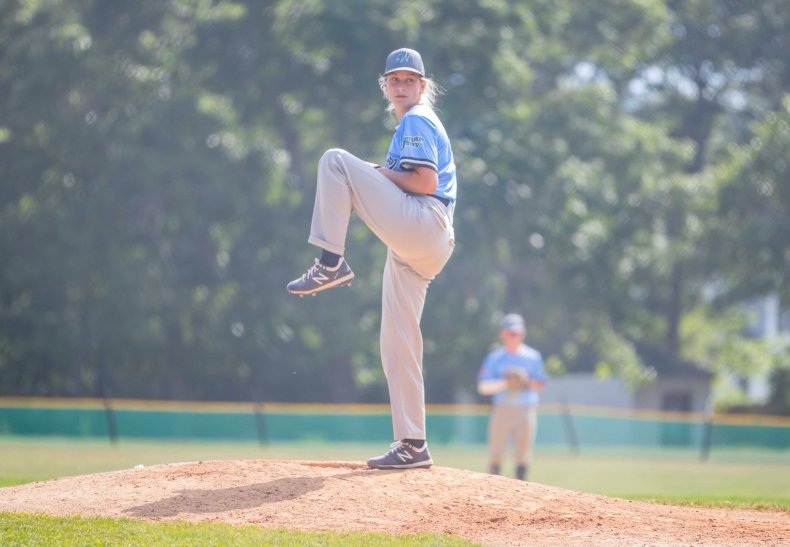 "There is no doubt in my mind that she is the right person to break this barrier in a collegiate summer league," Walker told Newsweek. "... the way she is wired, her competitiveness, her tenacity, her toughness."
He says that while there is a learning curve, Lyszczyk has continued to work hard to overcome obstacles.
"There are times where a 92 mph fastball is going to beat her," he said. "It just is."
Lyszczyk has accepted there are things she won't be able to do as a ballplayer but instead of dwelling on those, she focuses on what she has control over.
"Like my blocking game," she said. "That has nothing to do with your arm strength or anything. It's just like how good you can throw your body in front of the ball, how good of a relationship you have with the pitcher, the umpire, that kind of thing — just more of the mental part. I cannot beat them in throwing, that's something that I'll never be able to do."
"But if I can beat them in the way I play the ball, the way I perceive it, the way I block it, the relationship I have. That's the one thing that has kept me in the game I'd say. Adapting to different ways I can excel in those, so it makes up for the other category."
Jack Collins, a pitcher on the Whalers, says the team gets along well and though there was some initial shock when Lyszczyk was introduced, it's no longer a hot topic.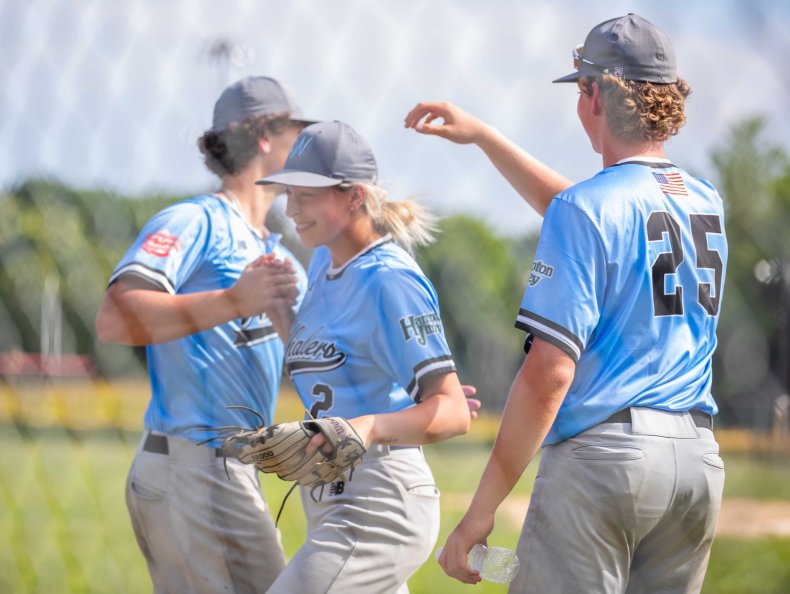 "You'll hear some idiots," Collins told Newsweek. "There was one kid who made a stupid comment but for the most part, nobody's really been taken aback."
Before the season began, Walker told Lyszczyk that he wanted her to be comfortable with him and that if anything were to ever go sour that he wanted the coaches to be the first ones to know.
"You can't protect her from everything, you can't protect her from one guy who makes one comment," Walker said. "But if it ever would get to the point where it was an issue we needed to be aware of it."
With just a few games left, Lyszczyk says she would love to return to the Hamptons next summer. There are some return players each year, says Kruel, but she hopes many of them "go higher," as her league is primarily for freshman and sophomore players.
After graduation from college, Lyszczyk hopes to continue playing baseball for as long as possible at a professional level. Beyond that, she hopes to do commentating for MLB.
As for the future of women in baseball? "I think the options are limitless right now," Lyszczyk said.