First Female Astronaut From Maine Blasts Off to International Space Station Wednesday
Jessica Meir is set to make a bit of history Wednesday as she becomes the first woman from Maine to go into space. She will be blasting off from Kazakhstan for a 6-month mission to the International Space Station.
"I am extremely excited," Meir said in an interview with WCSH. "This is something I've been dreaming about my whole life."
The 41-year-old Caribou native will be co-piloting the Soyuz MS-15 spacecraft as it makes its way to the ISS. The launch is scheduled to take place from the Baikonur Cosmodrome at 9:45 a.m. EDT. NASA says the journey should take six hours and four orbits.
Joining her on the flight will be Oleg Skripochka of Roscosmos in Russia and Hazzaa Ali Almansoori from the United Arab Emirates. Almansoori has the distinction of being the first astronaut from the UAE.
Meir will be on the ISS for six months. She will be helping support about 250 scientific experiments that would not be possible to conduct on Earth. These experiments include the effects of gravity and radiation on the human body.
"We're also looking at our blood vessels," Meir said. "One of the things that we've found is that our carotid artery is getting thicker and stiffer... and that is equivalent to about 20 to 30 years of aging here on the ground in only a six-month flight."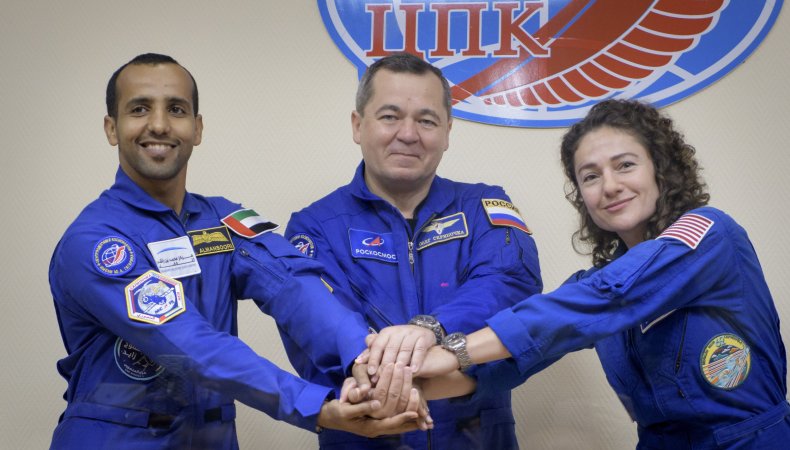 Meir was valedictorian of her graduating class at Caribou High School. She holds three degrees, a doctorate and two master's degrees. Meir was teaching at Harvard when she was selected for astronaut training in 2013.
No stranger to extreme environments, Meir has studied diving emperor penguins in Antarctica and visited the Aquarius underwater habitat in Florida. In keeping with that trend, Meir may get the chance to perform spacewalks during space station maintenance.
Specifically, Meir will be working on an alpha-magnetic spectrometer installed on the exterior of the space station. Designed to measure high-level radiation from distant stars, the spectrometer is used to detect dark matter.
"It wasn't ever supposed to be accessed by astronauts or fixed on spacewalks at all," Meir said. "Unfortunately, one of the pumps in the thermal control unit has broken." Meir will help assess the feasibility of repairing the unit.
Even though she'll be in orbit for half a year, Meir will be carrying some pieces of home with her into space. "You better believe there are quite a few items from Maine onboard. Flags and that kind of thing."
The launch will be broadcast live on NASA TV beginning at 9 a.m. EDT.