First GOP Senator Signals Intent to Scale Back Qualified Immunity for Police
Mike Braun introduced legislation scaling back qualified immunity for police on Tuesday, becoming the first Republican senator to back such a bill.
The Indiana senator's bill, the Reforming Qualified Immunity Act, will take on the qualified immunity doctrine, which prevents government officials from being held personally liable for violations of the constitution.
"Without any direction from Congress, our judicial branch has unilaterally created and defined qualified immunity. It's time Congress does their job to establish a qualified immunity law that defends law enforcement, while protecting the rights of the people," Braun said in an email sent to Newsweek.
In Braun's statement, he gave examples of instances where qualified immunity has been used to protect law enforcement officers, including the assault of an "unarmed and nonviolent woman" who sustained a broken collarbone after an encounter with an officer, and a separate incident where a cop "released a police dog on an unarmed person who had surrendered."
Braun's bill would require government employees to prove that there is a prerequisite -- such as a statute or court case -- in that particular jurisdiction that would prove the officer's conduct is permitted. In his statement, the senator said the bill would provide "a meaningful change that will help law enforcement and the citizens they protect."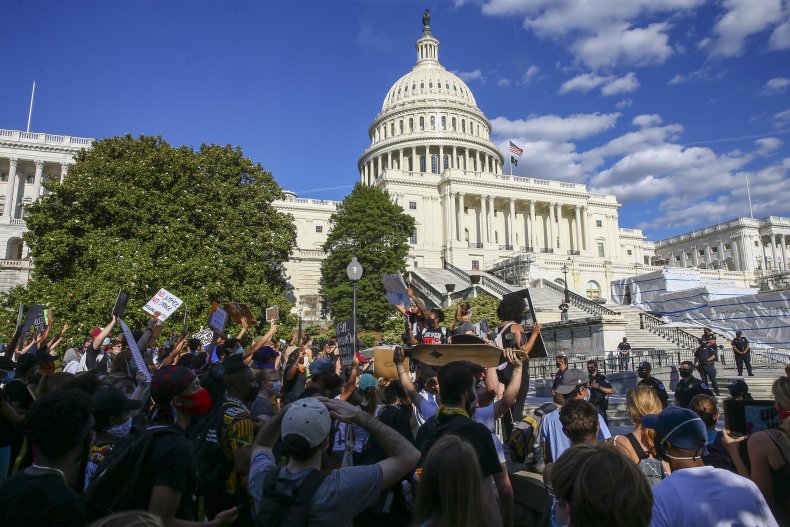 "This legislation would permit law enforcement officers who act in accordance with the law as ordained by courts and state or federal legislatures the defense they need to perform their jobs adequately and effectively, while removing misguided protection that has been extended to those who act under the color of the law to illegally deprive citizens of the rights, privileges and immunities secured by the Constitution and our country's laws," the statement continued.
The topic of qualified immunity for police officers has been at the top of discussions following the death of George Floyd, a 46-year-old black man who died in police custody on May 25. During Floyd's arrest, one officer kneeled on his neck for nearly nine minutes in an unauthorized chokehold.
Democrats previously proposed a bill, the Justice in Policing Act of 2020, which would ban the use of chokeholds and no-knock warrants. The bill would also limit the transfer of military-grade weapons to state and local law enforcement from the federal government and requires the use of body-cams for officers and dashboard cameras for federal police vehicles.
Republicans had a very different stance on the topic of qualified immunity, as they recently proposed a new bill, led by Senator Tim Scott. This bill does not alter qualified immunity, but instead, incentives police departments to ban chokeholds, requires local law enforcement agencies to report misconduct, provides a grant for body-cams and makes lynching a federal crime.
First GOP Senator Signals Intent to Scale Back Qualified Immunity for Police | U.S.