First Indigenous Interior Sec. Deb Haaland Starts Unit to Solve Native American Murders
Secretary of the Interior Deb Haaland announced the creation of a new unit designed to investigate and solve cases of missing and murdered American Indians and Alaska Natives on Thursday.
Haaland, who is the first indigenous person to serve as a Cabinet secretary in U.S. history, said that the new Missing & Murdered Unit (MMU) would be administered by the Office of Justice Services at the Interior Department's Bureau of Indian Affairs (BIA). An Interior Department press release says that the unit will "provide leadership and direction for cross-departmental and interagency work" and help to ensure that the "full weight of the federal government" is used to solve the cases.
"Violence against Indigenous peoples is a crisis that has been underfunded for decades," Haaland said in a statement. "Far too often, murders and missing persons cases in Indian country go unsolved and unaddressed, leaving families and communities devastated."
"The new MMU unit will provide the resources and leadership to prioritize these cases and coordinate resources to hold people accountable, keep our communities safe, and provide closure for families," she added.
Murders and unsolved missing persons cases have been chronic issues in American Indian and Alaska Native communities for many years. Native women are victims of murder at a rate that is 10 times higher than the national average, according to the Coalition to Stop Violence Against Native Women.
The MMU is intended to build on the work of a task force, Operation Lady Justice, that was formed to help combat the problem in 2019. Haaland said that the MMU would be an "all hands-on deck" effort and would "leverage every resource available" to prevent active investigations from becoming cold cases.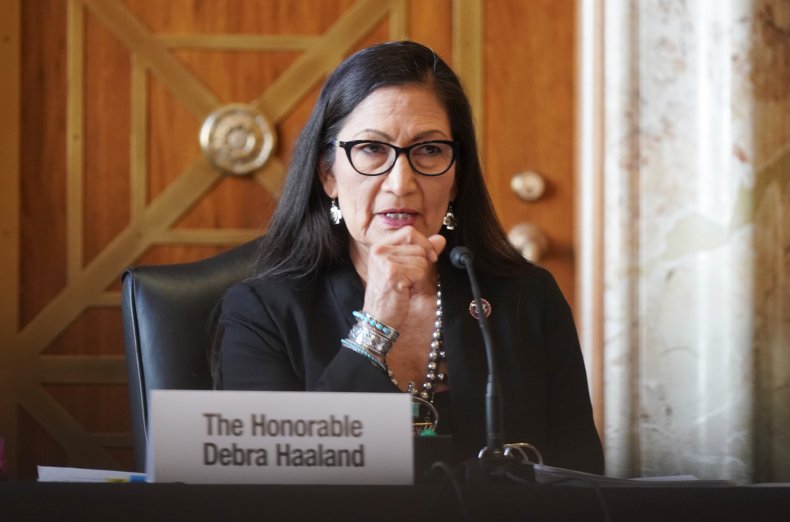 The Interior Department says that there are currently around 1,500 American Indian and Alaska Natives listed as missing in the National Crime Information Center's database, while 2,700 murders and nonnegligent homicides have been reported to the federal government's Uniform Crime Reporting program.
The MMU will review unsolved cases and immediately begin working with the FBI, BIA and tribal authorities on active investigations. The unit will develop partnerships with the U.S. Marshals service's Missing Child Unit and the National Center for Missing and Exploited Children. It will also work to enhance the Department of Justice's National Missing and Unidentified Persons System database.
Haaland's position as Interior Secretary was confirmed by the Senate in a 51-40 vote on March 15. She is the most senior U.S. official of Native American descent since former Vice President Charles Curtis, a member of the Kaw Nation who served during the administration of former President Herbert Hoover from 1929 to 1933.
Haaland is a member of the Laguna Pueblo tribe. The tribe's territory is located within New Mexico's First Congressional District, where Haaland was serving as U.S. Representative when President Joe Biden nominated her to serve in his cabinet in December 2020.
The Department of the Interior declined Newsweek's request for additional comment.