'First Kill' Star Sarah Catherine Hook on Having Imani Lewis's Back
For First Kill co-stars Sarah Catherine Hook and Imani Lewis it was important to be supportive and have each other's backs while making the Netflix teen drama, they told Newsweek.
The actors take on the role of vampire Juliette Fairmont (Hook) and monster hunter Calliope Burns (Lewis), teens who fall in love despite both being determined to get their first kill.
'First Kill' Stars Sarah Catherine Hook and Imani Lewis on Having Each Other's Back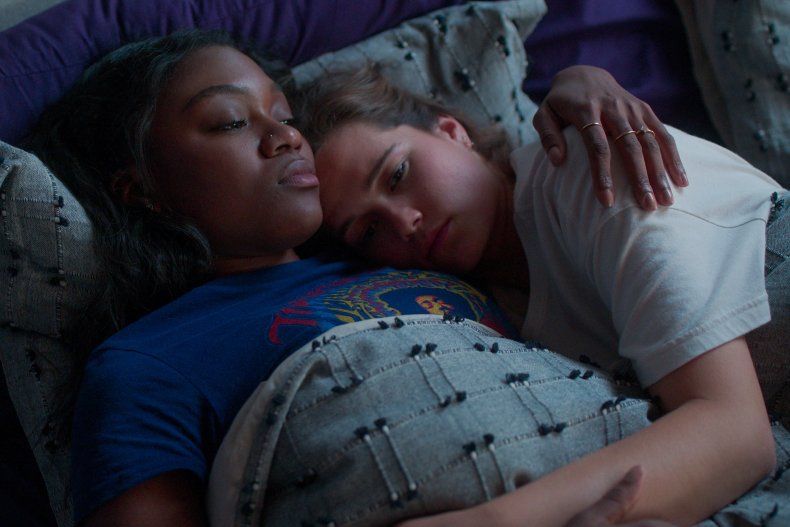 Author V. E. Schwab previously spoke to Newsweek about casting the pair in the lead roles, saying she knew "instantly" that they were meant to portray the characters she'd created in her short story for anthology Vampires Never Get Old.
Hook explained that she felt "the same" about Lewis when they first had their chemistry screen-test together over Zoom, telling Newsweek: "I knew the second I [saw her], because I had been cast as Juliette and they brought a few girls in for Calliope and I, [and] the second she and I started doing the first scene together I knew she was the one.
"After she was cast we had about a four hour FaceTime chat just the two of us, as Imani and Sarah Catherine, getting to know one another and it felt like 20 seconds, time was flying by and we were just gabbing for hours, and hours, and hours and realized we had a lot in common.
"Also, we discussed how in the show, throughout the process, we knew it was going to be a lot of heavy lifting on our parts and... right then and there we decided we have each other's back.
"If we ever feel uncomfortable or might, you know, need a shoulder to cry on, we were there for one another. So that's the kind of relationship we have and I'm so thankful that she was my co-star."
Lewis was equally praise-worthy of Hook, raving that she was "so supportive" and "wonderful" while they worked together on set.
"When I met Sarah Catherine it was like we had been friends for years. It's like we had known each other for decades before and a life before this one," Lewis told Newsweek. "She's just so wonderful, she's so much fun, she's so funny, she's so sweet, and we just both were so supportive, and so caring and careful with each other and respectful of each other.
"And we both feel a great sense of responsibility with these characters and with this story, so we both just carried it with such just care and grace and poise.
"That's what you see translate on the screen, she's absolutely wonderful to work with. She's an amazing person, and actress."
On Representation and Why it Matters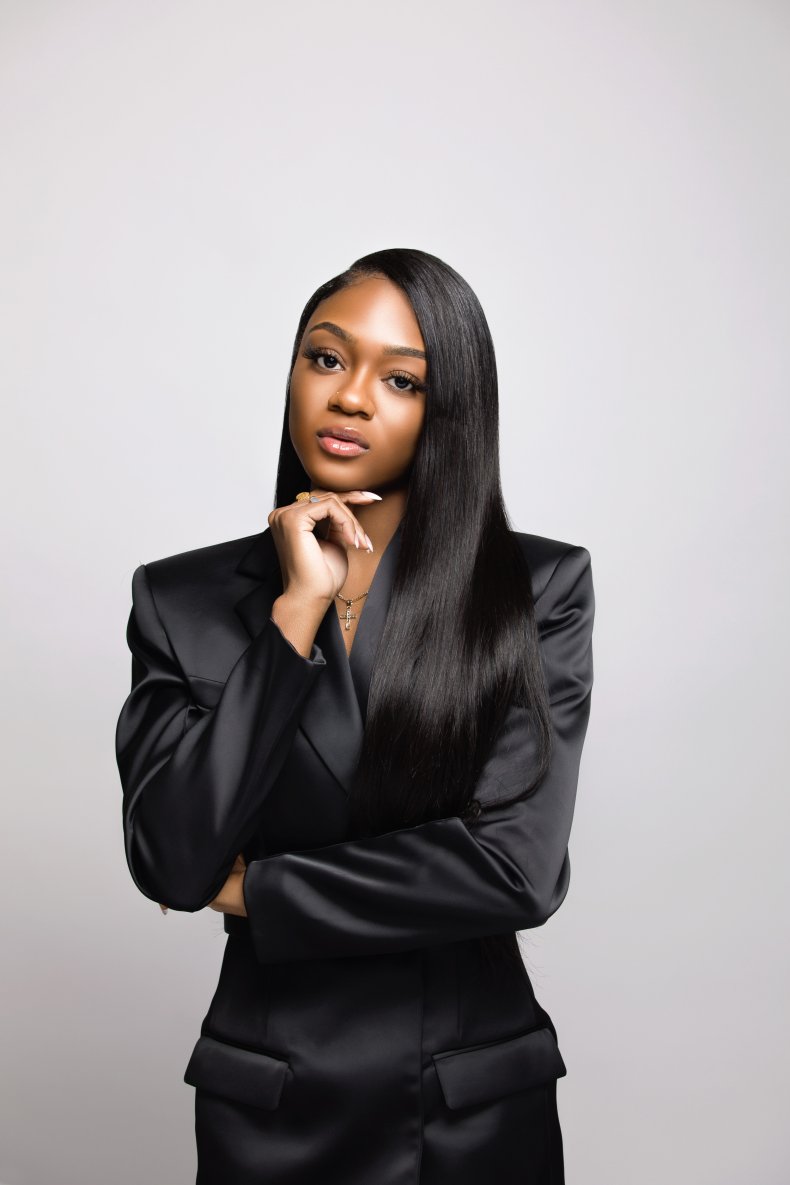 Lewis shared that she loved how Calliope is a "calculated strategic, strong, competent character" and is a "young Black woman" who "comes from a family of monster hunters."
"I just love that Calliope, and the show itself, just represents so many different communities of people that need that light shined on them, and deserve to have that kind of light shined on them," Lewis said of her character.
For both Lewis and Hook it was important to be in a show that had such great representation, and would mean so much to so many people.
Of this, Lewis said: "I'm so honoured to be a part of a show like this, I'm so honoured to play a character that's so layered, and, like I said, that represents so many important influential categories of people and communities that shape the world that we see now."
Referencing Calliope's siblings Theo (Phillip Mullings Jr.) and Apollo (Dominic Goodman) and parents Talia (Aubin Wise) and Jack (Jason Robert Moore), she added: "I think it's been too long and it's been way overdue that we see these kinds of characters, and we see this kind of representation, even down to just looking at the Burns family and seeing that all families look different, you know, and that that's what a lot of families look like.
"What I love, I think, the most is that [Calliope and Juliette's] queerness is not a point of conflict, that is not their journey, that is not their struggle. It is something that is well understood and the problem isn't that they're queer their problem is that you're supposed to kill each other.
"And, as far as that goes, I just appreciate that so much and I think that's so new, and it's so fresh, and it's real, too. I think it's important that we see those kinds of family dynamics as well and see that they are able to operate that way."
Hook concurred with her co-star, adding: "When we got [the parts] we just wanted to do it right, and we wanted to make sure... we wanted to do these roles right, we wanted to do this justice.
"We wanted to do the queer community justice as well, and what was most important to us was the fact that it normalized [their queerness]... their queerness was celebrated rather than questioned.
"I mean I don't have to say anymore, it's a special, special situation that I think more and more shows will start to do, I hope."
Imani Lewis and Sarah Catherine Hook on their Hopes for Juliette and Calliope in Season 2
The first season of First Kill's ended on a rather dramatic note for Juliette and Calliope, as the young couple broke up after Cal's brother Theo was turned into a vampire by none other than Juliette.
Hook and Lewis weighed in on where they'd like to see their characters go in a potential future season, with the duo in concurrence about the end result but not how long it'd take to get there.
Hook shared that she hoped for some conflict between the two characters, as well as a new look for Juliette: "I will admit... I don't want them to get back together right away. I want there to be some hot battling between the two of them.
"I'm hoping Juliette will go through an emo dark phase, and her version of a dark phase would be kind of to emulate Elinor (Gracie Dzienny) and Margot Fairmont (Elizabeth Mitchell), you know, the scary Barbie type.
"And then kind of be emotionally on this journey with Calliope of like, 'well, now we're broken up so we're mad at each other.' That type of vibe.
"I'm hoping... maybe they'll team up and then be like, 'so we get back together now?' But I definitely want there to be some space in a fun way.
"You know, not forever, just a temporary little battle between the two of them I think would be fun and entertaining."
Lewis, in contrast, is keen for the pair to get back together quickly: "Of course, I think like everyone that even if the odds seem slim I want them to reconcile, I love Juliette and Calliope, I love their dynamic.
"And of course I, selfishly, want them to reconcile and make their way back to each other. Calliope, I just think she's really hurt and really confused, and I think Theo was her confidant, in a lot of ways they were each other's confidant.
"So I think to not have that and to not be able to turn to your family in the ways that you usually can, or not be able to turn to your partner in the ways that you didn't feel comfortable turning to your family, it almost has to be in this zone where you don't know what to do with yourself.
"But selfishly, I want them to reconnect and I want them to work it out somehow. I don't know how because the writers of First Kill are Brilliant, so I don't know how they'd do it."
First Kill is out on Netflix now.
Update 06/14/2022 11:09 a.m. ET: This article was updated to include a new image of First Kill star Imani Lewis.