50 Fascinating Facts About the First Ladies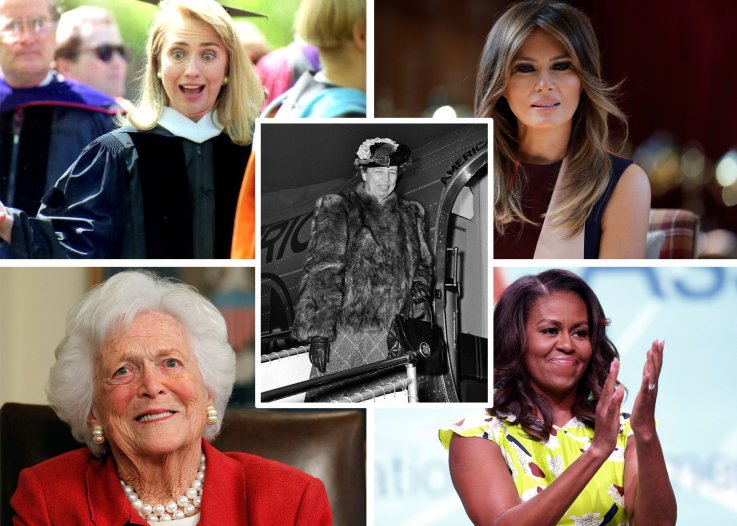 Though she's largely considered the hostess of the White House, the first lady holds no official title. The responsibilities of the "job" are largely determined by the woman holding the position. And from the time of Martha Washington—referred to in her day as "Lady Washington"—the role of the first lady has changed considerably.
The first lady hasn't even always been the president's wife: James Buchanan was a lifelong bachelor, so his niece Harriet filled the role. (In all there have been 11 first ladies who weren't the president's spouse, most of whom were relatives of widowed presidents.) President James Madison's wife, Dolley, actually served as first lady in two administrations—first for President Thomas Jefferson, who was a widower, and then later for her husband.
Many first ladies have tackled larger social issues while in the White House, including drug abuse, literacy, women's rights and physical fitness. A number have served as their husband's political spokeswomen and prominent figureheads for the United States abroad.
Taking a glimpse into the lives of these unique women reveals some surprising facts. For example:
Mary Todd Lincoln regularly held séances at the White House.
Eleanor Roosevelt refused Secret Service protection.
Martha Washington is the only woman to appear on American currency
Ulysses S. Grant's wife, Julia, convinced him not to go to Ford's Theatre the night Abraham Lincoln was assassinated.
When Andrew Jackson married his wife Rachel, she was still married to another man.
Today, even though the first lady receives no salary, the federal government provides her with funds and amenities to carry out duties she deems essential, including a full staff and an office in the East Wing of the White House.
Slide through to learn dozens of fascinating facts about the women who have shaped the White House–and sometimes changed American history.