Melania Trump Is Way More Popular Than Donald Trump Right Now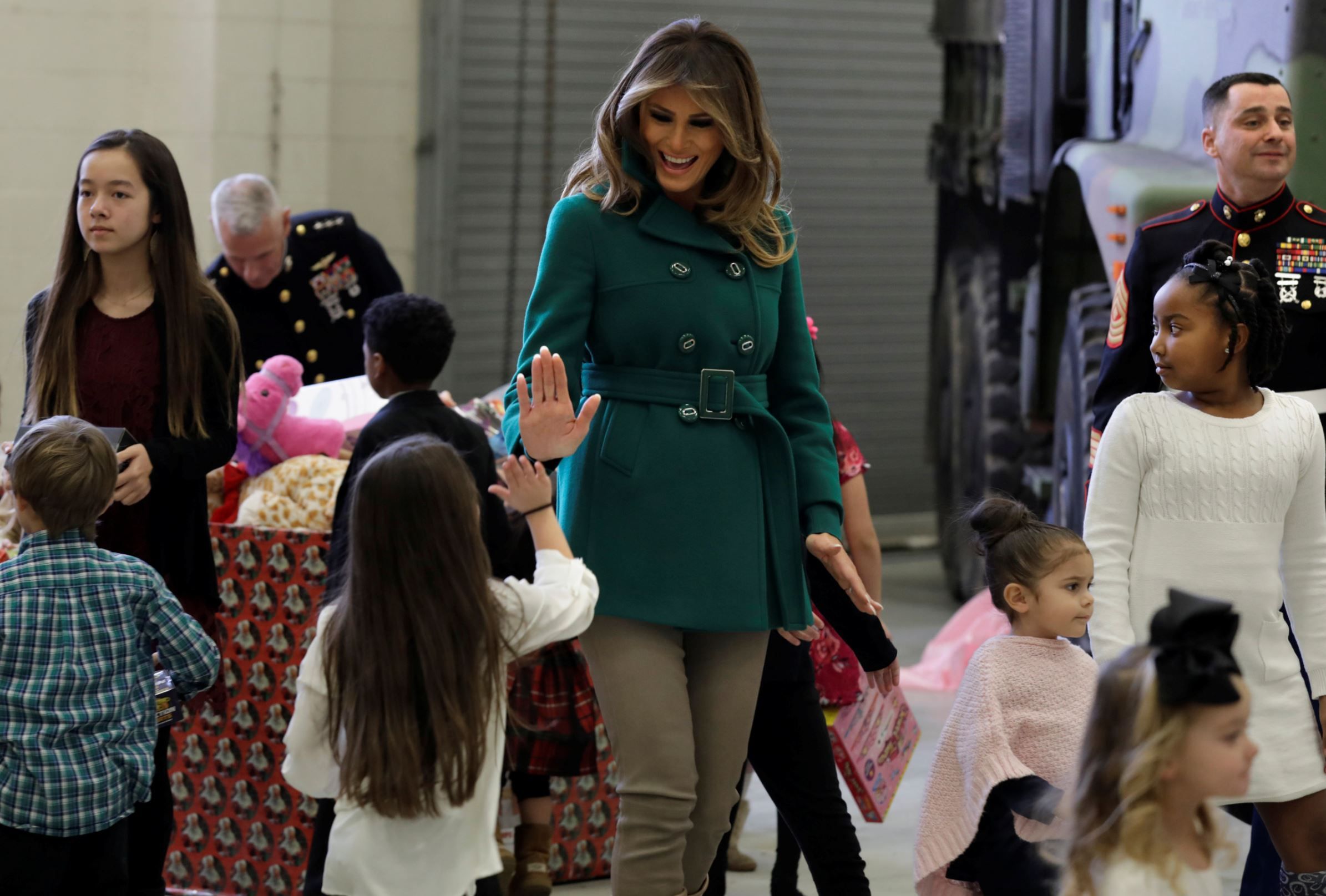 She's poised, she's chic, and she's way more popular than her husband.
First lady Melania Trump's favorable rating has skyrocketed 17 percentage points, to 54 percent, since the beginning of her husband's administration, a new Gallup poll released Friday shows.
President Donald Trump's number is about the same—except it's an unfavorable rating of 56 percent, nearly unchanged from January's 55 percent.
Simply put, more than half the country sees Mrs. Trump in a positive light and her husband in a negative one.
Just before the Trumps became the first couple on January 20, the first lady-elect had the country split in opinion: About 37 percent viewed her favorably and 37 percent unfavorably, with 26 percent undecided.
About a year later, only 13 percent of Americans still have no opinion of the Slovenia-born former model, and her unfavorables have dropped a bit, to 33 percent.
"Melania Trump's favorability advantage ... is consistent with Gallup's findings that recent first ladies are, on average, more popular than their husbands," pollsters said in a statement about their December 4-11 questioning.
"This is likely because a first lady's role is more ceremonial and generally much less divisive than that of the president."
Trump is indeed a notably unpopular president. A Gallup spokeswoman told Newsweek that Trump's current approval ratings, now in the mid-30s, are the lowest among the modern presidents, including Eisenhower, Kennedy, Nixon, Carter, Reagan, the Bushes, Clinton and Obama, in the first year of a first term.
That said, even the best-liked presidents have trouble keeping up with their spouses in the popularity contest of U.S. politics.
"Michelle Obama and Laura Bush outpaced their husbands, holding an average 12-point and 17-point edge in favorability, respectively, over their spouses," Gallup noted.
Melania Trump is currently about on par with those predecessors; Hillary Clinton averaged one point lower favorability than her husband during their White House years.
Melania Trump has taken some heat during the course of her first year as first lady, including for delaying her move from Manhattan to the White House and even some of her fashion choices, but the nation is clearly warming to her.
But America isn't fully convinced. In their first year as first ladies, Michelle Obama, Laura Bush and Hillary Clinton enjoyed higher public ratings than Melania Trump does now, with Obama at 61 percent, Bush at 77 percent and Clinton at 58 percent.
Notably, the 47-year-old former fashion model garners far more positive feelings than her husband among women, which 51 percent liking her but only 33 percent liking him. Democrats are also far fonder of Melania, with 35 percent approving, than the Donald, who has the approval of just eight percent. Men also view her more positively than they do the president, but there, the first lady only has a seven percentage point leg up.
The survey has an error margin of four percentage points.