First Look: Animated Video on the Story of 'Come From Away' Debuts
When Come From Away opened on Broadway two years ago it was seen as the little engine that could. It had no stars and not much in the way of buzz. But it had a timely message: It was a show about inclusion at a time of exclusion. Refugees were being turned away at the borders. (Now that has all changed: The U.S. is having no border problems anymore, and utopia is just around the corner.) The show caught on and will soon celebrate its second anniversary on Broadway with the release of a short animated video depicting the backstory of Come From Away. The video's debut also happens to coincide with the show's London debut at the Phoenix Theatre, where performances begin on January 30.
Come From Away has won 30 major awards including the Tony, the Outer Critics Circle and the Drama desk. But more than that it has become an audience favorite, largely because its message has become even more relevant than when it opened. It tells the true story of 7,000 stranded passengers in Gander, Newfoundland, and locals who took them into their homes and lives in the aftermath of 9/11. What could have been an afterschool special was saved by smart, funny dialog, a group of relatable characters and a first-rate cast.
In a statement, Irene Sankoff and David Hein, who wrote the book, music and lyrics, tell Newsweek, "We never expected the show to go as far as it has, but it is a testament to the story that we're telling. Not only is it universal, in that on that day we all wanted to help and felt helpless, but I think the story reminds us that we can respond with generosity to tragedy and that we can in fact practice kindness every day."
It's not unusual for cast members to develop a bond during a long-running show. It is pretty rare for cast members to form bonds with their real-life inspirations. George M. Cohan never got all warm and fuzzy with Franklin Roosevelt, whom Cohan played in I'd Rather Be Right. And I don't think Ethel Merman ever met Rose Hovick, even though she has been identified with the role ever since Gypsy opened.
Come From Away is another animal, however. Even though creative work started before the election of Donald Trump, the message of inclusion has been embedded in the show's DNA. Ganderites and passengers who were stranded in the town have become as much a part of the production as the performers. Most if not all cast members have met their real-life counterparts.
More than that, in the past two years, the cast and creators have formed a unique connection with Ganderites and those refugees from September 11. Jenn Colella and Beverly Bass, for example, have developed a special bond, and for a while were an item on talk shows. While Colella's character was based on several pilots' stories, Bass was a major inspiration, and her story—she was first female captain for American Airlines—was the basis for the show-stopping number, "Me and the Sky." Bass has reportedly seen the show dozens of times. It seems like most of Gander has too.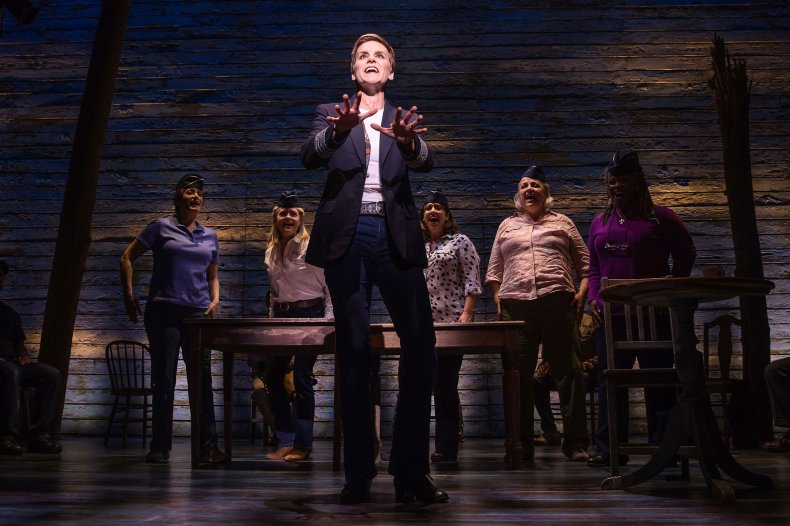 This sense of community has extended to new cast members, such as Broadway veteran Jim Walton, who joined the show in November 2018. He plays (among other characters) Nick who makes a love connection during his stay in Canada. Walton was a bit apprehensive at first: "Joining Come From Away was stressful for me at the beginning, but the complete support from the cast, band and crew helped me enormously."
And it is almost a rite of passage for a cast member to meet his or her real-life counterpart, which Walton "virtually" has: "I also had the honor and treat of meeting Nick and Diane Marson during a Skype connection, and they are absolutely lovely and kind."
Now, as Come From Away prepares to land in London and its video worldwide, its message seems more relevant. "There's never a bad time to tell a story about human empathy," say Sankoff and Hein, "but particularly these days when our newsfeeds are so filled with divisive anger and fear, a story about people overcoming their differences to form a larger community feels important. It's certainly been important to us—and we are grateful for the honor of telling this story every day around the world."