First Look at Pope Francis Starring As Himself in New Wim Wenders Movie
Tuesday was the five-year anniversary of Pope Francis's election as head of the Catholic Church, and to mark the occasion the world got its first look at a new film featuring the pontiff.
The documentary Pope Francis—A Man of His Word, directed by legendary filmmaker Wim Wenders, will be released in the U.S. on May 18. The idea originated from the Vatican, which wanted a film that offered a more intimate representation of the pope instead of something that was simply biographical. Monsignor Dario Edoardo Viganò, prefect of the Vatican Secretariat for Communication, contacted Wenders about the project and gave him unprecedented access—and creative freedom.
"Not in my wildest dreams would I have expected to make a film about Pope Francis," Wenders told the Vatican press. "This wasn't meant to be a film about him but with him."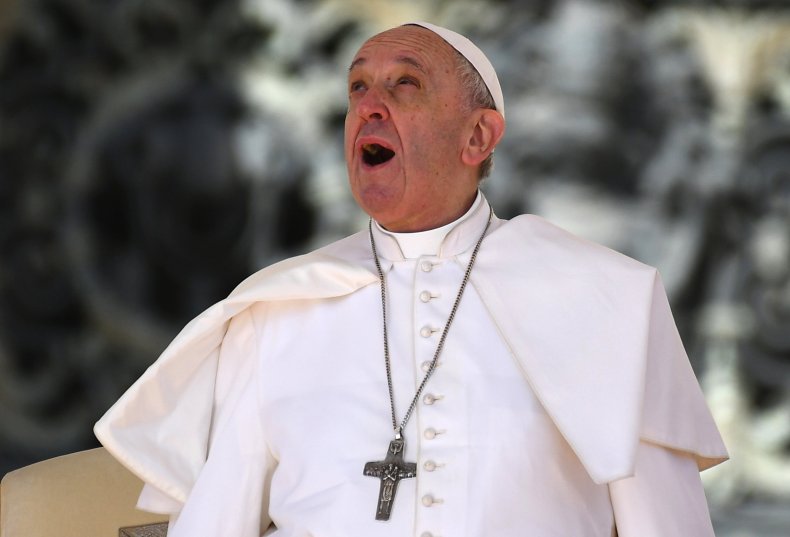 The film, co-produced by the Vatican and Focus Features, took two years to make, with Wenders interviewing the pope over four sessions, including once in Assisi, the birthplace of Saint Francis.
"I was very impressed how open Pope Francis was to each question and how directly and spontaneously he answered," Wenders recalled. "And after each of our four long sessions, he took time to shake everybody's hands, and did not make any difference between producer or director or electrician or assistant."
In its first trailer, Francis can be seen discussing the issues that have defined his papacy so far, such as social justice, family relations, climate change, immigration and wealth inequality. His focus on the most vulnerable has made him popular among Catholics around the world. Among the U.S. faithful, he has an 84 percent approval rating, according a Pew Research Center report published last week, which is down 1 percent from five years ago.
But the same survey also shows that support among Catholic Republicans is falling. They increasingly see Francis as "too liberal" and "naive," particularly on the issue of homosexuality. Early in his papacy, Francis was asked about gay priests and famously answered, "If someone is gay and he searches for the Lord and has goodwill, who am I to judge?"
Another, more substantial group of critics—made up of an almost equal number of both Republicans and Democrats—disapprove of the way the pope is handling the worldwide sex abuse scandals rocking the church. An overall 46 percent say the pontiff is doing a poor or middling job (roughly equal to those who praised his approach), up from 34 percent who held this view three years ago.