A First Look at TWA Hotel's Breathtaking Rooftop Infinity Pool
The year-round pool at the TWA Hotel "provides a JFK runway view that rivals an air traffic controller's vantage point," say developers.
When the TWA Hotel at JFK airport opens on May 15, guests will be afforded a rather unique view: The hotel's rooftop infinity pool and 10,000 square-foot observation deck look out onto some of the airport's biggest runways.
Running 63' by 20' feet, the infinity edge pool is reportedly inspired by the Hotel du Cap-Eden-Roc in Cap d'Antibes, France. It's intended to be a year-round amenity, transforming in winter months into a "pool-cuzzi," with temperatures of up to 100 degrees Fahrenheit. (The water will be purified every 30 minutes, far more often than the standard six hours.)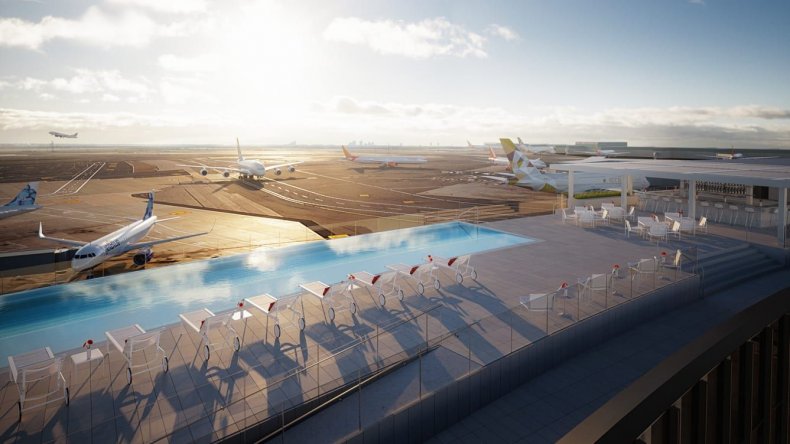 The pool will overlook JFK's runway 4L/22R, and will have views to Jamaica Bay, while the observation deck will also look out to runway 13R/31L, the second longest commercial runway in North America.
"Our rooftop pool provides a JFK runway view that rivals an air traffic controller's vantage point," says Tyler Morse, CEO of MCR and MORSE Development, in a statement. "There's simply no better place for plane-spotting and enjoying a cocktail, in the world."
Gerber Group will provide food and beverage service at the pool bar, including the Mile High Spritz (vodka, St. Germain, fresh lime juice and prosecco) and a Watermelon Collins (gin, watermelon and lemon juices, agave and club soda).
The pool is open to non-guests who make a reservation, and will be available for private events for up to 300 people.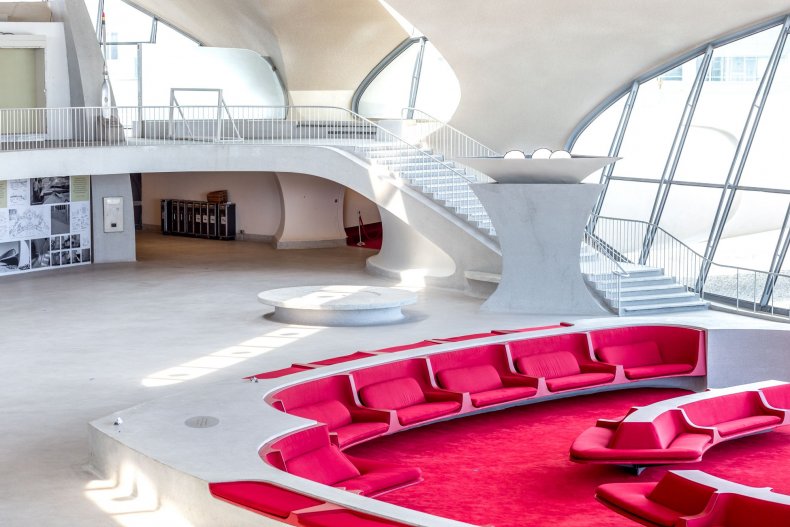 Reviving Eero Saarinen's long-abandoned landmark terminal, the 512-room TWA Hotel will also sports an Equinox-sized gym, a skating rink, six restaurants (including Jean-Georges Vongerichten's Paris Café) and a bar housed inside a repurposed Lockheed Constellation airplane.
A glass wall, the second-thickest glass in the world, will muffle sounds from the busy airport.
"We're bringing the building back to when it was in 1962," Morse, a former baggage handler for Delta, told reporters earlier. "The '50s were defined by post-war recovery. The latter-half of the '60s descended into drugs, protests, assassinations, [but] '62 was an idyllic year, where anything was possible in America."
The TWA Hotel began accepting reservations on February 14, with rooms starting at $249 per night.
A First Look at TWA Hotel's Breathtaking Rooftop Infinity Pool | Culture