Jez Butterworth's Broadway play The Ferryman has won accolades on both sides of the Atlantic, and it promises to be a contender when Tony Award season comes around in May. Now, in an exclusive new video, the producer are welcoming 15 new cast members, including some very familiar names to American theater audiences.
The Ferryman takes place in County Armagh in Northern Ireland in August 1981, Quinn Carney, now played by Brian d'Arcy James, is a former terrorist for the Irish Republican Army who has tried to move on from his violent past. He is looking after his wife Mary (Emily Bergl) and Caitlin (Holley Fain) the widow of his brother Seamus, who disappeared nine years before. Things all change when Seamus's body is found, he being the victim of an apparent assassination.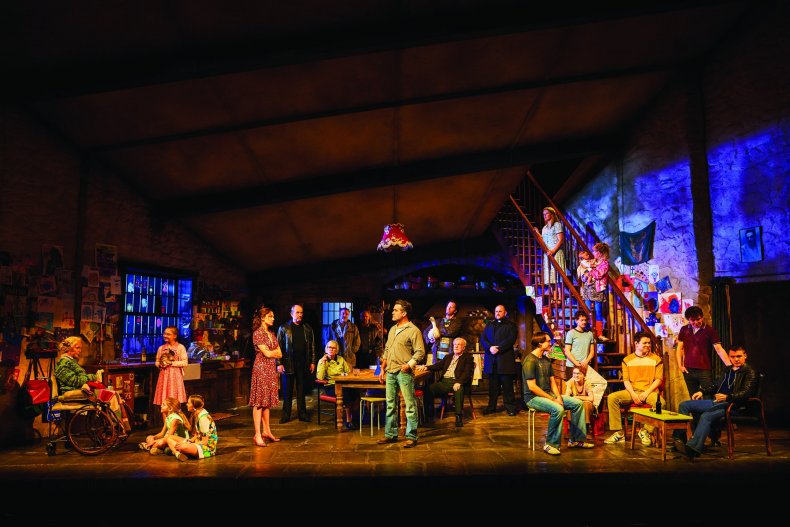 The story was inspired by events that occurred in the life of Butterworth's partner, Laura Donnelly, who originated the role of Caitlin. She had an uncle who had disappeared during what has become known as the Troubles, a low-level guerrilla war in Northern Ireland in the late 20th century. The resultant play was a hit in London and garnered several Olivier Awards, including best play. When The Ferryman opened on Broadway October 2018, the show received across-the-board raves.
Donnelly, who recently left the production, is probably most well-known in the United States as Jenny in the hit TV series Outlander.
D'Arcy James comes to the cast after having starred on Broadway in the megahit Hamilton as King George, a role he originated at the Public Theater. He has also starred as Shrek in Shrek the Musical, for which he won a Drama Desk Award, and in Conor McPherson's haunting play, Port Authority, at the Atlantic Theater Company.
Bergl, who takes over the role of Mary Carny, was last seen on Broadway in Cat on a Hot Tin Roof as Mae. She has had recurring roles on such TV series as Desperate Housewives, Southland and Shameless.
Fain, who takes over from Donnelly as Caitlin, has appear on Broadway in 2010's Present Laughter, as Daphne Stillington, and in 2012 in the hit comedy Harvey opposite Jim Parsons.
Also joining the cast, as Aunt Patricia Carney, is Ann McDonough, who in the 1970s and 1980s starred in several breakthrough hits for some of the major playwrights of the past 50 years, including Wendy Wasserstein's Uncommon Women and Others, A.R. Gurney's The Dining Room and Christopher Durang's Sister Mary Ignatius Explains It All for You.
Even though The Ferryman is set in the 1980s, Butterworth's proven storytelling ability and a continuing strong cast makes for compelling theater.
The Ferryman is running at the Bernard B. Jacobs Theatre at 242 West 45th Street in New York City. For more information go to TheFerrymanBroadway.com.