First Named Storm for 2021 Hurricane Season Has 90% Chance to Form in Atlantic
The 2021 hurricane season could see its first named storm on Friday or Saturday in the form of a short-lived subtropical storm near Bermuda.
Officials have forecasted an above-average hurricane season and the National Hurricane Center (NHC) is currently tracking two disturbances, once in the Atlantic and one in the Gulf of Mexico. Bermuda is under a tropical storm watch and on Friday, the NHC gave the Atlantic disturbance a 90% chance of becoming a subtropical storm within 48 hours.
Located about 450 miles northeast of Bermuda, the disturbance became better organized on Friday, but still lacked the characteristics of a subtropical storm. However, based on current trends, the NHC said it could become a subtropical storm on Friday.
Not all formations get an official name, though. To receive a name, a storm must have rotating wind speeds of at least 39 mph. If the current disturbance in the Atlantic meets the requirements to be given a name, it will be dubbed Ana, as that's the first name on the list created by the United Nations' World Meteorological Organization.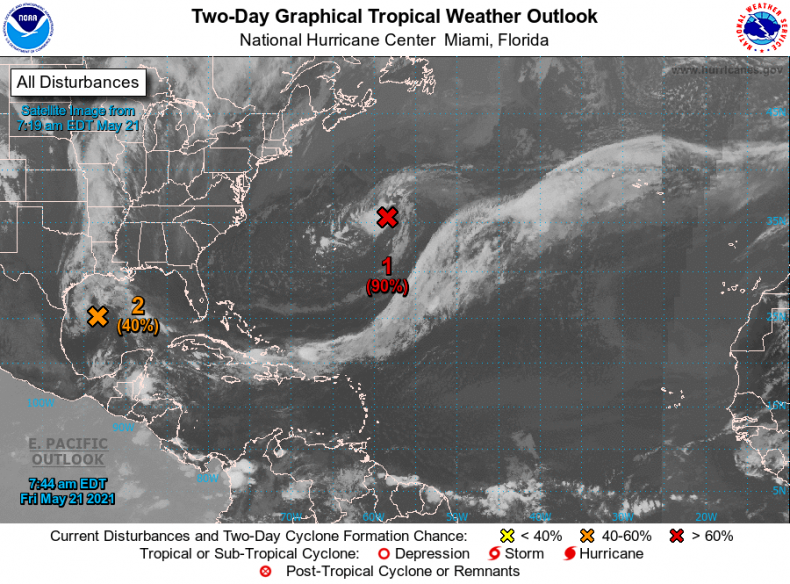 The Bermuda Weather Service cautioned residents that regardless of how well organized the disturbance becomes, it is expected to bring strong winds through Saturday. As such, it issued a tropical storm watch, which means a storm poses a potential threat within 48 hours.
While the NHC is keeping its eye on the disturbance in the Atlantic, it's also monitoring a disturbance in the Gulf of Mexico. Unlike the Atlantic disturbance, the one in the Gulf of Mexico was still disorganized on Friday, although there was a 40 percent chance of it becoming a tropical storm within 48 hours.
The disturbance was expected to move inland over the northwestern Gulf on Friday night, bringing with it heavy rainfall to parts of Texas and southwestern Louisiana. Already experiencing significant rainfall, the formation could prompt flooding in Louisiana and a number of areas were put under flood watches.
With a risk of flooding, the National Weather Service (NWS) advised drivers to not attempt to navigate flooded areas because the depth and velocity could be "too great" for people to "cross safely."
Hurricane season doesn't officially begin until June 1, but it's not uncommon for storms to form ahead of the start date. Forecasters for the National Ocean and Atmospheric Administration (NOAA) predicted there would be an above-normal season, although not at the level that was seen in 2020.
Last year, the number of storms exceeded names, a situation which NOAA didn't expect for this year. They expected there to be at least 13 and up to 20 named storms, with six to 10 of them becoming hurricanes. To be classified as a hurricane, wind speeds must be at least 74 mph.
Of those hurricanes, the NOAA forecasted that three to five of them would become "major" ones, which means their wind speeds exceeded 111 mph.
"Now is the time for communities along the coastline as well as inland to get prepared for the dangers that hurricanes can bring," Secretary of Commerce Gina Raimondo said in a statement. "The experts at NOAA are poised to deliver life-saving early warnings and forecasts to communities, which will also help minimize the economic impacts of storms."