NBC is not planning to send any of its sports announcers to cover the Winter Olympics for the first time ever due to concerns about COVID-19.
When the Beijing Olympics begin on February 4, U.S. television coverage will include entirely domestically-based announcing teams, although NBC's Olympics host Mike Tirico is expected to be in Beijing at the beginning of the event.
NBC has held exclusive U.S. broadcasting rights for the Winter Olympics since 2002 and the Summer Olympics since 1988, with the network's coverage having always previously included at least some on-site announcers.
"The announce teams for these Olympics, including figure skating, will be calling events from our Stamford (Conn.) facility due to COVID concerns," Greg Hughes, senior vice president communications for NBC Sports, told USA Today.
"We'll still have a large presence on the ground in Beijing and our coverage of everything will be first rate as usual, but our plans are evolving by the day as they are for most media companies covering the Olympics," he added.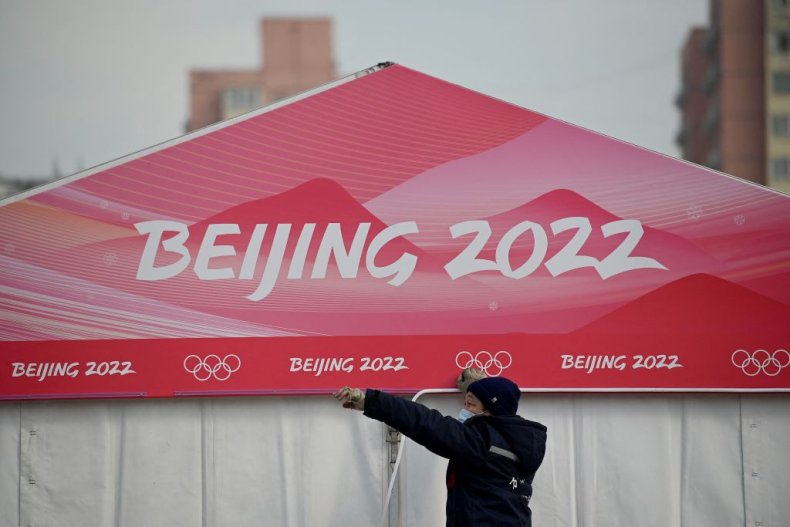 On Monday, organizers announced that no Beijing Olympics tickets would be sold to the public due to COVID-19 concerns. Similar restrictions were in place at the pandemic-stricken 2020 Tokyo Summer Olympics, which were held last year after a year-long delay. However, a limited number of NBC announcers did travel to Japan to cover particularly popular events.
Beijing travel plans had originally been made for announcing teams covering snowboarding, figure skating and Alpine skiing events. The recent Omicron-fueled surge, as well as strict Chinese government regulations, are to blame for canceling those plans. U.S. announcing teams will be based out of Stamford, Connecticut instead.
"The Beijing model is going to be very similar to Tokyo in that the heartbeat of our Olympic operation will actually be in Stamford, Conn., at our NBC Sports headquarters," NBC Olympics Production President and Executive Producer Molly Solomon told USA Today. "We'll have more personnel there than in the host city."
"With COVID's changing conditions and China's zero-tolerance policy, it's just added a layer of complexity to all of this so we need to make sure we can provide the same quality experience to the American viewers," Solomon added. "That's why we are split between the two cities."
There will be no official U.S. government presence at the Beijing Olympics. The Biden administration announced a diplomatic boycott of the games last month, due to concerns about Chinese government human rights abuses. Several other countries, including Canada, the U.K. and Japan, have also announced diplomatic boycotts.
In 2014, NBC paid $7.75 billion to maintain exclusive broadcasting rights for the Olympics until 2032, despite having lost $232 million on broadcasting the 2010 Winter Olympics in Vancouver, Canada. Regardless of getting the lowest-ever ratings for a televised Olympics, the network said that it still made a profit on Tokyo 2020.
NBC recently announced that Olympic gold medalist Lindsey Vonn would be joining fellow gold medalists Ted Ligety, Kelly Clark and Hannah Kearney, along with other announcers, to offer remote commentary for the Beijing games.
Newsweek reached out to NBC Sports for comment.