First North American Omicron Cases Detected in Canada Among People Who Visited Nigeria
The first cases of the emerging Omicron variant have been identified in North America among recent travelers from Nigeria, the Canadian government announced Sunday.
"Two individuals in Ottawa tested positive for the COVID-19 Omicron variant with recent travel from Nigeria," the government of Ontario said in a statement.
Ottawa Public Health officials are conducting case and contact management, and the individuals are self-isolating.
The Canadian government advised those who have been in Nigeria, South Africa, Mozambique, Botswana, Zimbabwe, Lesotho, Eswatini and Namibia within the past 14 days to seek testing and self-isolate immediately—even if fully vaccinated.
Political alarm spread quickly across the world after the World Health Organization (WHO) classified Omicron, which was first detected in Botswana, as a "variant of concern" on Friday.
Canada quickly joined a growing list of countries in imposing travel restrictions on flights from South Africa and neighboring countries, even as health experts and the WHO warned that it wasn't yet clear whether this latest variant posed a greater threat than other strains of the virus.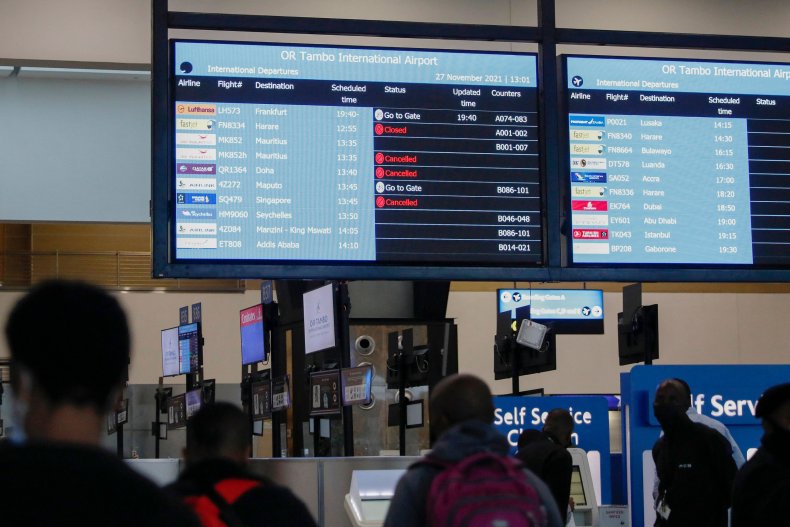 The Omicron variant has been identified in Israel, Hong Kong and several European nations, including the United Kingdom, the Netherlands, Italy and Germany.
Australia announced the first cases in Australasia on Sunday, with two cases of the variant found in Sydney among recent travelers from South Africa.
France said Sunday that officials have identified eight possible cases of the new variant, saying they will confirm the infections after additional testing.
The U.S. placed a ban on travel from South Africa and several other surrounding countries, which will go into effect Monday.
Dr. Anthony Fauci, the White House chief medical adviser and director of the National Institute of Allergy and Infectious Diseases, said on Sunday that "it's going to give us a period of time to enhance our preparedness," as he warned that it would arrive in the U.S. imminently.
Although Omicron bears a concerning number of mutations that researchers believe could make it more contagious than the Delta variant and possibly even evade existing vaccines, not much is known about it yet.
Health experts, including Fauci, have said that it would take scientists at least a few more weeks to determine whether the adaptation is more contagious, virulent, able to cause serious illness, or capable of evading vaccines.
Dr. Francis Collins, director of the U.S. National Institutes of Health (NIH), said on CNN's State of the Union Sunday that he believes Omicron is highly contagious but unsure whether it could cause more serious illness.
"I do think it's more contagious when you look at how rapidly it spread through multiple districts in South Africa. It has the earmarks therefore of being particularly likely to spread from one person to another," Collins said.
Newsweek reached out to Global Affairs Canada for comment.