The First Oculus Quest 2 Games and Accessories You Need to Buy
Donning an Oculus Quest 2 virtual reality headset for the first time was exhilarating. Suddenly, a living room transformed into a different location. It's an experience that everyone should try. Quickly though, it's clear that you'll need to purchase some apps or games to really get the fullest use out of it. I went through some of the most popular experiences to confirm whether they're worth trying out or not. Each of the ones listed below is fun and provides a glimpse into compelling uses for VR.
I didn't expect fitness to be the most captivating app category. Going hands on, however, fitness games are a brilliant way to workout at home. The Supernatural app experience is a standout because of how it mixes music and physical activity, but it does have some caveats.
As I continued to dip into VR, I realized there were also a few accessories that are must-haves. There are lots of add-ons and accessories (earbuds, carrying case and extended battery) that may be worth buying in the long term, but there are a few items that you should probably have on day one.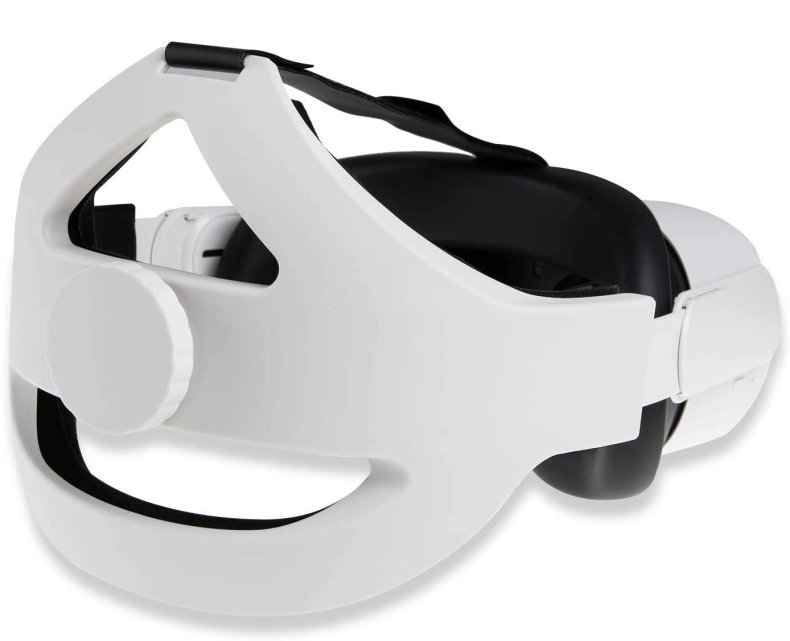 The most important accessory is a more comfortable strap for the Quest 2 goggles. The stretchy headband that comes with it may work for some people, but it's hard to get it to fit perfectly. Without an accurate fit, a VR headset can easily wear on your eyes and your head. The default band is also difficult to switch between different people trying it on. All around, it's just the weakest piece of the Quest 2's design.
Even Oculus itself understands that the headband that comes with the headset may not be the best, because it sells an alternative one. I haven't tried the first-party accessory, but I suspect it works well. The problem is that it's costly. Searching Amazon, there are dozens of third-party headbands that each work similarly. I've tried the Orzero adjustable headband, and it worked great.
The Orzero is wider on the back to cradle your head better. It also has a turn dial that makes fine adjustments to its fit very fast. If there's more than one person in your household, there will be excitement around this gadget, and making it easier to go from person-to-person goes a long way in enjoyment.
Buy at Amazon.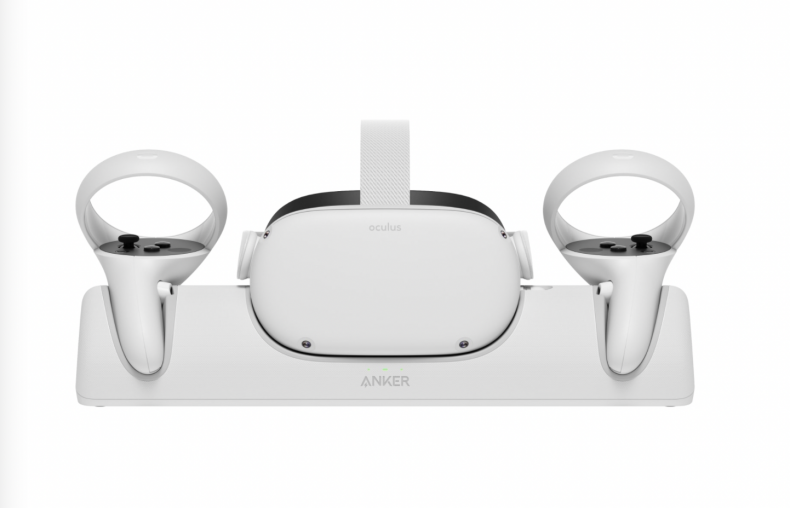 The first time you need to charge the Oculus Quest 2, you realize it's going to be annoying. There are a few reasons for this, but mostly, the headset needs to be charged frequently and there are a few separate pieces to the unit.
Plopping down the Quest 2 and its controllers on the couch or near an outlet to charge each time will create a chaotic mess. Instead, a dock of some sort will do wonders for your sense of organization and clutter. Anker makes a docking station that includes rechargeable batteries for the controllers and will charge all the pieces in a neat, organized way. During my first month of using the Quest 2, the AA batteries in the two controllers held their charge well, but never needing to replace them would be a nice benefit.
The Anker dock has been hard to find since its December 2020 release. It's a popular item. So if you don't mind not having a charger built into the stand, there are several other ways to store your headset and controllers. The KIWI VR stand is one of those alternative options.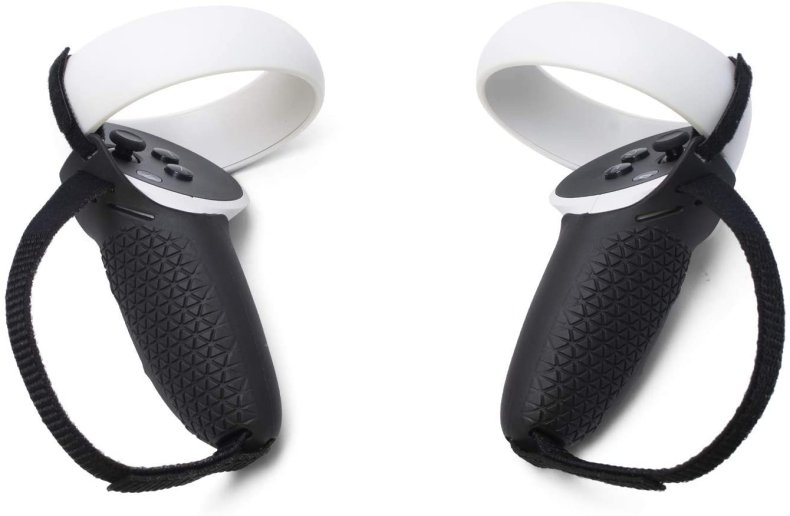 Replacing the included hand straps may seem unnecessary at first, but it's very worthwhile—now or in the future. The current straps are cumbersome, looping on your wrist like bracelets. If you put them around your wrists prior to the headset, they fling around and knock into everything. If you try to put them on after, it's hard to find and tighten the strap with your eyes covered.
These Cnbeyoung controller grip covers eliminate those problems by reworking the strap. They rest against the controller grip and stretch over your hands when you need them, to allow for much less fiddling with your eyes covered. As an added bonus, the silicone cover is nice to keep the controllers as grippy as possible. The standard straps that come with the controllers are fine, but these improve the design quite a bit.
Buy at Amazon.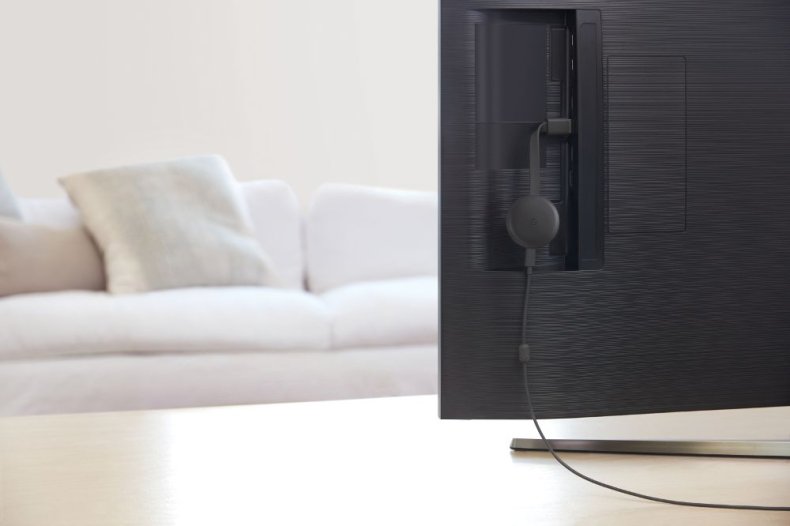 On its own, a Chromecast dongle has nothing to do with the Oculus Quest 2. It's a TV adapter from Google that, in most cases, allows you to stream content from your phone to the big television screen. In this virtual reality context, it allows everyone else in the room to be spectators to the action you see in the headset.
The problem with VR is that it's a solitary experience. Two people can't wear one headset at the same time. One solution is to show other people what you're seeing to let them in on the fun, too. The Oculus app will stream what is being shown in the headset to a phone. If you have a Chromecast, however, it can broadcast to your TV instead of the phone.
I would argue you should have a Chromecast on day one. Excitement will probably fade over time once people have had the chance to use the headset, and broadcasting will be less necessary. The first few days, however, is when everyone wants to see what's going on and why you're moving in the ways that you are. Plus, a third-generation Chromecast only costs $29.99 and the top of the line Chromecast 4K is only $49.99.
Buy at Best Buy.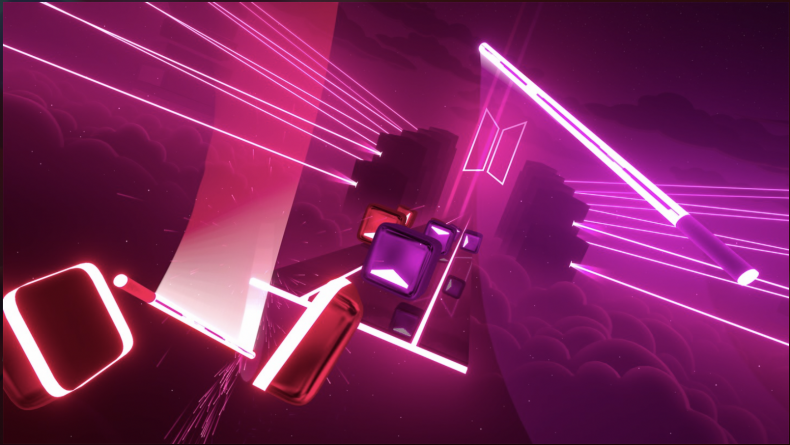 Beat Saber's appeal is immediate. GuitarHero and Rock Band ruled video game consoles for a few years, and Beat Saber employs the same game play but inside VR. You stand in front of a long, neon conveyor belt–like path that pulls cubes in your direction. Your task is to swing the light sabers attached to your hands in the direction each cube indicates to slash it once it reaches you. Everything is timed around the music playing, so having a sense of rhythm goes a long way in mastering Beat Saber.
The game features decent original music that comes ready to go once you start. The real hook is having the ability to buy familiar and popular songs from BTS, Linkin Park, Timberland, Imagine Dragons and more. Be aware that adding all the available songs has the potential to make the total game price much more expensive than its initial $29.99 purchase price.
Buy at Oculus.
Supernatural is the answer to the question, What is VR even good for? The fitness experience will have you swinging your arms, doing squats and stretching your body like you're in a workout class, except that you don't need to leave your living room. Supernatural uses movements similar to games like Beat Saber: You hit orbs flying toward you in synchronized patterns. The difference here is that trainers are present the entire time and are guiding your workouts.
Supernatural is not exactly a game, but it sure feels like one. There are familiar songs to pump you up during the workout and stats at the end to keep you motivated. I've tracked my activity using an Apple Watch while using Supernatural, and it raises your heart rate and gets you moving. The brilliant thing about working out in VR is that it forces more accurate movements than trying to follow along with an instructor on a TV. The experience is free to download and try, but it's definitely a premium one, costing nearly $200 per year. Gyms are out for now, but that just means VR workouts might be in.
Buy at Oculus.
If you experienced Nintendo's Wii-mania when it was first released, then you understand how pivotal a sports game with bowling and tennis can be. Sports Scramble includes tennis, bowling and baseball games and each brings you right into the action. While you can play each sport straightforward in a traditional way, the crux of the game really comes with the word scramble.
The unique aspect of this game is that it mixes up equipment from lots of different sports. If you're pitching in baseball, you may have to throw a golf ball or football or a Frisbee. During a tennis match, your racket may switch to a cricket bat or a golf club. The varied equipment keeps things from getting too serious and adds in an extra layer of fun that's almost impossible to experience in the real world.
Buy at Oculus.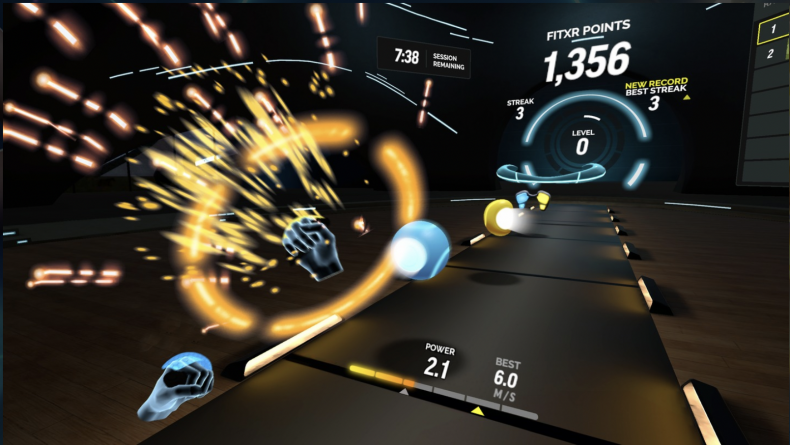 FitXR is yet another fitness experience that utilizes hitting objects floating toward you. This time, though, it is used for boxing and gives a full upper body workout. I hadn't ever done a boxing workout before trying FitXR, so I wasn't sure what to expect. At the start, it teaches you about doing a forward punch, an uppercut punch, a side swing and pulling both arms up to block. FitXR really wants you to feel it, too, because if you don't swing hard enough to punch the objects coming at you, you don't get full credit. At the end of my first 10 minutes, all parts of my arms had been activated, and my heart rate was up from where it was when I started.
The other half of FitXR is dance. You follow a 3D avatar's lead, moving your arms and legs at the same time to earn points. Personally, I found this aspect much less entertaining than boxing. It is nice to have multiple exercise types included though.
Buy at Oculus.
Newsweek may earn a commission from links on this page, but we only recommend products we back. We participate in various affiliate marketing programs, which means we may get paid commissions on editorially chosen products purchased through our links to retailer sites.