First Openly Nonbinary Athlete Qualifies for Winter Olympics
Team USA on Sunday named figure skater Timothy LeDuc to the national team for the upcoming Beijing Olympics, making them the first-ever openly nonbinary athlete to qualify as a Winter Olympian.
LeDuc, 31, along with their partner, Ashley Cain-Gribble, 26, was named to the team following a dazzling performance in the Olympic qualifiers at Bridgestone Arena in Nashville, Tennessee.
LeDuc released a statement afterward in which they reiterated their hope that they would pave the way for future nonbinary athletes to compete on the world stage.
"It's really exciting, but I hope that the narrative does not center around me and my journey and my accomplishments, but that the narrative switches to queer people having the opportunity to be open and be authentic to themselves and everything that makes them unique and still achieve in sport," LeDuc reportedly stated. "So often, queer people have to adjust themselves and sacrifice authenticity to achieve success."
"My hope is that when people see my story, it isn't focused on me and saying, 'oh, Timothy is the first out non-binary person to achieve this level of success in sport,'" they continued. "My hope is that the narrative shifts more to, queer people can be open and successful in sports. We've always been here, we've always been a part of sports. We just haven't always been able to be open."
Born in Cedar Rapids, Iowa, LeDuc began using they/them pronouns in 2021 and has become well-known for their trailblazing efforts throughout multiple levels of figure skating competition.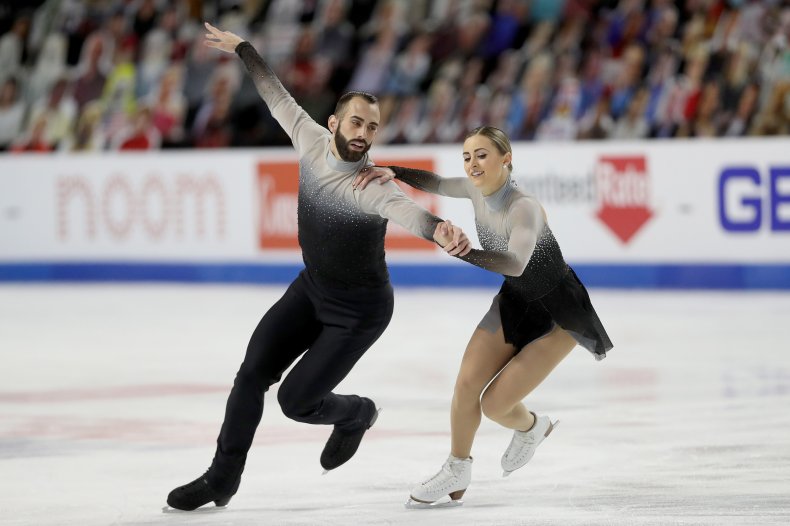 In 2019, LeDuc became the first openly gay athlete to win gold at a U.S. figure skating pairs event, according to a press release from the U.S. Olympic and Paralympic Committee (USOPC). They also came in first place in multiple other international events from 2018 to 2021, and in 2022 they became the first nonbinary athlete to win a U.S. championship in any sport.
Their partnership with Cain-Gribble has become well-known across the figure skating world, with NBC Sports noting that the pair "are known for their pioneering style in pairs' figure skating, where skaters who play into specific gender and romantic stereotypes have historically benefitted."
The 2022 Winter Olympic Games are scheduled to take place in Beijing, China, and while LeDuc will become the first openly nonbinary athlete to brave the frigid temperatures of the Winter Games, a number of nonbinary Summer Olympians have already competed for multiple countries.
A number of these athletes competed at the 2020 Summer Olympics in Tokyo, Japan. This includes U.S. skateboarder Alana Smith, the youngest medalist in X-Games history, as well as Canadian soccer player Quinn, both of whom identify as nonbinary. The latter became the first nonbinary athlete to win an Olympic gold medal.
Chelsea Wolfe, an American cyclist, traveled to Tokyo as a reserve BMX rider, the first transgender athlete on the U.S. team.
The 2020 Games also saw the first openly transgender athlete to actually compete in the competition - Laurel Hubbard, a New Zealand weightlifter.
Newsweek has reached out to the USOPC for comment.