Video: Emotional Demolition of Historic First Pasadena State Bank Building as Weeping Spectators Look On
It had been the most prominent feature of the cityscape for 57 years but took only 10 seconds to be reduced to rubble. Located at 1001 E. Southmore Avenue, The First Pasadena State Bank was a 12-story modernist tower that had stood sentry over the small Texas town, located only a short drive from Houston.
In its heyday, it was a landmark that gave its 150,000-odd population its bearings, ushering them to other parts of the town such as City Hall, Pasadena Town Square Mall and the library.
But it had been abandoned since 2002, and no longer a beacon of civic pride had fallen into disrepair, a target only for urban explorers and drone pilots.
Inspired by the ethos of renowned U.S. architect Frank Lloyd Wright, the building was constructed in 1962 by a company owned by Frederick James MacKie and Karl Kamrath.
Katie Pierce Meyer, head of architectural collections for the University of Texas Libraries told CityLab.com that Kamrath liked to create "organic architecture" in keeping with the surrounding landscape and with an emphasis on horizontal structures and good views.
Pasadena Mayor Jeff Wagner had mixed feelings about the building and what it symbolized for his town.
"When I first became Mayor, I was looking out my office window and realized I had a perfect view of the First Pasadena State Bank Building. However, instead of looking out onto a stately piece of architectural history, I realized I was looking at a run-down, neglected and dangerous empty building," he told the Houston Chronicle.
"That's when it really hit me: For a lot of people, this is their image of Pasadena. And I knew then, we needed to start changing perceptions."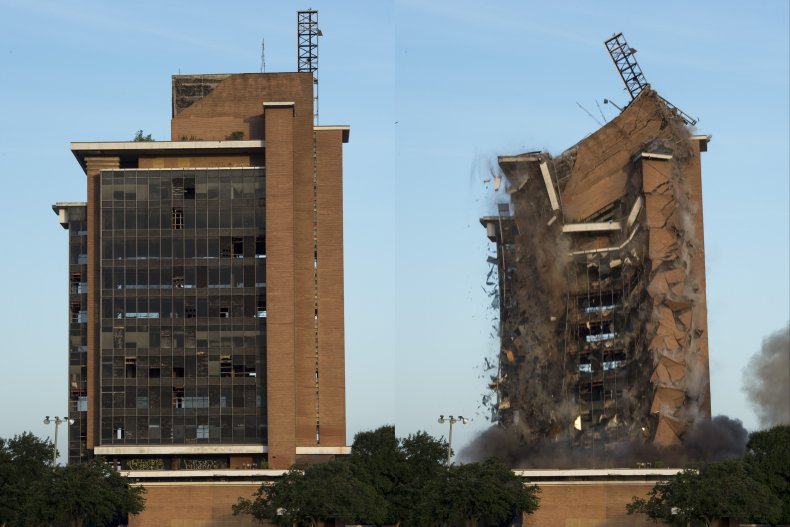 Those perceptions changed on Sunday morning around 7 a.m. when people nearby closed their doors and windows, roads were blockaded, and a siren announced the building's demise which was broadcast live on local TV station ABC 13.
The network's correspondent described how many people watching the implosion were left weeping at the loss of a part of the city's heritage. For some locals watching its demolition, it was like losing an old friend.
One wrote on Twtter:" I worked in that building for several years in the late '90s. Sad to see it destroyed but unfortunately it had become an eyesore. End of an era." Another lamented: "I lived in Pasadena from mid-50's to mid 80's, that building was a source of pride for us."
Jonathan Aigner wrote: "This was a travesty. It represents a colossal failure of leadership. It's definitely not something to be celebrated." Another wrote: "This is nothing but a sad day for not just me, but for everyone who has seen this building longer than most of us have."
Some metal parts of the building will be recycled and for posterity and some of its bricks will be refashioned into a commemorative display outside the City Hall Municipal Campus, according to the website of the Pasadena Economic Development Corporation.